HACKNEY - London Stadium
Home of London Lions in 1996
Pictures courtesy of runtrackdir.com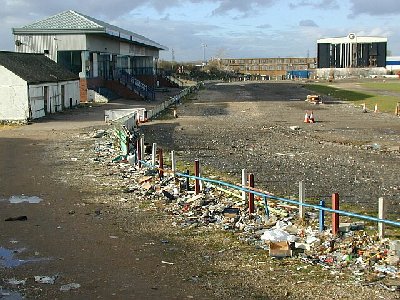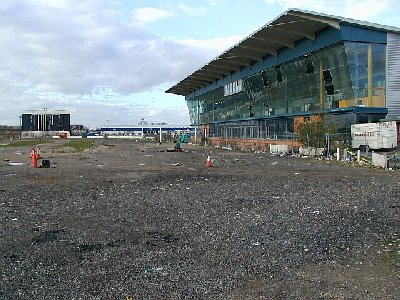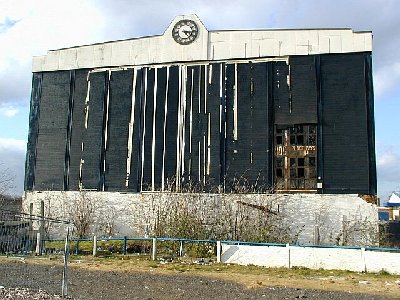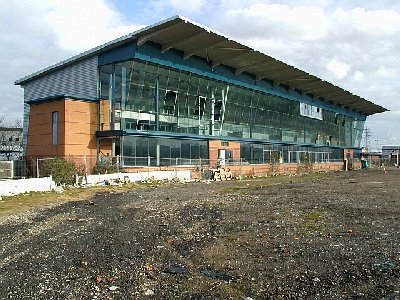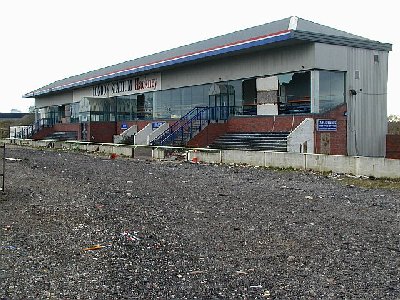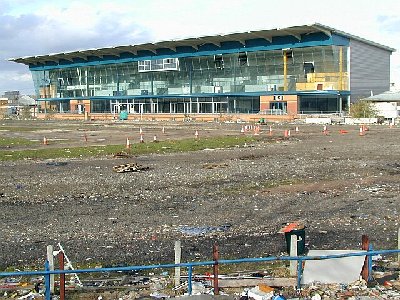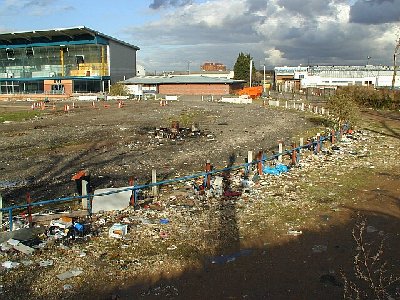 This article was first published on 3rd May 2005
---

Shelley Heath:

"I'm Terry Heath's daughter for those who remember him. I just want to comment on the state of the stadium now. It's been turned into a bus garage but I'll never forget the fun I had back in the good old days of '88 and '89 when everybody worked as a close family - until people came and took over the stadium and re-built it. It's such a shame to see it like this in a picture. I miss going there and all the people we knew."
Mike Bennett:

"I spent a couple of good years at Len Silver's training days in the early seventies, very sad day when this track shut."
Andy Davidson:

"As you say not for the faint hearted... a crying shame"
Bob Bushill:

"i remember going there with my brother, mum & dad when I was a child, just magic as a kid. I will never forget the smell, sound and shear excitement as the bikes run around that track. Would love to take my little boy to see that, but those nights are sadly lost. Maybe one day someone will bring something like that back again, who knows ?"
Robyn Ferris:

"Shelley - I remember you and your family very well, I was good friends with June and you're right about the laughs we all had then, from Friday nights watching the racing, to Saturday afternoons at training school, and those freezing cold winter Saturday's getting the track work done! No matter how cold though there was always a warm welcome and a hot cuppa from Snowy (RIP). Anyone else remember the away trip to Wimbledon when Terry drove the old bus over to get round the tube strike - we nearly got stuck in the Rotherhithe Tunnel as Terry forgot about the height restriction! Good times for sure! "
Stan Hendy:

"Best years of my life so many happy memories... still miss Friday Nights at eight."
Gerry Buckley:

"A real crime this and many other Speedway tracks are gone. I rode round here many many times along with my mates, Dave Brewer, Martin Charles, Keith York (Biffo) we knew all the track staff and the whole experience was just like one big Speedway family. I have Peter Brewer to thanks for such wonderful years and memories as it was him along with his son who took me to this and many more track around the country. PS: They should have built a new Hackney Speedway Track when the built the Olympics stadium. "
Tony Saunders:

"Yes I remember you Shelley, my Dad was friends with your Dad, we have been to many away days together. I started going to Hackney back in 1975 when we were the Hawks, those were amazing days - Dave Morton, Keith White, Zenon Plech (RIP). One thing always reminds me of those days - every time I hear the magnificent seven play."

[ Use Mobile Version ]

Comment on this Article | Contact Us | Go Back to Main Menu