Book Review: Born to Rumble
By Jeff Scott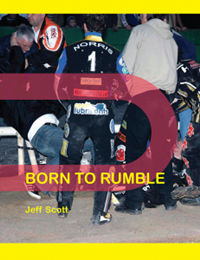 Born to Rumble is the new book from Jeff Scott that collects some of his previous writing into this short volume of 100 pages. It falls somewhere between a greatest hits collection and a sampler, with the obvious intention of introducing his work to a new audience.
It's a loosely themed collection, selecting chapters from previous books that contain varying degrees of confrontation and altercation. These range from an extraordinary pre-meeting rant from a souvenir seller to a full-scale punch-up at a Wolves versus Eastbourne meeting. The fracas at Wolverhampton stemmed from an accident involving Nicki Pedersen, it's surely inconceivable that such a thing could happen nowadays.......?
Six meetings are covered, the earliest from the 2005 season and the latest from 2011. Although these years are relatively recent, it's interesting to read again about some of those involved that have since faded from memory, both amongst the riders and the off-track staff.
The format has some potential, further volumes covering different aspects of speedway might appeal to those who haven't previously fancied Scott's books. Having a strong theme will certainly make it easier for him to answer the age-old question of "what's it about?".
The writing remains fresh and entertaining, with Scott playing the role of observer and commentator, often surprised by some of the things he discovers as he gets to know speedway from the inside. His innocent questioning of everyone he encounters yields excellent results, with many seemingly throwaway comments giving fascinating little insights that you wouldn't generally find in a speedway book.
This book is available from www.methanolpress.com
This article was first published on 28th June 2015
---

Steve Harland:

"It's a shame Jeff stopped writing his books. Jeff doesn't really do the normal question & answer routine, the key to getting the perhaps more candid and realistic comments (having been one of his subjects on more than one occasion) is in his style. He strikes up a relaxed conversation with you and during that chat he will pick his moment. It's actually very clever and makes his books stand apart from other speedway publications. The last time a speedway book made me smile so much was NL90 by Kevin Callaghan & was it Brian Jago? Two lads I am led to believe were involved with the Milton Keynes promotion. Jeff's book's have caused a degree of resentment from the old established guard so he must be doing something right."
Andy:

"oh no, not another Jeff Scott book ..and worse than that , a re hashed book of already published material. If you've read this drivel once why on earth would you want to put yourself through it again!....a taster?....more like a bitter pill?......but it looks like people may actually buy these or they wouldn't keep releasing them so god knows why but there seems to be a market for them!"
John Callaghan:

"WRT to Steve's comment, the culprits behind NL90 were Kevin Jago (stats), Aidan Preece (artwork and graphics) and myself (words and trivial corrections 25 years later). "

[ Use Mobile Version ]

Comment on this Article | Contact Us | Go Back to Main Menu