The 2019 World Speedway Rankings - Great Britain
By Arnie Gibbons
The glory days of the 1970s when an equivalent exercise would have probably seen a dozen British riders in the world's top 30 we are now reduced to just the one - multi world champion Tai Woffinden (and even he has divided loyalties). Since 2005 (the earliest year for which I have records) the number of Brits in the top 90 has fallen from eighteen to just six!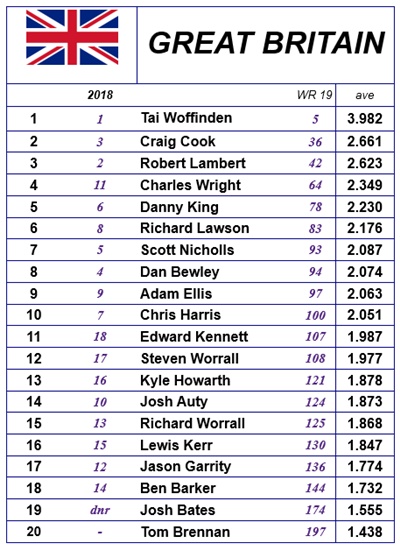 It is noticeable how little movement there is; the same 18 riders fill the top 18 places as last year.
Craig Cook regains the second place that he had previously held from 2013 to 2017
Veterans Scott Nicholls and Chris Harris continue in slow decline but hang on in the top ten
The only significant risers are Edward Kennett - reinvigorated by a return to Eastbourne; and British Champion Charles Wright, very much the success story of 2019

The first top 20 newcomer is Josh Bates, who returns after missing the whole of 2018 through injury. In 2017 he ranked 20th. Tom Brennan's short season ended at Arlington on 18 May after a run of heavy scores from reserve. Having shown great promise, he was about to move up to the top five. Had he done so his average may have dropped. Had that happened Britain's busiest rider - Ellis Perks - would have sneaked into the top twenty.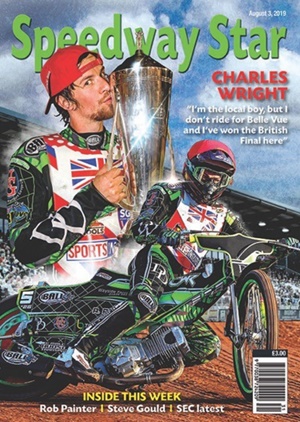 A big year for Charles Wright
2019 British Champion
Another candidate for top twenty inclusion is Rory Schlein, now a British citizen but for most of his career an Australian. He would appear at number five if categorised as British.
Part One - Part Two - Part Three - Part Four - Part Five
This article was first published on 3rd May 2020
[ Use Mobile Version ]
Comment on this Article | Contact Us | Go Back to Main Menu