The 2019 World Speedway Rankings - The Rest of the World
By Arnie Gibbons
Having looked at Britain in the last part it is time to broaden our horizons, reviewing the ups and downs of other speedway nations and their riders.
Poland
Poland remain very much the top dog amongst nations. It seems hard to recall that in the late 1980s they were taking on Italy and Hungary as equals in international competition. Twenty Poles in the top 50 (see part one) is a stat that speaks for itself.
Denmark
The only country with both the strength and volume of riders to compete with Poland. The big question for the Danes is who will step up to replace Nicki Pedersen (age 42) and Niels-Kristian Iversen (37) when they falter. Biggest movers in the Danish rankings were Rasmus Jensen (up from 21 to 9) and Hans Andersen (down from 8 to 18). Looking at the list of Danish riders one does wonder about Birmingham's recruitment policies - Tobias Thomsen is the 50th ranked Dane, and Nick Agertoft isn't even one of the top 50 Danish riders.
Russia
The scheduling of a Grand Prix for Togliatti is one of the marks of Russia's rising status in world speedway. The return of Grigory Laguta, the dramatic upturn in Viktor Kulakov's form and Gleb Chugunov's arrival as a genuine contender for the 2020 World Under 21 Championship (should it ever happen) leave Russia in a very positive position. Add in Sergey Logachev (up from 11 to 6 in the Russian rankings) and no less than seven under 21 riders in Russia's top 20, then there is every prospect of further improvement.
Australia
The Aussie top five are unchanged. Chris Holder is the only one of top 24 Australians who did not ride in Britain last year. Mason Campton and Matthew Gilmore are the best of the Aussies not riding in the UK last year. Campton stayed down under while Gilmore rode in the Polish Junior League. Big improvers were Cam Heeps (up from 19 to 11 in the Aussie rankings) and Ryan Douglas (top 20 newcomer at 15). On the slide were Tyron Proctor (12 to 21) and Nick Morris (7 to 14).
Sweden
While not declining at the same rate as Britain, the direction of travel in Sweden is clearly downwards. Since 2005 the Swedish representation in the World top 100 has shrunk from 15 to 10. Exactly the same 20 riders occupy the Swedish top 20 as 2018, underlining the sense of stagnation. To add to worries for the nation's future, Joel Andersson (at 17th) is the first Swede aged under 25 in their national rankings. With Antonio Lindback having an indifferent year and Andreas Jonsson in decline, Peter Ljung moves up to second in the Swedish rankings. Mathias Thornblom is the big mover up from 18 to 10.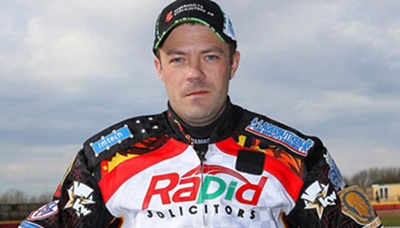 Peter Ljung - now Freddie Lindgren's closest
rival for the Swedish number 1 slot
Germany
The battle for top position in Germany remains a close contest between four riders. After eight years (2010-17) at the top in Germany Martin Smolinski was deposed by Erik Riss in 2018. In 2019 Erik Riss drops to fourth, swapping places with Martin Smolinski (who dropped to 4th in 2018). In between Kevin Wolbert and Kai Huckenbeck sit in 2nd and 3rd. Younger riders are well represented in the German top ten: Michael Hartel (5th), Norick Blodorn (6th) and Lukas Fienhage (9th).
Czech Republic
Despite a poor season Vaclav Milik still comfortably on top, well ahead of Eduard Krcmar and Josef Franc (still going at 40) who retain their 2018 positions making the top 3 unchanged. Jan Kvech and Zdenek Holub both move up four places (from 8 & 9 to 4 & 5) and along with Petr Chlupac (a new entry in the Czech top 10) give a sound foundation for Czech speedway over the next decade.
United States
The departure of Greg Hancock leaves a huge hole. Luke Becker leap frogs Billy Janniro and Ricky Wells to take over at number one. Currently no American is in world's top 100. 52 year old Charlie Venegas drops out of the US top ten leaving Billy Janniro (at 39) the oldest American rider in the national top ten, giving it the youngest look it has had for many years. Colton Hicks (17 years old) and Sebastian Palmese (16 years old) look set to join Broc Nicol and the Ruml brothers in the top ten soon.
Slovenia
Matej Zagar, 18 times national champion, remains his country's only world class competitor. Slovenia has only a handful of riders, although Matic Ivacic (who took Zagar to a run-off for the Slovenian title) and Nick Skorja (a World Under 21 finalist) can both be classed as respectable improvers.
Latvia
After a poor 2018 season Andrzej Lebedevs rediscovered the form that saw him win 2017 European Championship - highlight of 2019 was the runner up spot in the Czech Golden Helmet behind Jason Doyle. At 25 he is the second oldest rider in the Latvian top 10. The oldest is Latvian number two Kjasts Puodzuks. A few years ago Latvia had only five active riders, now there are a plethora of juniors, the best of whom is Oleg Mikhailovs, even though he went backwards in 2019.
France
France is a rare example of a country where speedway has definitely been on an upswing. David Bellego and Dimitiri Berge lead the way, although both seem to have plateaued, followed by the veteran Tresarrieu brothers - Matt and Stephane. The French League has provided opportunities for riders who would otherwise have concentrated on the French grasstrack scene, of whom Gaetan Stella is likely to be the first to make an impact.
Ukraine
The country is slowly recovering from the damage done by its civil war which saw speedway in 2014 reduced to a couple of amateur meetings for veterans. The top two from that period - Aleksandr Loktaev and Andrey Karpov - are still the country's top two. This year it is Karpov at one and Loktaev at two, as it was in 2015-17. In 2014 and 2018 the order was reversed. In third place 19 year old Marko Levishin could be the rider to break that monopoly. (Viktor Trofimov would also be a contender, but now plies his trade in Poland, representing them in FIM events)
Finland
Timo Lahti spends his fourth year as the top Finn. With Nike Luna's retirement, that leaves Tero Aarnio as the only other Finn competetive at international level.
Slovakia
Martin Vaculik has no competition for the Slovak top spot. His nearest rival David Pacalaj is about the standard of a decent Championship reserve (e.g. Ben Morley or Drew Kemp). On the plus side there are more riders active than a decade ago.
Norway
Leaving aside the debate about whether Rune Holta is Polish or Norweigan, the battle for the top spot is Lasse Frederiksen versus Glenn Moi. 2020 Edinburgh signing Frederiksen took over the top spot in 2018, but Moi has recaptured it for 2019. Norway staged a total of seven meetings last year (plus a few club events) and looks like another country where speedway's presence is waning.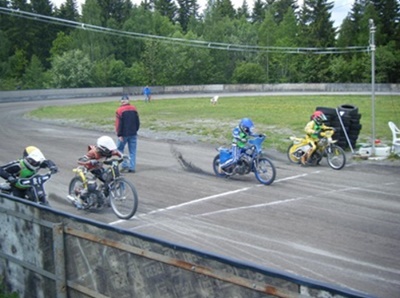 Glenn Moi and Lasse Frederiksen battle
it out in 2010 at 85cc level
Argentina
Despite talk of Argentina as a future Grand Prix destination, speedway is struggling to survive. The 2019 international series contained no foreign based riders, leaving Covatti, Albin and Garcia to dominate, occupying 23 of the 24 rostrum spots available in the eight round series. The national rankings top three came out in that order for fourth year in a row.
New Zealand
Bradley Wilson-Dean's arrival notwithstanding, New Zealand is another country where the sport is clinging on by a thread. Three tracks remain and Leicester cubs reserve Ryan Terry-Daley is one of the stars of their domestic scene.
Italy
With Lonigo gone the Italian season consisted of six meetings of the Italian Championship - all staged at the sole surviving track - Terenzano. Paco Castagna retained his number one spot for the third year in a row, and with Mattia Carpanese and Gugliemo Franchetti now retired it is hard to see any challenge to that position.
The Rest
Croatia's Jurica Pavlic is comfortably the best of the riders from nations not covered above. After over a decade as an international class rider he's never quite made it to the highest level - in his best year (2014) he reached no 41. Other national number ones are: Danny Gappmaier (Austria), Norbert Magosi (Hungary), Theo Pijper (Netherlands). Belgium, Romania and Estonia all have a handful of meetings but no riders of any note. In recent years speedway has ceased entirely in Canada, Bulgaria and South Africa.
Note - Nationality
In the days of the 'global village' (something which may be lost to us due to covid-19) nationality is becoming harder to pin down. There are several examples of riders laying claim to more than one nationality or switching allegiances. For the purposes of the national rankings I have generally recognised changes prior to age 21, but regarded those after as being more in the nature of convenience. So for example I have recognised that Ricky Wells and Viktor Trofimov are American/Polish rather than New Zealander/Ukrainian. Conversely Nicolas Covatti is Agentinian (not Italian) and Josh Grajczonek remains Australian even though he rides on a Polish licence. The most difficult group to pin down are the young Australians 'borrowing' their grandparents nationality. Given his family's history in British speedway it seems reasonable to class Ellis Perks as British. Others (e.g. Connor Bailey and Matt Marson) appear less permanent.
The king of confused nationality is Aleksandr Loktaev who has ping-ponged between Russia and Ukraine, with a brief dabble at being Polish. He currently rides in FIM events on a Ukrainian licence, the nationality I have assigned him.
Part One - Part Two - Part Three - Part Four - Part Five
This article was first published on 10th May 2020
[ Use Mobile Version ]
Comment on this Article | Contact Us | Go Back to Main Menu