The New Scunthorpe - First Impressions
By Steve Harland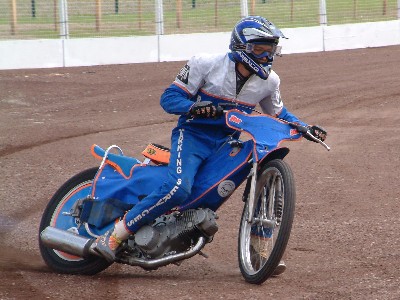 Michael Godfrey in action at Normanby Road
I paid my first visit to Scunthorpe's new track at Normanby Park yesterday and have to say how impressed I was with the work that has been put into this venture by Rob Godfrey and Norman Beeney.
The track itself is situated far away from any housing, so no worries on noise problems! I travelled from Marske near Saltburn and the journey took just under two hours. We (my partner Jan) found the directions to the track spot on. There was a great sense of anticipation as we came down the industrial estate and looked to our right to see the latest the country's latest track. There is plenty of open land to park your car and hardcore has been put down which looked big enough to house around 300 vehicles.
The track measures 300 metres with a short run up to the first bend very similar to Middlesbrough's old Cleveland Park track but much smoother and less narrow. Imagine a bigger and wider back straight Buxton and you will get some idea. The safety fence seemed identical to the one used at Hi-Edge Raceway. The pits have been built on the third bend and there were two portacabins situated on the start/finish line for the referee and toilets/changing rooms on the fourth bend.
There were around 30 riders of all ages taking part in the training schools sessions yesterday. The most impressive of the modern day riders was Boston's Richie Dennis who looked very smooth and stylish as he attacked the track with gusto. Hull-based juniors Phil Downes and David Baker were there too and Phil looked much more confident on this type of track than he did when he ran four distant lasts for the Middlesbrough Bears in a recent junior match at Berwick's Shielfield Park. Sheffield Prowlers' David Speight and Buxton's Thomas Hill were also present.
Older riders spotted in the pits included former Middlesbrough legend Steve Wilcock, who was helping a young lad called Richard Walker; former Scunthorpe and Rye House rider Julian Parr and former Glasgow rider Derek Richardson, who actually had a few laps and looked like he had lost none of his dash! Sheffield promoter Neil Machin also looked in on proceedings, as did injured Sheffield and Eastbourne rider Andrew Moore.
Rob and Norman have spent around £60,000 so far and the track shape looks really good. I can't wait to see Conference League racing at the venue.
Spectator facilities are spartan at present and history is not kind to them when you remember Ashby Ville. I always thought the racing was very good at that track and was one of the spectators at the very first meeting in 1979, a challenge match against Middlesbrough. Seven years later and the spectator facilities were no further forward, though an old friend reckons the club actually bought a double decker bus with the intention of providing some much needed cover from the elements.
It's early days of course but I hope the people of Scunthorpe and beyond support the venue in sufficient numbers to make it viable. They couldn't have asked for a better person to run it for them. Promoter Rob Godfrey used to mechanic for Scunthorpe's Julian Parr in the mid-eighties, and together with business partner Norman Beeney it must be so satisfying to see the blueprint they initiated a couple of years ago bearing fruition.
Of course the council in Scunthorpe have been very supportive of the plans since the original idea of going back to Quibell Park was knocked back. That is a big help in constructing a new speedway track.
Having raced against Scunthorpe Scorpions at Hull's Craven Park in 2003 someone asked if I was jealous or envious of what they had achieved so far. I am neither, just happy to see the dream for Rob and Norman unfold before their very eyes. On track we are rivals but off track it is a different story, unique perhaps in the way that friendships are forged.
I would like to wish both Rob and Norman every success with their attempt to re-establish the sport back in Scunthorpe after an absence of 20 years.
Steve Harland
Middlesbrough Bears 2004
Picture of Michael Godfrey courtesy of Richard Hollingsworth's Web Gallery
This article was first published on 7th November 2004
---

Jim Brown:

"I feel that this is a very fitting article to the tremendous efforts of Rob and Norman and others who are so enthusiastic about the return of this sport to Scunthorpe. I take my eldest boy, George aged 9, there each Sunday to practice on his full size bike with lowered seat and Honda 125cc engine. He is doing really well and is getting loads of encouragement from all of the visiting riders, not to mention his steel shoe made to measure by Roy Haynes (ex Scunny and Sheffield rider).

I would love to hear from any potential sponsors who may be able to help me fund George's progression as I have had to take a lesser paid position nearer home, since his mum was diagnosed and treated for cancer at 38. I am not looking for any sympathy votes here but would like to hear from anyone who can give me advice on sponsorship, donate kit or financial sponsorship for George, he is showing promise and is keen."
Garry Horton:

"Just read Steve Harland's article on the new track at Scunny. I have been down myself to watch the practice sessions on most sundays and have been impressed. Look forward to the start of the season. Nice to see Sean Wilson flying round the track last week."
Gillian Holgate:

"This is an excellent article about Scunthorpe speedway. I myself am looking forward to seeing it back in the town. Well done to all concerned. Thank you."
Steve Sharp:

"I have just read the article and enjoyed it very much, I am very glad that Speedway is coming back to Scunthorpe. I supported the Saints when they rode at Quibell Park, and also when they became the Stags at Ashby Ville, let's hope the people of Scunthorpe get behind the Scorpians. I did read in the local paper that when they held the open training day that about 500 people turned up throughout the day to see what was going on. So I wish everyone connected with this venture the very best of luck."

[ Use Mobile Version ]

Comment on this Article | Contact Us | Go Back to Main Menu