The Charlie McKinna Story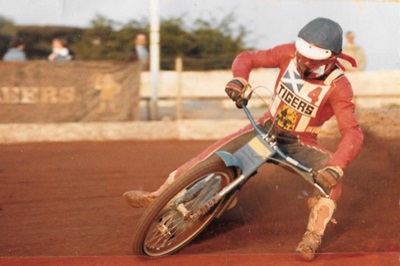 Charlie in 1981 Action
Charles Edward McKinna was one of a new breed of speedway riders. In years gone by potential speedway riders would complete an apprenticeship, buy a van, buy a bike and then turn their attention to sliding a bike. Charlie was different, he was a schoolboy speedway rider. Helped by his enthusiastic father Archie he started riding speedway in his early teens. His early rides were at Paisley and Coatbridge and it was clear to see that the boy had potential.
By the time Charlie turned 16 things had changed. Paisley had gone bust and Coatbridge had moved to Blantyre. This eliminated the difficult choice of which team to sign for.
Charlie was one of the pioneers of junior team racing in this country. He was part of the Glasgow Cubs team in the first ever Scottish Junior League in 1977. This mini league spawned countless imitations and gave the first break to many riders.
Charlie's early progress was impressive and by the end of the 1977 season he had made his full team debut for the Glasgow Tigers.
The start of the 1978 season saw Charlie back amongst the juniors, he continued his steady improvement and regained a first team place in May. He displaced big money signing Mick Newton. Charlie was in the team on merit and scored steadily, if unspectacularly, until the season's end.
Charlie made real progress throughout the 1979 season. He scored his first race win and before the end of the season had completed a paid maxmimum in an easy win over Middlesbrough. Overall he achieved second string status and upped his scoring dramatically. It was clear that Charlie had a good career in front of him.
Big things were expected of Charlie in 1980. He started the season in the number five racejacket and was expected to challenge for heatleader status. Things didn't work out as planned and it was team mate Andy Reid that made the big breakthrough. Charlie had one of those frustrating years where his career stood still. Charlie's younger brother Kenny made the first team in 1980 as well. He was initally selected for the opening encounters to give him some experience, but rode so well that he retained his place until the end of the season.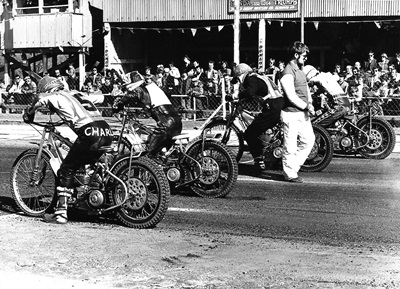 Charlie at the tapes at Blantyre in 1980
1981 was Charlie's big breakthrough. The Glasgow team had been weakened by the loss of high scoring Alan Emerson. His replacement was former Berwick rider Nigel Close. Nig was a good rider but not quite in the Emerson class. When team captain Andy Reid was injured in the first meeting of the season things were looking bleak. 'Cometh the hour, cometh the man' they say and that man was Charlie. His scoring rocketed and he maintained a healthy average all season long. He finished second in the averages behind Steve Lawson.
During the 1981/82 season Glasgow switched to Craighead Park. Charlie was all set to challenge for the number one position when Coventry made a surprise attempt to buy him. It was April and Charlie was torn between another National League season and what could be a dream move to Coventry. Glasgow had accumulated massive debts during the winter and could do with the money that Coventry were offering. Charlie elected to grab the chance of the move and lined up for Coventry.
The Coventry team boasted the talents of former World Champion Ole Olsen, Tommy Knudsen and Mitch Shirra. Charlie had often named Olsen as the rider he most admired and this played a part in his decision. For a young lad from Newton Mearns it was a great learning experience. Charlie struggled for points but his team place was never in doubt.
Charlie was hoping for a place in the 1983 side but Coventry replaced him with up and coming American Rick Miller. Ole Olsen was rumoured to have been the main instigator of this change. It was a blow for Charlie who felt he would have been much better prepared than in his debut season.
Charlie moved to Milton Keynes on loan. The deal was funded by a group of Knights' supporters. The Knights were never a glamour club but they boasted a strong line up that year. Charlie had a poor year by his own standards, mainly due a mid season slump in form, perhaps this was due to the knock his confidence had taken the previous season. He was forced to miss some matches because of a burst blood vessel.
The whole year was overshadowed by the tragic death of his team mate, Craig Featherby.
At the end of the 1983 season Charlie expressed a desire to race for one of the Northern teams. Edinburgh, Berwick and former club Glasgow all made moves to sign him. Charlie ruled out a move to Glasgow as he felt it would be a backward step, whether the Tigers could have afforded him is highly debateable anyway. He also decided against a move to Edinburgh, principally because he'd seen many good riders go there and lose form. His preferred option was a move to Berwick.
At that time the Bandits were quite a fashionable outfit. They were firmly ensconsed at the purpose built Berrington Lough, had a good side and effective public relations. In retrospect, the turmoil at Edinburgh and the hand to mouth existence of Glasgow probably helped the image of the Border side.
Charlie was joined in the Bandit's side by fellow scot Jim McMillan. Jim had just completed a very successful year at Glasgow. These two generally formed a powerhouse pairing in the number four and five racejackets. The Bandit's had retained the services of National League Riders Champion Steve McDermott and veteran kiwi Bruce Cribb. They were considered hot favourites for the league title. Charlie picked up an injury and missed a large chunk of the season. Steve McDermott also missed many matches and these were blows that the Bandits couldn't recover from. The league was actually won by an excellent Long Eaton side, led by Dave Perks, Bandits finished the season a disappointing 5th.
Charlie took over the number one racejacket from Bruce Cribb at the start of the 1986 season. He also finished the season as the undisputed number one in the averages. That he never pushed his average into the real top bracket was mainly due to inconsistency. Despite this Charlie was a match for anyone around the tiny Berrington Lough circuit and was capable of high scores at any track in the country.
The 1987 season was an enjoyable season at the Borders circuit. The team lacked an out an out number one but was solid from 1 to 7. Charlie played his usual solid role but others stole the spotlight. The real success of that season was the often unsung Rob Woffinden. 'Wuffy' turned in the season of his life and represented the club at the National League Riders Championship.
Charlie's last season in the black and gold was 1988. During the season himself and a rejuvenated Mark Courtney shared the coveted number one jacket. His early season form was poor and by the time the four team tournament came around Charlie found himself fifth in the Bandit's averages. His form improved later in the year and he actually went on to record his highest ever average.
During the 1988-1989 winter Charlie rejoined his first club, and boyhood heroes, The Glasgow Tigers. Tigers were by now at the plush and newly refurbished Shawfield Stadium. His new team mates needed little introduction, they included his younger brothers Kenny and Martin, Steve Lawson and Geoff Powell who were still at Glasgow from his previous spell and his former Berwick team mates Jacko Irving and Phil Jeffrey.
As Charlie moved from Berwick to Glasgow, David Blackburn moved in the opposite direction. This was the only change in the Tigers' team from the previous season. Charlie was purchased outright by the Glasgow Promotion, this purchase was partly funded by Charlie's off track employer Dallfield Construction. Dallfield had backed his brother Martin for the previous couple of seasons and now started to back him as well.
Charlie's form that season was very disappointing. He had been expected to form a strong heatleader trio with brother Kenny and captain Steve Lawson. In fact he ran his lowest average since his days with Coventry. His position as third heatleader was taken by the emerging talent of Shane Bowes. The fact that David Blackburn had suddenly found form at Berwick only increased the pressure on Charlie.
Charlie turned in many good performances but a number of poor ones as well. The lowest point of the season was a defeat at former club Milton Keynes. The Knights were at that point racing at new venue Ellfield Park and Charlie failed to score.
The following year was a better one for Charlie. He started the season like an express train knocking up high scores home and away. Charlie's good form coincided with a disastrous run for Steve Lawson. Steve just couldn't get going at all and it was left to Charlie to pick up the number one racejacket and represent the side in the National League Pairs Championship.
This meeting was held at Shawfield and Charlie was partnered by his brother Kenny. This Tigers pair were naturally considered favourites but the brothers failed to meet those expectations. The meeting was won by the highly talented Hackney pairing of Steve Schofield and Andy Galvin.
As the season progressed Steve Lawson refound his form and retook the number one racejacket. This allowed Charlie to move into the number two racejacket in what had become a very powerful Glasgow outfit.
Tigers qualified for the end of season National Series competition. This was contested by the top nine finishers in the league and was run over the three team tournament formula. Glasgow qualified from the semi final to contest the final against Stoke and Wimbledon. The Wimbledon leg of the final was cut short by rain but the result was allowed to stand. The final leg was at Glasgow on a very wet afternoon that coincided with a Celtic-Rangers cup final at nearby Hampden Park. It was on this day that Glasgow Tigers ended a 44 year wait and lifted a National Trophy. Charlie was a vital cog in this team and it seemed that the following year would see a realistic league title challenge from the Tigers of Glasgow.
It did, but the team didn't include Charlie.
After such a successul year Charlie was looking forward to another season as a Tiger. However, this was not to be. In the lead up to the new season, it emerged that to comply with the dreaded points limit, Glasgow would have to lose one of their better riders. The man chosen was Charlie.
At the time it was envisaged that Charlie would act as number eight for the side. The feeling was that sooner or later somebody would pick up an injury and Charlie would be ready to step in. That never happened and Charlie never did ride professional speedway again.
During that 1991 season Charlie did compete in a meeting at Shawfield. The occassion was a well deserved testimonial for youngest brother Martin. Charlie featured with his brothers in a McKinna select that tackled the current Glasgow team. Charlie made a point of purchasing new leathers for this meeting. His justification, for what seemed like an undue expense, was "I didn't want it to look as if they'd dragged me out of the cupboard". Those leathers went on to give good service to James Grieves.
He also rode at the testimonial for his other brother Kenny. This took place at Armadale in 1998 and Charlie appeared wearing a pair of Kenny's kevlars and riding a laydown bike. Charlie caused a sensation that night by turning in a number of impressive rides in times comparable with those in the main meeting. If proof was required that his (semi-enforced) retirement was premature, then this was it.
In the years between these testimonials Charlie had indicated that he would consider a full time return. In the early days of 1992 he made it clear that he wanted to ride again and would consider an offer from any team in the North. He specified Middlesbrough as the furthest south he would be able to travel. Despite his impressive past record no team place was forthcoming.
He has made appearances at testimonials for Les Collins, Peter Carr and Nigel Crabtree and always acquited himself well. He has also dabbled in grasstrack riding and continues to enjoy riding motorbikes of all descriptions.
Prior to the start of the 1998 season new Glasgow boss Brian Sands offered Charlie the chance to aid the development of the Tiger's junior riders. He would have been perfect for the role but work commitments procluded such an involvement.
| | | | | | | | | | | |
| --- | --- | --- | --- | --- | --- | --- | --- | --- | --- | --- |
| Year | Club | League | M | R | P | BP | T | AVE | F | P |
| 1977 | Glasgow | National | 1 | 3 | 1 | 0 | 1 | 1.33 | | |
| 1978 | Glasgow | National | 25 | 79 | 51 | 19 | 70 | 3.54 | | |
| 1979 | Glasgow | National | 34 | 125 | 144 | 40 | 184 | 5.89 | | 1 |
| 1980 | Glasgow | National | 35 | 137 | 147 | 45 | 192 | 5.61 | | 3 |
| 1981 | Glasgow | National | 36 | 156 | 283.5 | 30 | 313.5 | 8.04 | 1 | 5 |
| 1982 | Coventry | British | 38 | 102 | 67 | 16 | 83 | 3.26 | | |
| 1983 | Milton Keynes | National | 33 | 176 | 303 | 42 | 345 | 7.84 | | |
| 1984 | Berwick | National | 20 | 77 | 110 | 18 | 128 | 6.65 | 1 | |
| 1985 | Berwick | National | 38 | 162 | 275 | 31 | 306 | 7.56 | 3 | 2 |
| 1986 | Berwick | National | 41 | 175 | 349 | 15 | 364 | 8.32 | 2 | 2 |
| 1987 | Berwick | National | 34 | 143 | 251 | 38 | 289 | 8.08 | 3 | 2 |
| 1988 | Berwick | National | 36 | 191 | 370 | 31 | 401 | 8.40 | 3 | |
| 1989 | Glasgow | National | 36 | 187 | 235 | 41 | 276 | 5.90 | | |
| 1990 | Glasgow | National | 34 | 173 | 254 | 35 | 289 | 6.68 | | |
This article was first published prior to October 2002
[ Use Mobile Version ]
Comment on this Article | Contact Us | Go Back to Main Menu