It's All About You... Stephen Bellerby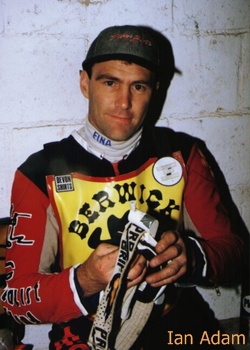 'Mad Dog' Martin Dixon
Tell us about your introduction to speedway
Well, I used to watch it on World of Sport as a young child and I have one hazey memory of attending Cleveland Park as a small boy. Although I can't confirm when it was it must have been the early '80s, maybe '81 or just after. Then in March '86 my dad owed his friend a favour and he asked for a lift to Newcastle for their season opener. Should have been against Middlesbrough but Stoke were the opposition. The fixture was snowed off after only a couple of races! I was hooked though! The noise and the smell. Cleveland Park became my 2nd home thereafter. Another thing I remember was that none of my then infant school colleagues went to speedway but everyone was talking about Kenny Carters death at school. Funny how popular speedway was still then.
Tell us about your favourite meeting of all time
Wasn't really a meeting but a race. Martin Dixon v Steve Schofield at Cleveland Park in 1987 in the Silver Helmet match race. Now that was a race. I have a copy of it on DVD and its still as titantic as I remember it as an 11 year old boy! Would also love to have remembered the Dixon v Martin Dugard race of '86 when Bob Dugard demanded Dicko should be drug tested due to his hard riding style. I was there but alas I can't remember the race.
Tell us about your favourite rider of all time
Need I say more. Just read the above. Martin Dixon was my childhood hero. When I was playing on my BMX in the streets I was always the 'Mad Dog!'. You just knew something was going to happen when Dicko hit the track. Was at the press and practice day in '88 when Dicko unfortunately crashed and smashed his elbow to pieces after averaging 10+ the season before. Would surely have been a leading light again in the then NL that season if he hadn't had that crash. Although Dicko did recover from his injuries he was never the same rider again due to the lack of movement in his arm but he still served up some vintage entertainment!
Tell us about your favourite track/stadium
Probably a bit biased here but I always thought Middlesbrough's Cleveland Park served up some good racing. In fact I prefered the racing there to that at our new track at Redcar. Would have loved to have been a regular supporter at Cleveland Park before the main stand was burnt down and effectively the ripped the heart out of the place. The best speedway stadium I have been to has to be Cardiff though.
What are the best things about speedway?
The noise, smell and the racing. Basically I'm addicted to the whole package!
What are the worst things about speedway?
Rain offs and the constant rule changes. Can't we just stick with whatever rules we have for at least 10 years? The constant rule changes do us no good at all. Rain offs are always a pain as well!
What one thing would you do to improve speedway?
Track preparation needs to be better. Both for the riders safety and the quality of the racing. In an ideal world I would love to see an independant track examiner employed by the sport. If a manager or team say a track is dangerous then this person should be made to visit that track for the next couple of meetings. In general tracks need more shale but this shouldn't just be thrown on. It should be introduce gradually and built up.
Tell us about a rider you wish you'd seen
Have seen them on DVD many a time but would have loved to have seen Kenny Carter and Bruce Penhall ride, especially against each other.
What does the future hold for speedway?
I think the majority of tracks if they can need to follow the blueprint of Scunthorpe, Redcar, Somerset etc and build new stadia where they aren't at the beck and call of the greyhound people. I also think it is going to become tougher for the inner city and town clubs to survive due to the enviromental issues. Big clubs used to be in the centre of the towns years ago but most people have access to cars nowadays so I think we will see the clubs old and new continue to move to more rural locations.
Take part in this feature
This article was first published on 7th January 2010
[ Use Mobile Version ]
Comment on this Article | Contact Us | Go Back to Main Menu