DVD Review: Memories of Wimbledon Speedway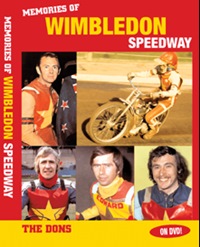 There's currently a battle ensuing between parties wishing to retain Plough Lane as a greyhound circuit and those wishing to demolish it so a new football stadium can be built. This famous old venue was for many years the home to speedway racing, serving as the home track for the Wimbledon Dons speedway club.
The history of speedway racing at this venue is chronicled in a DVD from our old friends at Retro-Speedway. "Memories of Wimbledon Speedway" covers the entire history of the track, from the early Southern League meetings right through to Conference League meetings earlier this century.
There are classic clips from meetings, interviews with former riders and an informed narration that pieces these together into a fascinating documentary.
Amongst the former favourites interviewed are some of the biggest names to ride for the club - Norman Parker, Ronnie Moore, Barry Briggs, Olle Nygren, Malcolm Simmons, Dave Jessup, John Davis and Kelvin Tatum.
There are also sections on two legends who passed away far too early - Tommy Jansson and Edward Jancarz. There's even audio footage of Jansson's last interview.
Many great tales are told:
Malcolm Simmons showing Kelvin Tatum the fastest way around the circuit at a pre-season practice.
Briggo's pay dispute with Ronnie Greene that led to him leaving for Southampton
Olle Nygren explaining the surprisingly practical reason for sporting white boots
Norman Parker on his battles with Jack Young
Reg Trott's recollections of queuing at 3pm as a spectator, before riding for his heroes for ten years
Simmo's thoughts on the health and safety in the pits

There's also lots of action footage that highlights just how good the racing could be. This includes:
Extensive highlights from the Internationale featuring many of the top names from the seventies and eighties
Colour footage from the sixties
World Final action featuring Ronnie Moore
National League footage showing the Dons in action at Exeter & Canterbury as well as Plough Lane
Film of the Britain v Sweden junior international from the Conference League era

Good use is also made of content from a documentary that was made some years ago about Scott Autrey. This shows the US test side in action at Plough Lane and includes loads of behind the scenes footage that gives a good idea of what a night out at Wimbledon Speedway was really like.

Although the focus is primarily on the club's days in the top division, there is also coverage of the time they spent in the National League and the Conference League.

Dingle Brown was promoter during those final Conference League seasons and recalls signing Buzz Burrows and the impact he made. He certainly wasn't Ronnie Moore, but became a modern day Dons' legend.

We also see Dons' junior "Gentleman Jim" Dormer winning heat 14 in a National League clash against Poole, complete with live in-race commentary by Dave Lanning. A reminder that there was much more to the Wimbledon story than just Moore, Briggs and Jansson.

Watch a trailer for the DVD
---
How To Order
By Phone : 01708 734 502
By Post : Send a cheque for £16 (payable to Retro Speedway) (add £2.50 if outside UK) to:

Retro Speedway
9 Nursery Close
Glossop
SK13 8PQ
Online : At Retro-Speedway.com
This article was first published on 6th July 2014
[ Use Mobile Version ]
Comment on this Article | Contact Us | Go Back to Main Menu