Smokey Stratton
By Dave Gifford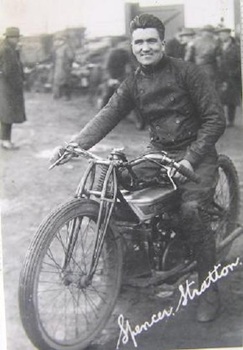 Smokey Stratton
New Zealander Smokey Stratton was a pioneer in the truest sense of the word, a free spirit forever looking for new challenges and new horizons. He left his homeland to race on the grass, dirt and concrete tracks in Australia at the age of nineteen in 1923, the following year he travelled to the USA to try his luck on the American tracks and returned to Australia later the same year.
At this stage of his career he had a pair of Indians, one a 350cc and the other a 990cc. He survived an horrific crash at the Hamilton Speedway in Newcastle NSW, promoted incidentally by our old friend Johnny Hoskins. He recovered and resumed his career setting track records at a number of venues in Australia with the odd visit home to race in NZ.
In 1926 it was back to the States to ride as a member of the official Indian Works team, with several meetings on the incredible board tracks at Altoona, Rockingham and Fresno. After that he returned to Australia but when Johnny Hoskins travelled to the UK in 1928 Smokey was a fellow passenger as the flood of Aussie riders began to make their way to Britain.
He switched to Dirt Track Douglas bikes when he rode in the UK and in 1931 was a partner in the company that built the Sheffield Speedway at Owlerton. During his time in Britain he continued to look for new challenges and made several trips to the Continent to race. He made a brief visit to New Zealand in 1933 but it appears he never actually rode on a New Zealand speedway at any time in his career.
In 1938 he was appointed Manager at Newcastle Speedway but was tragically killed in a car crash at Cockermouth when returning from a league match at Workington.
This is only a very condensed summary of a fascinating character and a great Kiwi. If anyone can help with information on the life and career of Spencer Stratton I would love to hear from them, particularly regarding his trips to Germany, Austria etc.
The photo comes courtesy of Susan Webb whose Nana was Spencer Strattons niece. Susan has found most of the information we have, I just glue it together!!
You can contact Dave via email at giffords@xtra.co.nz
This article was first published on 16th October 2008
[ Use Mobile Version ]
Comment on this Article | Contact Us | Go Back to Main Menu