DVD Review: Shawn Moran Racing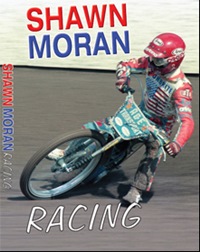 Retro-Speedway continue to produce a wide range of DVDs to cater for the needs of all speedway nostalgia fans. One of their recent productions is "Shawn Moran Racing", a showcase of the talents of the popular American rider. There are four hours of racing to enjoy, split between two disks.
As with other titles in the "Racing" series, it's action packed with thrilling heats of speedway from beginning to end. The action kicks off in 1979 with a 17 year old Shooey taking part in the American Final at Anaheim. His potential is obvious as he races round the tight circuit, essentially in a constant slide thanks to the short straights.
His natural talent soon brought him to the attention of UK promoters, famously turning out for Hull Vikings under an alias to circumvent some inconvenient legislation.
It was as a Sheffield Tiger that he really started to make his mark and we see him taking on Ole Olsen's Coventry Bees at Owlerton in 1981. There's also footage of him riding in that year's Northern Riders Championship, one of the many big individual meetings that have all but disappeared from the fixture lists.
The DVD offer many opportunities to see Shawn riding for his country. These include the annual England v USA test matches that were so popular in the early eighties, with the 1982, '83 and '84 series all given generous coverage. Some great races against home favourites Collins and Morton in the Belle Vue test in '82 are particular highlights.
1982 is also remembered for the infamous heat 19 of the Overseas Final at White City, when Bruce Penhall sacrificed his own chances of winning the meeting to help his compatriots. Shawn was one of the beneficiaries of that gesture, ending up in a run-off for the final qualifying places with Peter and Les Collins. Les (enjoying the best year of his career) storms clear, leaving brother Peter to fend off a determined challenge from young Shawn. Fantastic speedway and great viewing even after all these years.
By 1983 Shawn was sporting his famous STP leathers and clinched his first World Title win, albeit on the Long Track rather than the Speedways. There were definitely elements of a fairy tale about the win as he'd not long recovered from a broken thigh. Dick Barrie is our commentator as we see Shawn hurtling into the corners at astonishing speeds.
There was a general assumption at the time that a world speedway title was inevitable for Shawn and he looked the part in winning the 1984 Overseas Final. Kelvin Tatum spoiled his maximum chances in a quite brilliant race, but Shawn made no mistake in a run off for the title.
Bradford's Odsal Stadium re-opened in 1985 and Shawn proved to be a real master of the circuit. It was to be the venue for that year's World Final and he was strongly fancied to win the big one. He didn't count on the brilliance of Erik Gundersen who we see pull off a simply stunning pass of both Shawn and Lance King. Gundersen went on to win the title, defeating his old foe Nielsen and the virtually unknown Sam Ermolenko in a run-off.
During the European winters Shawn made a number of trips to Australia and thankfully film of some of those meetings has been found and included. These include some solo action from Claremont where we see local favourite Mick McKeon demonstrating his mastery of the circuit as he leads home Shawn.
By the late eighties it was common for domestic meetings to be filmed for VHS release, with Mike Bennett on duty at Sheffield each week for his MBI company. These recordings captured Shawn at his brilliant best and a few select races have been included here. It's fascinating to see him in close combat with other stars like Ermolenko and Morton once more.
Retro-Speedway have an excellent track record of throwing in some pretty obscure film and they've done so again this time. An individual meeting in Paris on the most temporary looking of tracks is a great inclusion. Shawn takes on Hans Nielsen on the kind of rough track that wouldn't generally be tolerated.
Sheffield's closure forced the Moran brothers to move across the Pennines to Belle Vue and Shawn's testimonial meeting was held at Kirky Lane. The video from the meeting is a reminder that the stadium was in decent nick when the Aces first moved there, with a stand on the back straight and in all round good condition.
The final year the DVD covers is 1990 - a year of highs and lows for Shooey. The World Final was back at Bradford and Shawn finished second after a run off with Per Jonsson, only to be stripped of the silver medal when an earlier drugs test was found to be positive. The action from the final was spectacular and was the perfect stage for Shawn's style of racing.
His career ended in 1994 when he admitted that he'd lost his racing nerve, something he never lacked in his early years.
This DVD will be ideal for the long winter nights ahead as we wait for the tracks to re-open next spring.
---
How To Order
By Phone : 01708 734 502
By Post : Send a cheque for £16 (payable to Retro Speedway) (add £2.50 if outside UK) to:

Retro Speedway
9 Nursery Close
Glossop
SK13 8PQ
Online : At Retro-Speedway.com
This article was first published on 15th October 2017
[ Use Mobile Version ]
Comment on this Article | Contact Us | Go Back to Main Menu