Rye House 1934
By Mark Dell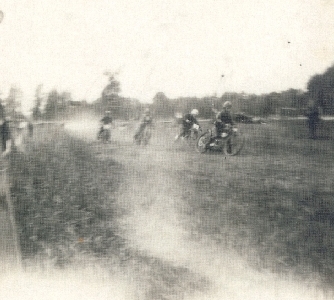 Frank Chiswell
I was intrigued by John Hyam's recent article about the origins of Rye House speedway and it reminded me of some research I had done a few years ago in the local archives. I received a letter from Roy Chiswell (Frank Chiswell's son) in September 2004 enclosing a photocopy of the programme for the meeting on 27 May 1934 at Rye House and the timekeeper was apparently Vera Chiswell, Jack's wife.
However, this was not the first meeting at Rye House, as John Hyam rightly suspects. The Hertfordshire Mercury (the local newspaper) of Friday 4 May 1934 printed two photos and one sentence which said:
'SPEEDWAY TRACK - Opened last weekend at Rye House, Hoddesdon. Members of the Hertford and District Motor Cycle and Car Club took part.'
The two photos showed two riders vying for the lead in one and someone falling off in the other (his name is possibly P Brine, as my photocopy is not very clear and it could be Percy Brine). There seems to be a healthy crowd in attendance and the meeting would have been on 29 April 1934.
The next meeting at Rye House is probably the one on 27 May which is reported in the Hertfordshire Mercury of 1 June 1934 as follows:
'DIRT TRACK RACING AT HODDESDON - The first (sic) dirt track meeting was held on Sunday last at Rye House Speedway, and over 1,300 spectators witnessed some good racing. Bentley's riding in the final of the first event will not be forgotten for a long time. The result was H. Bentley and J. Pilkington dead heat, F. Chiswell third and W. Tinsley fourth.
'Event 2, four lap rolling start. In this event F. Chiswell riding with all his old skill, won by a few yards, with R. Moore second, R. Carter third and K. Brett fourth.
'Event 3, special match race between G. Rowney and H. Bentley. H. Bentley overslid on the last bend and left Rowney to roar past the post the winner at nearly 40 miles an hour.
'Event No. 4, four lap handicap. Rowney romped home a winner by twenty yards, with Bentley second, and Miller and Carter fighting out third and fourth places respectively'.
Although the programme says meetings every fortnight these were the only two references to speedway I could find in the Hertfordshire Mercury for 1934, and Roy Chiswell does suggest that the track was unlicensed, which may explain why it was short lived.
There was only one reference for 1935 in the 16 August edition which refers to Grass Track Racing at Rye House Speedway, being the re-opening meeting of the season for the Hertford and District Motor Cycle and Car Club. This mysterious organisation, who I can find nothing about, also opened Smallford Speedway in 1936, in a potato field near St Albans! It may be that the unfamiliar names were members of this club but had no impact in the wider world of speedway in later years.
Norman Jacobs in his book 70 Years of Rye House Speedway refers to meetings being run by the Rye Stortford Motor Cycle Club and the 440-yard track being built on a former watercress field next to the River Lea. In fact, the Rye House complex was a Victorian leisure park and tourist attraction created by businessman Henry Teale in 1849. About a year later Teale bought the inn which had been called the King's Arms and renamed it the Rye House Hotel. He created gardens and a maze and there was a sports field, tennis courts, fishing, boating, a fairground, a ballroom, the castle dungeon and a 440-yard athletic track used by the East Herts Athletic Club in the early 1930s which became the speedway track. One of the main attractions for visitors was the Great Bed of Ware, now in the Victoria and Albert Museum.
One aspect of Rye House's history that is very obscure is the existence of a Stock Car track where the Go-karts are now, certainly in 1956, but possibly for three or four years up to 1958. If anyone has any information about this please get in touch via the Speedway Plus website.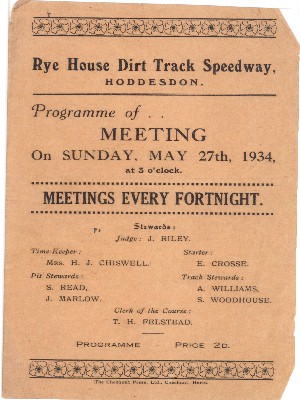 Sources:
Robert Bamford (2003) Speedway - The Pre-War Years
Sue Garside (2002) - Hoddesdon: A History
Hertfordshire Mercury 1934 and 1935
Norman Jacobs (2003) - Speedway in the South-East
Norman Jacobs (2007) - 70 Years of Rye House Speedway

This article was first published on 14th May 2009
[ Use Mobile Version ]
Comment on this Article | Contact Us | Go Back to Main Menu