Provincial League Memories
By Robert Rowe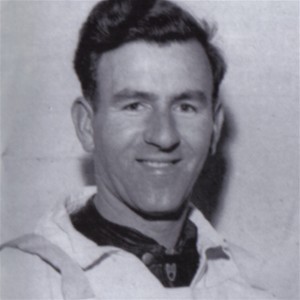 Ivor Brown
I saw all of Bristol Bulldogs home matches in the first season of the Provincial League in 1960. I recall they finished runners-up to Rayleigh in the league and won the knock-out cup. Knowle Stadium had re-opened speedway the previous year, when a series of challenge matches were held. Riding for the Bulldogs in most of those were my hero Dick Bradley, Bjorn Knutsson and Peter Vandenberg. The birth of the Provincial League injected some badly needed impetus into speedway, the National League having deteriorated significantly. It produced thrilling racing for, in many cases, a new audience.
The leading riders were Reg Reeves (Rayleigh), Reg Fearman (Stoke), Ross Gilbertson (Poole), Ivor Brown (Yarmouth), Harry Bastable (Cradley Heath), Wal Morton (Liverpool), I think Tommy Roper (Bradford), Doug Templeton (Edinburgh), Jack Kitchen(Sheffield) and the Bulldogs leading lights were Johnny Hole, Trevor Redmond and Ernie Baker. The others in the team were Cliff Cox, Roy Taylor, Pat Flanagan and Frank Evans. Novices Martin Ashby and Chris Julian had their first rides at Knowle - I well remember Martin Ashby landing up on the dog track after being forced out very wide at the second bend in a second-half race.
The stadium closed suddenly in February of the following year - greyhound racing there was no longer profitable. I still remember the war cry and the letters B-R-I-S-T-O-L lighting up on the old hare control tower. Great times. Friday nights were never the same again!
This article was first published on 6th May 2010
---

Pete Morris:

"I was taken to Knowle Speedway by my Dad, Jimmie Morris who was the announcer at the meetings. The excitement of Speedway, the bravery of the riders and the smell of Castrol R havenever left me. I did frequent Eastville Stadium in the Seventies for a speedway fix. As Robert says Friday nights where never the same. "
Angela Kitchen:

"I was amazed to find this article included my dad, Jack Kitchen. I have many memories of going to Sheffield and Belle Vue in the 70's. Sadly my dad passed away in 1991 at the age of 50. He suffered a brain tumour."
Anthony Baker:

"I have just read a comment by Angela Kitchen, Jack Kitchen's daughter. Jack Kitchen and Tony Robinson were my heroes. Jack Kitchen was a brilliant rider for Sheffield. I would love to contact his daughter. Would there be any chance of putting me in touch, please?"
We don't have an email address for Angela. Get in touch if you happen to read this Angela!

[ Use Mobile Version ]

Comment on this Article | Contact Us | Go Back to Main Menu