PINJAR PARK - West Australia
Pictures courtesy of Chris Seaward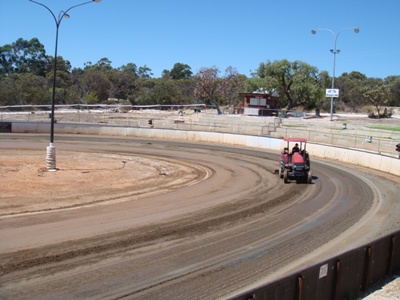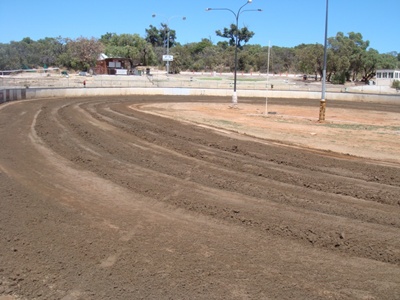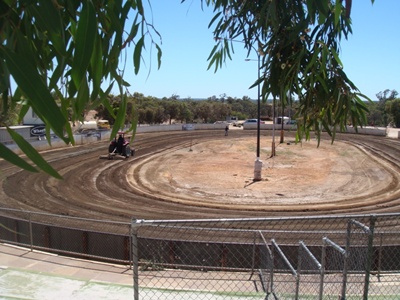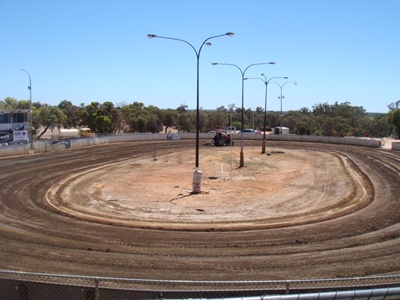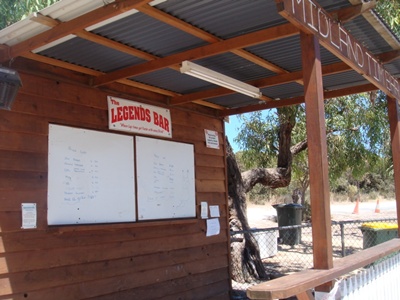 This article was first published on 24th July 2008
---

Peter Hunter:

"Because of its small size (142 metres or 155 yards), Pinjar Park is used for both senior and junior racing. It also has had a few American visitors in its short life as its very similar to the length of the tracks in California (such as Costa Mesa) where most of the motorcycle speedway there takes place. When at home in Perth (and he's actually racing and not taking time off), Pinjar Park is the home track of 2013 World Champion Tai Woffinden."
Cary Cotterman:

"This looks very much like a California speedway track. In fact, with the eucalyptus trees it could easily be mistaken for California, if it weren't for the lamp standards in the centre. "
Ken Brown:

"The light standards in the centre of the Pinjar Park Speedway are no more. The local club is now clearing land behind the circuit for a new 330 metre oval that should be much better for the sidecars and the senior solo competitors. Fundraising has now started for the project. "
Peter Hunter:

"Pinjar Park will soon (late 2016) have a new 300 metre track opening next door to the 142 metre track. As far as I know the original track will still operate as a junior speedway."
Peter Hunter:

"Pinjar Park's new 300 metre track has now officially opened. It hosted the running of the 2019 Western Australian Solo Championship (which strangely was run on the same night as Rd.2 of the Australian Championship at Mildura). Showing his continued support for where he grew up and the club that both he and his father Rob were such a big part of, the WA title was won by none other than reigning World Champ Tai Woffinden who not only rode on the night but also helped with the track preparation."

[ Use Mobile Version ]

Comment on this Article | Contact Us | Go Back to Main Menu