Norwich
By Dudley Jones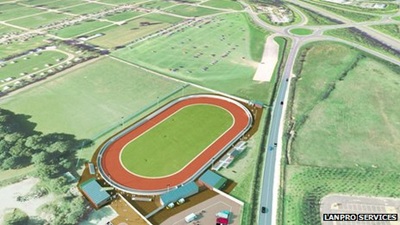 Plans for the New Firs
Yesterday I received my copy of Classic Speedway, and what a treat it was.
A very good article on Ove Fundin, and also news of the proposals for a new track at the Royal Norfolk Showground.
The proposal seems well advanced, with an application lodged with South Norfolk District Council.
The proposed promoter seems to have prepared well and had Ove, Olle Nygren, Terry Betts and Trevor Hedge giving their support at the press conference.
Funnily enough I have stayed twice in recent years at the Caravan Club site at the showground, and identified the proposed track site as an ideal location, with very good access, away from noise issues, etc.
The re-emergence of Norwich would be a great moment for speedway generally. The City was always a hotbed of support, even in the mean 1950's the Norwich terraces were always crowded.
I have always felt that the 'lost' speedways would make a great league on their own. Lets hope Exeter, Canterbury, Bristol, Halifax, Bradford, Hull and Cradley, and others, will all re-emerge.
I understand that Kings Lynn are anxious that Norwich not be called 'Stars' and, as a long standing follower of KL I understand this reaction.
I hope, however, that Kings Lynn will recognise that having Norwich 50 miles down the road is unlikely, after all these years, to affect their gates in a negative way. I would suggest that the good folk of Norfolk would relish 'star wars' battles between the Norwich and Kings Lynn Stars, to the benefit of both clubs.
I urge everyone to support this proposal.
My only reservation - why start in the National League? Norwich must be able to get off to a better start in the Premier League.
This article was first published on 19th August 2012
[ Use Mobile Version ]
Comment on this Article | Contact Us | Go Back to Main Menu