An Interview with Neil Middleditch
by Alex Raby
Alex Raby asks Neil Middleditch about combining domestic and international matches, finds his tips for the 2007 season, and talks 'legends'.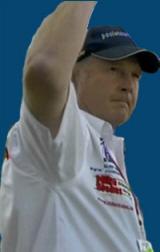 'Middlo'
A cool wind was whipping through the stadium, hats were on, tea was supped, but Neil Middleditch could be seen, as ever, talking tactics. On this occasion it was for the Poole Pirates, for whom he insists he holds the role of team manager and not 'legend' or 'famoso'.
Not only have his skills stretched to riding, but also to team managing not only a club but also the Great British side. That skill on a bike, though, has helped him in all of his roles, as he explains, "I think the boys tend to relate to me a bit more because they know that I've been out there and actually raced a bike, so I know all of the situations. Being a manager is all about mind games; you have to understand how the boys tick, and having raced for sixteen or seventeen years I know what it takes to be a speedway rider, and they respect me for that."
Nevertheless, to dwell on only his managerial talents for a moment would be to fail to deny his success on the track. Son of Ken Middleditch, himself a former Poole rider, Neil quickly made his mark, becoming the first ever Pirate to feature in a World Under-21 final. This came in 1978, three years after taking the coveted British Under-21 title; again he was the first Poole rider to do so. He earned a testimonial with the Pirates in 1984, and retired 500 points shy of his father's all-time league and cup points score with an impressive 2380.5 in Pirates' colours. What makes him more of a legend than the six above him in that leaderboard, however, is his tenacity off the track, where he has become a successful speedway manager.
Standing with Middleditch in the Arlington pit lane, in fact, not only allows me to reflect on the fact that I am interrupting his half-time cup of tea, from which he sups while I ask my questions and which he grips eagerly in his hands, but also on the fact that few people know he rode here for Eastbourne, Those early days of his career must have been beneficial, he jumped from fifth place in the 1974 Eagles averages with a figure of 7.72 and on to second place the next season with a sum of 9.62. Even in his first season with the club in 1973, also his first year in competitive speedway at the age of 16, he scored a solid 4.82 average. 'Middlo', as he is affectionately named, still has fond memories of his time at Arlington "Well, obviously I've got very fond memories of Eastbourne. I started riding here when I was sixteen years old, won the British junior championship here, and then in '85 won the National League riders championship here".
That was not the only title he won at Arlington, however, as he won the 1986 Sussex Open Championship, a famous accolade reserved only for the best at the circuit. One experience which was slightly less glorious was his trip to Australia with the then named England team. In six matches he racked up only 10 points for the Lions, yet such is his pride for all things national, that he says "representing my country in Australia in a test series was probably one of the highlights".
That passion is evident when considering his role as Team Great Britain manager; he exudes confidence, and is excited about the forthcoming trials, especially the summer Speedway World Cup. "Well, we've got a home draw at Coventry which is great, as obviously Scott Nicholls and Chris Harris feature heavily in my plans. Then hopefully we can go straight to the final, but if not then we go to Leszno in Poland, and most of our boys have had experience out there. But, obviously, the best way we'd like to go is straight to the final". Ambitious, as well, then, and his work certainly merits a trip from as many people as possible up to Coventry for what will undoubtedly be a very exciting match.
On a longer term basis, he looks to the younger riders to step up a gear, "Now we've got good youngsters; James Wright, Lewis Bridger, they're all coming through and showing that they can mix it in the Elite League, and that's looking very good for British Speedway. I think some of them are a few years away yet from being world class, but they're getting there."
That being the longer term consideration for British Speedway and Team Great Britain, to what extent will Middleditch feature in those plans, and what does his speedway career hold? "I have got business interests outside of speedway, but I love and my heart's been at Poole. I've been involved there all my life, my father raced for them, and I just enjoy the sport. So long as I'm enjoying it and it doesn't affect my business or my family life I'll continue to do it."
Neil has undoubted 'love' for speedway, and Poole speedway in particular. I remember watching an episode of BBC series 'Flog It!', in which he and his father both described the joys and technical aspects of the sport. I asked him what he thinks is the greatest thing about the sport, and what he would say to a prospective fan or sponsor. "Probably the friendship and bonding [is the greatest], the sport is a great family sport, you can bring your children along, there's no crowd violence. It's just a real exciting sport, its 60-second races, you get 15 great races, you get some really very good ones. In the Elite League here you've got the best riders in the world, and I say to people 'get on down and have a look'. People say 'I might go down and have a look' but they need to get here and see it live. Watching on telly, that's okay, but to see it live, to get the smell and atmosphere, that's what you need to do".
Seeing Bjarne Pedersen edge towards his team manager, I asked Neil which of these top riders that he gets to work with are actually the best. Although I suggested the possibility of him not sitting on the fence on this matter, he answered as diplomatically as ever. "Well, obviously I had the pleasure of working with Tony Rickardsson for a number of years, and this year working with Jason Crump, another World Champion. There are so many riders - Bjarne Pedersen, a great team man and a great captain. I'd probably say Tony Rickardsson would be the greatest in this moment, but it depends how long we get with Jason, it's an honour to work with him this season."
Jason Crump, a rider himself with a Poole history, but does he have what it takes to win another World Championship this season, and who is Middlo's tip? "I think you'd be a fool if you didn't back Jason again to be honest, but having seen Bjarne - obviously I see Bjarne and Jason week in, week out - Bjarne looks on tremendous form at the moment, so I wouldn't discount Bjarne, certainly winning a few Grand Prix. It's something special to make a World Champion, and you've got to keep and maintain that form over 11 rounds this year and it's a tough call to do that. I think I'd have to tip Jason again, but Hans Andersen is another good rider, he's on top form at the moment."
Talking about form, the Poole Pirates have had a mixed bag of results so far this season, but avoiding the temptation of fate I ask Neil about what he feels are the key points of the evening's racing. Both sides have displayed battling qualities, the Eagles edging in front, but the key riders for him are something a little different to what one might expect. "For Eastbourne, young Lewis Bridger, who is having a tremendous match today, but my team are digging deep. Unfortunately Troy Batchelor has just blown an engine, and we lost Jason Doyle this morning with a broken ankle, so we're a little bit under-strength, but my main aim is to come and get the bonus point. If we can get that I'll be happy, anything after that will be a bonus."
Even in a team match, then, Middleditch is looking at the younger riders, rather than citing the key riders as the big names such as Crump and the Pedersens who are on show. Eventually the Eagles come out victors, the Pirates' reserves particularly struggling on the night, while Lewis Bridger's own score pushes the Eastbourne side to an 8 point victory. Middlo gets that bonus point he wants, but if readers are going to put a bet on his side, should they do so as soon as possible? "I think Peterborough look very strong, Swindon - their side is very strong, but Peterborough have got a good home track advantage and are very strong. I'd probably say Peterborough and Swindon, but I'm going to say Poole first time. Swindon and Peterborough will be the closest teams." Well, there is the betting form for the 2007 Elite League season according to team manager Neil Middleditch, and who could bet against a man with such success both on and off the track?
This article was first published on 12th April 2007
[ Use Mobile Version ]
Comment on this Article | Contact Us | Go Back to Main Menu