Every Picture....
The 1970 NZ Championship
By Tracy Holmes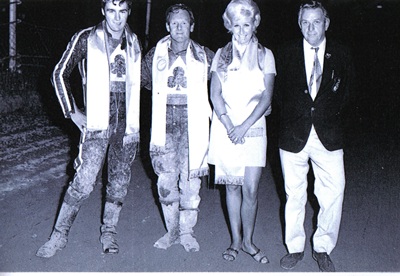 1970 New Zealand Championship
This is a rare snap of the 1970 New Zealand championship presentation at Western Springs. Left is the winner Chris Bailey from England. He beat Bill Andrew (not Bob Andrews) in the run-off. Next to him is Bryce Subritzky who was third. The young lady wearing the 2nd place sash, I don't know. Right is Ian Fullerton, the control board secretary.
Bill Andrew was unable to be there as he was on the way to hospital, being injured in the run-off, requiring stitches to his foot.
The snap comes from the collection of the late Bruce Kent.
This article was first published on 29th October 2009
---

Ian Harwood:

"Chris Bailey was a New Zealander who rode for Rochdale in 1970."
Jim Murray:

"I don't think Chris Bailey was born in New Zealand, he rode for England and made his debut at Belle Vue for the Colts in 1968."
Ian Harwood:

"My misinformation regarding Chris Bailey's nationality came from a photo caption in the 1971 Webster's Speedway Mirror that says "Not many riders who compete in Division 2 can claim to have won a national title. Chris Bailey is one however taking the New Zealand Championship in 1969-1970". So I'd been under the impression since then that he was a New Zealander. Of course nationalities have never counted for a great deal in speedway. This was the era when Ivan Mauger and Barry Briggs rode for Great Britain in the World Team Cup."

[ Use Mobile Version ]

Comment on this Article | Contact Us | Go Back to Main Menu