Meeting Briggo
By Harry Ward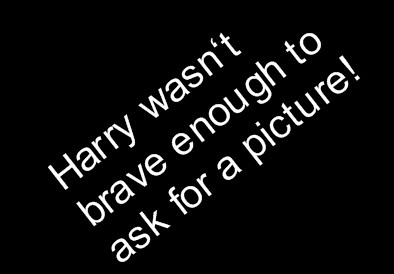 I suppose this has happened to everyone in their life...There's the chance to meet an idol of yours but should you actually approach them? What will their reaction be?
On the 14th of June my wife an I arrived at the departure lounge at Stanstead en route for the Copenhagen GP and looked for a seat. As we sat down I looked to my right and there sat none other than Barry Briggs all on his own. I whispered to the missus "look who's sitting next to me"..."who" was the reply...."Barry Briggs" said I. Now the last time she saw him was about thirty years ago. May have even been the '81 World Final on the concourse at Wembley. I had sent her up to the great man programme in hand to get his autograph.
Knowing I am a touch shy and aware of others privacy I looked the other way and tried to ignore the fact that I was in the company of greatness.
Next thing I knew she was up and shook his hand and said "Hello Mr Briggs, how are you? You gave me your autograph about thirty years ago". Completely embarrassed I didn't know what the reaction was going to be then the great man said "My dear you don't look old enough to have got my autograph all those years ago are you going to Copenhagen for the GP"?
For the next twenty minutes there I was chatting away to a four times World Champion. Like a kid in a sweet shop. He spoke at length of his thoughts about the current riders and the state of British Speedway. He shared stories of Ivan and Ole as though they were mates of mine. When I mentioned Rye House he chatted away about what a great set-up there was there and that Len Silver was a great promoter. Then a big smile when I mentioned West Ham. Said that he loved the place. I nearly said "Yes and I was there the day Stan Stevens beat you" but thought better of it!
I think Barry must be around seventy three now but you would never have believed it. A really charming man. On the plane someone else spotted him and chatted for a while and he seemed content to do so. How unlike other famous sporting stars who I have seen treat their adoring fans with rudeness and contempt.
Finishing off he told us about Gary and Tony as though we were family friends. This little meeting made the whole trip worthwhile and I am only sad I didn't ask for a photo with him but I didn't want to push it.
I suppose there is a moral to the story and perhaps next time I may pluck up the courage to initiate a conversation but I doubt it!
This article was first published on 3rd July 2008
---

Pete Jackson:

"Very Nice story. I had the pleasure of receiving a phone call from Barry on his recent trip to the UK...re his book "Wembley and Beyond". A genuine and honest man and my No 1 Sportsman."
Mr Briggs:

"March 2010's Wimbledon Reunion was the scene of my meeting the great man, my pal Albert and I were surprised to see him there, but absolutely thrilled when Barry walked over to where we stood and began a conversation. I told him that I'd first got his autograph in 1961 in the pits at Plymouth's Pennycross Stadium, he was there with brother Wayne who was part of the visiting Edinburgh team, I also mentioned that I'd told him "my name is Briggs too!" and that my son Alec had said the same thing to Tony when getting his autograph at one of the Brighton Bonanzas. Albert and me left that reunion on a high because of meeting the great Barry Briggs."

[ Use Mobile Version ]

Comment on this Article | Contact Us | Go Back to Main Menu