Riders to Remember: Manuel Trujillo
By John Hyam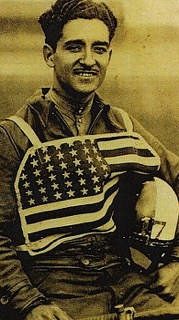 Manuel Trujillo in 1936
Manuel Trujillo was an interesting character in USA speedway. In younger days in the early 1930s he worked as motorcycle messenger for Western Union where his workmates were Jack and Cordy Milne and Wilbur Lamoreaux. He followed then into speedway in the early 1930s but while they concentrated mainly on the sport in California, Trujillo joined Putt Mossman's troupe and raced with them in Japan, New Zealand and Australia, then in the UK between 1936 and 1938.
In those latter years he also worked as a mechanic for the Milnes and Lamoreaux when they joined British clubs. At Wimbledon in 1937 where he helped Lammy, promoter Ronnie Greene also gave him second-half rides.
Trujillo's historic claim to UK speedway fame was helping the USA to a 52-51 defeat of England in the first ever international between the sides on August 30 1937 when he finished second to Cordy Milne as they took a last heat 5-1 from Joe Abbott and Frankc Charles. Going into the dramatic last heat England led 50-47.
Trujillo was back in Britain with the USA team in 1951 but quit the tour after six weeks and went home claiming the American riders were not being paid a high enough fee for expenses, points and start money.
On the USA championship scene, Trujillo won the USA Open Championship in 1939 and 1946. BTW 1937 world champion Jack Milne regarded Trujillo as 'the most spectacular ever speedway leg trailer rider'.
This article was first published on 9th February 2020
[ Use Mobile Version ]
Comment on this Article | Contact Us | Go Back to Main Menu