John Goodall - You Have Two Minutes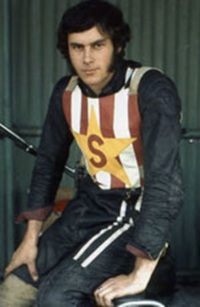 John Goodall
Tracy Holmes puts John Goodall On Two Minutes;
What are you up to these days?
I am still self-employed as a mechanic, also indulging in a lifelong passion of Hot-Rods and American vehicles, by importing to order for people and myself. Since I stopped racing speedway in 1999, I have continued to race classic scrambles. [Vintage MotoX].
How's the health?
All good, the fact that I am able to write this 'unaided' has me thinking I'm probably ok!
Any family stuff you would like to share?
Enjoying having my daughter and her partner back home from the UK after 4 years. My son and his wife, living in the UK are expecting their first child, our first grandchild. And Arnya is still serving her life sentence as my wife!
Do you see much speedway these days?
I always attend Western Springs when the visiting USA Midget and Sprintcar drivers are racing. Also I still visit our local solo track, Rosebank and keep in touch with the riders. Always watch the GPs on DVD, albeit a long time after the event!
Any speedway projects on the go?
I designed and built a prototype solo bike, based on the Jawa. Had a friend ride it and it looked very promising. Sadly, the fence got in the way, it is now broken so I've shelved it for now.
Any message for friends and fans?
Speedway was a very big part of my life and you do treasure the contacts and friends made, you don't forget them! I attend our NZ Veterans get-togethers as it's always great to catch up with old faces from the past.
Well done John, look forward to that bike making a come-back!
Picture of John courtesy of sunderlandspeedway.co.uk
This article was first published on 29th April 2012
---

Angie Stewart:

"I remember you from the days at Gisborne many years ago. It would of been at Allan Hessel's a few times gathering for celebrations after the speedway. I remember Tom Sweetman also but everyone else escapes me. This morning I was sorting through so old photo's trying to organise them. The was this small shot of you. My memory isn't that flash these days but it was taken the night when one of the guys ended up in Gisborne Hospital and a few of us snuck in so you guys could see how he was... So this morning l thought the internet is a good research tool, and thought I might just take a look. Angie"

[ Use Mobile Version ]

Comment on this Article | Contact Us | Go Back to Main Menu