Hackney 'Olympic' Reunion 2012
By Paul Tadman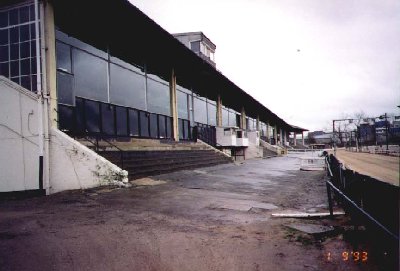 Waterden Road
In 2005 Hackney Speedway held its first speedway reunion. For those present it was an unbelievable evening. That unique atmosphere at Waterden Road was once again created on a summers evening in July at former Hawk Pete Sampson's Paradise Wildlife Park. Riders, promoters and fans came from far and wide to be part of Hackney Speedway once again.
I'm delighted to announce in 2012, we will try to rekindle that atmosphere once again when on Friday 8th June, [at eight of course] Hackney Speedway's 'Olympic' reunion will once again take place at Paradise Wildlife Park, now home to the speedway museum.
Ticket prices will be announced shortly. Please note that all tickets must be purchased in advance, details on prices etc will be announced at www.hackneyspeedway.com within the next couple of weeks.
It promises to be another evening of pure Hackney Speedway nostalgia.
Tickets will include on the day
Free entry to Paradise Wildlife Park and the Speedway Museum. The park and museum will be kept open to 7:45pm especially for the Hackney Speedway reunion patrons.
Visit the idyllic memorial garden where former members of the speedway family are remembered.
The licensed bar will open from 7pm till late.
Then at 8pm, Hackney Speedway's 'Olympic' reunion will begin with the Hackney's Speedway's theme tune, 'the Magnificent Seven', and of course the tossing of the coin!
It will then be time for a 'speedway' barbecue plus dessert!
More time to get a drink from the bar plus several attractions to be announced.
Paradise Wildlife Park in conjunction with the local 4 star Marriott Hotel at Cheshunt have teamed up and have special pricing arrangement for PWP guests wishing to stay over. A minibus service will operate between the hotel and Broxbourne station for those wishing to either stay over or attend by public transport both before and after the event.
It promises once again to be a great evening and details will be released in the coming months, watch the speedway publications and hackneyspeedway.com for the latest news....
This article was first published on 11th March 2012
---

Dudley Jones:

"Hackney Olympic reunion. Paul Tadenham mentions the 'unique atmosphere' at Waterden Road. In the late 1960's I used to visit Hackney very few weeks. I was a West Ham supporter, so had a few mixed feelings. I totally agree that the place had a unique atmosphere, I thoink it was the smell of paint, or some chemical that pervaded the air!!!! Having said that the track was great, the racing was great and Uncle Len was (and happliy is) a great promoter. Lets hope that visitors to the Olympics get to smell the paint too."

[ Use Mobile Version ]

Comment on this Article | Contact Us | Go Back to Main Menu