DVD Review: Great Races of the 70s and 80s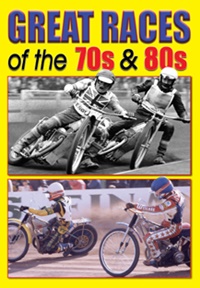 Fans starved of speedway action this year will be appreciative of this new DVD collection from Retro Speedway. Great Races of the 70s and 80s, as the name suggests, is a collection of some fantastic action, featuring many of the sport's greatest names.
The action come from all levels of the sport, from World Finals down to the National League, with every single race being an absolute cracker and well worth seeing again.
Things get off to a great start with a famous clash between Peter Collins and Anders Michanek in action for their nations at Sheffield in 1973. Collins shows tremendous tenacity and skill in this race and it'll come as no surprise that he features regularly throughout the four hour DVD box set.
His brothers Les, Phil and Neil all pop up frequently too, a reminder of what an amazing set of entertainers they were. Les' race with Bruce Penhall at the Los Angeles Coliseum in 1982 is an obvious and welcome inclusion.
The Collins aren't the only brothers to feature prominently, with Shawn and Kelly Moran being well to the fore also. We see them racing against each other at Eastbourne, in almost exhibition style around the tight circuit. We're fortunate that by the time they teamed up at Sheffield, the home video revolution was well underway and we can see many of those races again. Their performances are frankly remarkable, reeling in the very best the world had to offer and eventually picking them off to clinch the three points. Fans of the Tigers in those days were truly spoiled by seeing these Moran boys in action every week. There's also a chance to see Kelly take on 'Boogaloo' Bobby Schwartz in a series of match races at Costa Mesa.
The nostalgic feelings these DVDs generate are almost tangible. The 70s action in particular is evocative of better times. The riders are in bright racing colours, the bikes seem to require greater skill than today's guided missiles and the terraces are packed. The atmosphere at the 1975 British Final comes across loud and clear, Martin Ashby and Ray Wilson are in a race-off for a place at Wembley and the fans are making an absolute racket, the likes of which we've not heard in the UK for many a year.
Greats like Barry Briggs and Ivan Mauger also feature in some of the races, with a remarkable World Pairs race where the two legends attempt to team ride and we find out that their styles just weren't compatible. That contrasts sharply with the Danish pair of Ole Olsen and Finn Thomsen, their synchronised riding was a thing of beauty.
It's not just the world class stars that included for our entertainment, there are fabulous races from the National League boys as well. Legends of that level such as Tom Owen, David Gagen, Mick Poole, Rob Grant, Mark Courtney and Billy Burton serve up some thrills. Owen features in one of the best races on the DVDs when his partner Nigel Crabtree pulls off an amazing ride to clinch the National League Pairs at Hackney.
The National League races also allow us to see some early action from Gary Havelock, so exciting to watch in his teens. We also get reminders of a couple of other precocious talents that never quite fulfilled their potential - Keith Millard and Martin Scarisbrick.
Despite all of the great names that have already been mentioned, the undoubted star of this collection is Chris Morton, the Belle Vue and England legend. He was a top liner throughout all of these years and he pops up time and again. There's one race in particular that sums up his special talent, it's from Olching ande he's looking fairly hopeless as Egon Muller and Erik Gundersen battle it out in front of him. Muller looks sensational, fast and stylish, clearly at the top of his game, then, seemingly from nowhere, Morton finds the right line and somehow overtakes both Egon and Erik, overturning a lead that had looked unassailable. An incredible ride from a great speedway racer.
Hopefully we've given you a flavour of what you can expect from these DVDs. Anyone who has ever been a speedway fan will love this collection of brilliant races, definitely a production which can be enjoyed over and over again.
You can order your copy from Retro-Speedway.com
This article was first published on 6th December 2020
[ Use Mobile Version ]
Comment on this Article | Contact Us | Go Back to Main Menu