WEST HAM - Custom House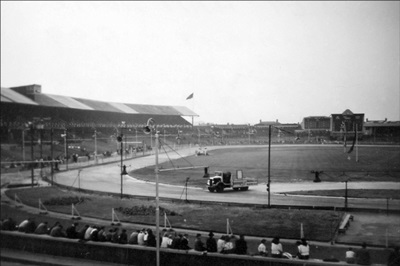 Picture courtesy of Fred Pallett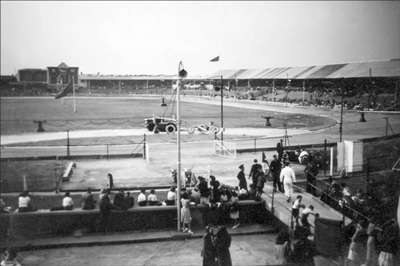 Picture courtesy of Fred Pallett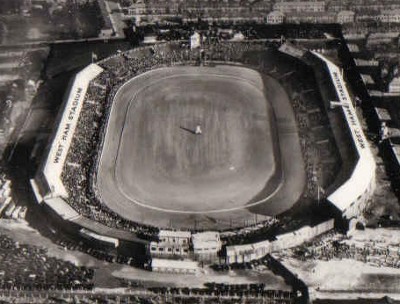 Picture courtesy of Ray Bysouth/Reg Fearman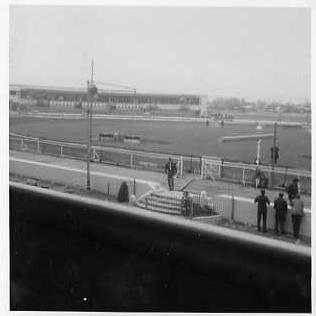 Picture courtesy of Ray Bysouth - taken by Steve Rushbrook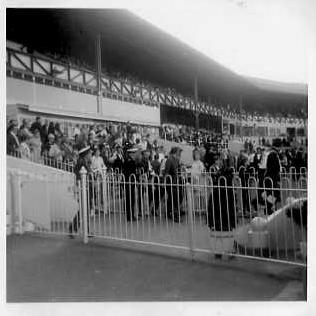 Picture courtesy of Ray Bysouth - taken by Steve Rushbrook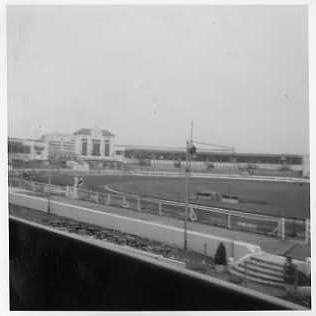 Picture courtesy of Ray Bysouth - taken by Steve Rushbrook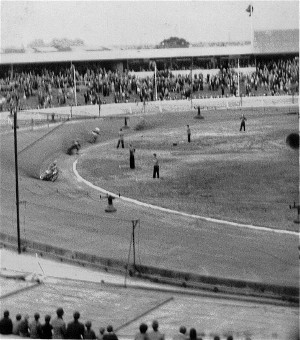 Picture courtesy of Norman Jacobs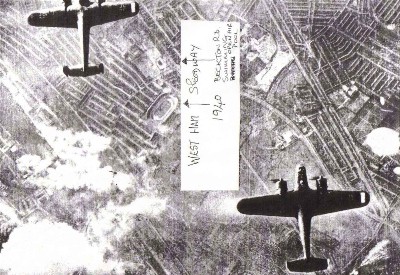 German bombers over Custom House in 1940
Picture courtesy of Reg Fearman
This article was first published on 21st October 2005
---

Terry Copusrence:

"Does anybody know when was the last meeting to be held at the West Ham speedway stadium and between which teams, and when was the Stadium pulled down?"
Irving Gregory:

"What a shame that speedway has left London. I think we should all get a petition going to bring back speedway to London after all we have lost major venues like New Cross, West Ham and Hackney to name a few. I miss them. RIP speedway, that will be the future if we don't do something."
Paul Holden:

"The last meeting was in 1972 when the defunct Romford Bombers moved to West Ham. The club wound up after only a handful of meetings and the last ever race (second half final) was won by West Ham's captain and track record holder, Kevin Holden. "
Robert Rogers:

"Sadly the last ever rider to win a 1st Divison race was Christer Lofqvist, the last 2nd Divsion rider was Kevin, both sadly lost their lives in later track accidents."
Steve Brown:

"Robert Rogers claims that both Christer Lofqvist and Kevin Holden lost their lives in track accidents. Christer died from a brain tumour in 1978. Kevin did crash at Poole, but the cause of death was given as a ruptured aorta. It is likely that this event was the cause of the accident, occurring (naturally) a split-second earlier."
Jeff Radcliffe:

"One reader makes reference to Kevin Holden and Christer Lofqvist both dying as a result of track accidents. Christer actually died of a brain haemorrhage not a track accident. He may be getting confused with Christer Sjosten who was killed on track in Australia."
Roger Stevens:

"'Lofty' did not lose his life on the track, he died from a brain tumour, I believe, at the age of 33. Very very sad. Roger "
Robert Rogers:

"Sorry for the miss information on Christer Lofqvist, they are correct, I did get the two Christers mixed up, I was, as pointed out, trying to make the point that both riders died young after being the last winners at West Ham."
BarryW:

"Very interesting comment by David on the West Ham track record, perhaps confirms that it is not speed itself that makes good racing. One point, I remember being at Custom House when Ray Wilson broke the track record, I think an Easter Monday afternoon and do recall someone sitting nearby commenting that Ray's time would mean that Jack Young's name would no longer be in the programme after so many years. This makes me fairly sure that Briggo never did hold the record at Custom House."
Martin G:

"Regarding Briggo's West Ham track record. Jack Young held the record of 70.6 when Custom House closed in 1955, however by the 1964 re-opening the wheel size had changed resulting in the record being reset. The track size remained 415 yards. Briggo set a new TR of 73.4 at a World Championship Round 2 meeting on 4th Aug 1964 only to break this again (72.6) a week later when he rode for Swindon in a league match. It took just over a year before Nigel Boocock lowered it to 72.4 during the British Final, coincidently won by Briggo! Ray Wilson's record of 70.2 on Tuesday 8th April 1969 was to remain unbeaten. By my estimation the TR would now be 62.1, which I calculated by converting the times to speeds and comparing to track speeds of a non-defunct track of similar size, this being Owlerton."
Robert Rogers:

"Briggo and the West Ham Track Record, now it gets technical! Jack Young held the record as the fastest man around the `new` West Ham track untill Ray took it, I was there that day, boy was he moving! Remember the West Ham Track was shortend and redesigned on Jacks word The final Programme of 1964 shows Briggo as holding the Track Record for `Small Wheel` @72.6 Secs (Jack was 70.6). Briggo described the West Ham Tack as one of fastest and best in the world, and who are we to disagree! Rays unbeaten time was 70.2 Jack also held the 1-lap record for West ham at 18.00 secs The modern one lap record was jointly held by Sverre Harrfeld and Ken McKinlay at 17.6 secs. One can only imaging with the modern lighter bikes what the record would be now. "
David Pickles:

"BarryW - thanks for your feedback. Definitely have some West Ham programmes from 1964 showing Briggo as the track record holder - although, a bone of contention here. I think it was around 1952/3 that the rear wheel was changed to a smaller one, and the West Ham progamme showed 2 track records, one for the larger wheel and one for the small wheel. Briggo is down at 73.4 on the modern day wheel (the smaller one). That record, of course, was smashed over the seasons down to 70.2 by Ray Wilson. Yes, it was the Easter Monday meeting, as Leicester also used to race on a Tuesday evening, therefore the Hammers curtain raiser in the late 60's/early 70's was always the Lions on Easter Monday. Any views as to what the record would be now? I calculate around 64.8 or is that wishful thinking?"
David Pickles:

"Many thanks to all who have answered the "Custom House Track Record Conundrum". 62.1 is the fastest calculation, and the mind boggles at physically having to watch that round the famous bowl. If only the place hadn't been flogged off. And for £475,000 at that! Those were the days!"
Bob Rowe:

"I have followed the exchanges about the West Ham track record with interest. Pleased to say that i was present at virtually every home meeting between '65 and '70 and was the ACU timekeeper for much of that time and although I haven't got the programme to prove it, am pretty sure I was on duty when Ray Wilson broke the record. The one-lap times of Ken McKinlay and Sverre Harrfeldt which I was also on duty for were rolling starts.

Good old Dave Lanning was responsible for introducing that interval attraction each week and i would leave the timekeeper's box and go out to the starting gate, with Dave on the mike and do the timing from there ! As I've mentioned on Speedway Plus before i've worked at a lot of dog tracks which also featured speedway -Knowle(Bristol),Oxford,Leicester,White City, Wembley,Wimbledon, Belle Vue (Kirky Lane) but undoubtedly the best and that which provided the happiest memories for me was West Ham. "
Robert Rogers:

"Re Bob Rowe and the Track Record. Now it could be mis-print in the programme, but R.J.Rowe shows as the SCB Timekeeper for nearly all the season, except that first match on the 7th April 1969, when Ray set the Track Record, we had an ACU Timkeeper G.F.Little. Does anybdoy know the differance between an ACU and a SCB time Keeper?"
KMS:

"I was only 15 at the time, but regularly attended speedway at West Ham's old track from July 1967 until the last-ever meeting there, on Tuesday May 23rd 1972. The last-ever meeting at Custom House was a British League Division 2 match between the West Ham Bombers (formerly the ROMFORD Bombers) and Hull Vikings. Hull won the meeting 38-40. Demolition at the stadium didn't take place until October 1972 - so it could have been possible for speedway to have continued there and for the Bombers to have completed the season!"
David Pickles:

"Regarding KMS's article on West Ham at Custom House, I believe the bit about demolition not taking place until October 1972 to be wrong. The last ever banger racing meeting was held on Saturday 20th May, the last speedway meeting Tuesday 23rd May, and the last ever greyhound meeting the following Friday May 26th. I well remember only a week or so after that dog meeting going with a couple of friends to visit the stadium (were we actually in mourning?) and an elderly security chap actually let us go in and look round. We were shown the old dressing room and baths, and the speedway office which was packed with old programmes that he let us have (we actually came back to the track with a push chair and cleared out over 1,000 programmes from the 60's and 70's). We also took photographs of the demolition taking place (sadly they are around somewhere but completely impossible to find!). The reason I say that demolition begain with a week or so was because it was a very hot day we went, I then went to Africa for the summer in mid-June and started work in October 1972, so no way could I have witnessed what I saw so late in that year."
Ronald Goodman:

"Johnny Hoskins was manager at the Hammers prior to the war and a tradition was started when the riders took his hat and passed it to each other teasing Johnny to try to get it back. After the war he joined Odsal (Bradford) I think and stayed as manager for many years. In those days the team consisted of Bluey, Eric Chitty, Phil Bishop,Colin Watson, Arthur Atkinson,Tiger Stevenson and two others ."
Meg Garrett:

"As a kid in the East End, in the forties and fifties, I used to go to West Ham to the speedway [ and the dogs] every week. Great fan of Eric Chitty and Malcolm Craven, would like to know more about their lives, families, careers, later years, and, sadly, their deaths. Funnily,we now live in Ontario [re Eric Chitty.]. My dad was a huge fan of Bluey Wilkinson [and Mick the Miller, greyhound, pre-war of course]"
Jason Steele:

"Keen collector of all old stuff about Custom House Stadium. Love reading and researching about the stadium itself. Would love to see such things as the pics of the demolition etc and views under the stands etc! Would love to be contacted! jasontotti@hotmail.co.uk"
Geoff Pike:

"Shortage of speedway in London. It's a great shame so many tracks closed over the years in London, now Londoners who still like the sport have Lakeside and Rye House for their "fix". My late Dad and Uncle were great Wimbledon fans, another Uncle and Auntie were Wembley Lions 'nuts'. I was introduced to speedway at Wembley aged seven years old one Thursday evening in 1955, I was overwhelmed with the amount of people present over 60,000 I was informed, the atmosphere was 'electric', the racing, the tractor and the miniature cannon this was the impression that was firmly held in my head. Wembley put on a real show and what a show! Sadly now Londoners have a limited number of tracks or tune in to 'sky' etc., Up the 'Pirates'. "
Alan Aston:

"The only speedway programme that I still have is the last West Ham Bombers match at the stadium, which I believe, without going thru' all my bits was against Hull Vikings, which unfortunately West Ham lost."
Ray Chivers:

"Have found your web page and read all of the replies about West Ham Speedway, I am 56 now but remember going to West Ham with my Family for a British Final but can't remember the year, but must have been between 1968 and closure of the Stadium, as started supporting Swindon Robins in 1967, most certain there will be a programme at my mums so must look it out. From what I remember it was a large track, and the other thing I can remember I think was ship funnels, or was I dreaming, was it close to the docks."
Mick Hirons:

"I have mixed memories of West Ham speedway.My first visit was whilst on holiday at Southend. A rained off British final. My second visit consisted of a drive with my elder brother from Long Eaton. Another rained off British final! (both in the sixties when I was in my mid teens). Amazingly thanks to another Southend holiday I finally saw racing at the fine old stadium. The Hammers hammered Sheffield 54 to 24 I believe. I also managed to see Dons past and present versus "the rest" at Plough lane thanks to Southend holidaying. Happy days."

[ Use Mobile Version ]

Comment on this Article | Contact Us | Go Back to Main Menu