Cover Story
By Phil Rice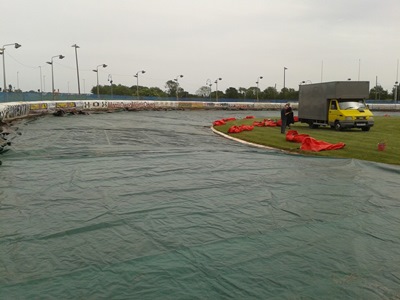 The Covers Go Down at Swindon
With regards to track covers, it is not as straightforward as readers might think.
I help out at Swindon during the day on Thursdays and some weeks ago we placed the BSPA track covers (now based and stored at Swindon) on the track. First of all it must have taken six or seven us to do the work (and it is not easy to find the volunteers) which took at least two hours (maybe more) and then about 90 minutes for even more of us to take them off the track in freezing and wet conditions.
I can tell you we were all in a bad mood after that work - especially as the meetng was rained off anyway. Ok next time the work should be quicker as we've done it once but many of us at Swindon are in our 60's - so hard work!
Those who know more than me about these things tell me that you must lay the covers on a dry track and additionally there are complaints about their design. It appears that the current covers do not breathe enough which is vital.
Also the covers are very heavy to carry. When they arrived at Swindon from the manufacturers it took us again about 90 minutes to load them into storage and so you can imagine how difficult and timely it would be when the covers are wet and dirty.
Yes each track should have its own set of covers but there must be time made available for laying them on the track. Some tracks have very limited access to their stadiums so not only do we need better covers but we must have access to plenty of (volunteer) labour. No good at Swindon laying them down on a Thursday - it needs to be done a day or so earlier when there is a threat of rain. Big Ron (Russell) can get on the tracks most days but elsewhere it is not the case.
More thinking and planning is still needed.
Picture courtesy of The Blunsdon Blog. The Blunsdon lads battles with the covers are detailed in this blog post.
This article was first published on 20th October 2013
---

Ross Dow:

"Many good points by Phil. Covers, if properly designed, could be a success - but common sense (and local weather forecasts) must also be used. There is little sense putting them on a saturated track, particularly if the material cannot 'breathe'. Also, there is no point lifting them if persistent or heavy rain is forecast during the meeting time. The 7 day forecast should be checked. If there are a couple of wet days before the meeting, prepare the track and put the covers down in good time. If, on the morning of the meeting, the forecast is for persistent or heavy rain during the meeting, cancel in good time. Ironically, one possible problem could be track watering - if covers come off late, the track base could be too dry. To overcome this, the track curator may have to remove, water and replace the covers several hours before the meeting - sorry Phil, more work for you and the other volunteers. "
Andy:

"Whilst appreciating the efforts of all volunteers at any track and their contributions are vital and invaluable you have to question whether speedway is a professional sport or not! An excuse for track covers not being used because a track cannot get volunteers, people struggle because they are full of over 60's so the covers are too heavy and take a lot of carrying...this cannot be used by any track as an excuse...it's a valid excuse from the actual volunteers, who I admire and feel sorry for, but not from a track who's responsibility it is to get the covers used properly if they are provided..speedway at club level seems to an amateur sport masquerading as a professional sport."
Steve Bartlett:

"Great article on the covers kept by BSP at Swindon, after attending the debacle that was the Elite League Riders Championship, it seems to me it could have been avoided by deployment of covers before the shower, which was forecasted accurately ( for a change) from early sat' morning, I know we checked many times and sites. Between 4/5o'clock, and no further rain. I feel if I am paying a premium entrance fee the least I could expect is a professional track prep'. I am really disappointed and will defiantly not be attending many more meetings if standards are not raised. Feeling well ripped off by BSPA, and certain so called stars who could not be bothered and withdrew. The track was not that bad as lack of fallers & incidents indicated, well done to Rory and the half a dozen others who gave it a good go, but as for Ward & co, I will not be paying to watch them again, contempt for fans deserves contempt back, rant over thanks."

[ Use Mobile Version ]

Comment on this Article | Contact Us | Go Back to Main Menu