DVD Review: Memories of Coventry Speedway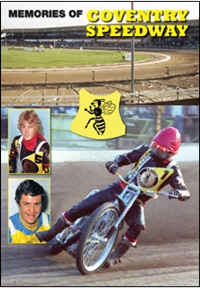 2017 has been a horrible year for fans of the Coventry Bees, losing their Brandon home and being withdrawn from the league on the eve of the season. Bees fans looking to lift the gloom will be pleased to hear of a new DVD dedicated to their great club. Memories of Coventry Speedway is a 6 hour epic that is an absolutely essential purchase for anyone who has spent happy evenings in CV8.
Tony McDonald from Retro Speedway is the man responsible for this fantastic new production. It's arguably one of the best that his company has produced so far, one can only imagine how many days of effort went into sourcing such great material, complementing it with additional interviews and then editing it all down to "just" the six hours.
The film is split over three disks and covers the history of the club from 1928 up until the current month. Some decades are covered in broad brushstrokes, with most of the six hours concentrating on the 1975 to 1994 period. Those years coincided with the domination of the Bees' side by three great Danes - Ole Olsen, Tommy Knudsen and Hans Nielsen.
Olsen gives a lengthy interview, conducted recently, interspersed with archive clips of him in action for the Bees during his hey-day. It's clear that his influence over the club extended far beyond that you would normally expect a rider to have. Clearly inspired by the way that Ivan Mauger would transform a club, Olsen worked closely with promoter Charles Ochiltree to decide which riders would be signed and how the team would operate.
That approach brought the Bees great success, but didn't meet with universal approval. Steve Bastable joined the club in 1983 to replace Mitch Shirra in a straight swap with Swindon. Shirra had asked for a move after finding it impossible to work with Olsen any longer. Bastable agreed to move to Brandon, but confirms here that he didn't enjoy his new work environment, falling out with both Olsen and the promotion. We see evidence of the strained relationship in a clip from the pits where Olsen is upset over a machine problem encountered by Bastable that costs the Bees vital points.
One of the real highlights of these DVDs is the coverage of the Coventry versus Cradley Heath meetings in both 1982 and 1983. Central TV sent along Gary Newbon, Dave Lanning and a full camera crew to coverage the action and it still makes great viewing all these years on. There's controversy a plenty, including Knudsen and Gundersen being excluded for both breaking the tapes at the same time, Penhall crashing to the ground after a clash with Knudsen and playful accusations that Newbon is a closet Heathens fan. Tremendous speedway and all played out in front of huge crowds - how incredible to think that these same clubs will meet in next year's National Trophy, as tenants at Leicester and Wolves.
Olsen left the club at the end of the 1983 season, staging a successful farewell meeting that is covered on the DVDs. His mantle as top Bee passed to compatriot Tommy Knudsen, who linked up with Kelvin Tatum to lead the Bees to two league championships in the late eighties.
Tatum is another who has given a new interview for inclusion on these DVDs. He speaks fondly of his time as a Coventry rider, but admits that something felt different after the 1988 season. Tommy Knudsen was badly injured and Kelvin was unhappy with the teams that were built, feeling they didn't have quite the same ethic about them. He eventually moved to Berwick for the 1991 season. Kelvin is an interesting contributor in many of the archive interviews that have been included also. We see him change from a very polite and nervous youngster, into a much more gregarious character who is happy to have a laugh and joke on camera.
Kelvin's move to Berwick was offset by the remarkably successful return of old favourite Tommy Knudsen. Tommy turned in another two years as a Bee, linking up with yet another popular Dane - Brian Andersen. We see Tommy's farewell speech from the end of the 1992 season, mixed in with lots of footage of the end of season fun and games. These little segments, along with clips of the crowd, track staff and obscure corners of the stadium, really do add a great deal to the DVDs. They will genuinely bring back happy memories for many, which is after all the point of this nostalgia fest.
Knudsen's retirement from British racing left a massive hole in the Bees' side, so who better to fill that than a three time World Champion? Hans Nielsen turned his back on a testimonial with Oxford to move to Brandon and become Coventry's captain. A large chunk of the third and final DVD concentrates on the 1993 and 1994 seasons when "The Professor" was the latest in a long line of Main Danes at Brandon.
The quality of footage from those years is excellent and we see the likes of Simon Wigg, Andy Smith and John Jorgensen in action in the Bees' bib. We also see Jacob Olsen following in his father's footsteps, though he (understandably) didn't quite hit the same heights.
The period from 1995 to 2015 is zipped through - with nods to Hancock, Hamill and Harris for their stellar contributions to the cause.
One name we haven't mentioned at all so far is Nigel Boocock. Despite the efforts of Olsen, Knudsen, Nielsen and the rest, there's little doubt that Boocock - little boy blue - is the greatest ever Coventry Bee. Although there isn't the same range of film available of him in action, there's plenty of Booey related content on this production. This includes some never-before-seen film from his 1975 testimonial meeting. The other great highlight from his era is some fabulous colour cine film from the Coventry vs Oxford meetings that same season. The cameraman actually finds a position from where he can film the whole race, something that never seemed to occur to most cine enthusiasts!
Boocock sadly passed away a couple of years ago and many of his former team mates, rivals and fans gathered at Brandon in 2016 to bury his ashes under the Brandon track. We see Peter Collins carrying the ashes for a final lap of the track, before they are committed to the ground. A very emotional moment that is a nice addition to these DVDs.
These are just some of the highlights, there are hundreds of little moments on these DVDs that will transport you back to happier times. This production has clearly been a labour of love, it's beautifully put together and a "must have" for anyone who has ever supported the Bees. Even if you're a fan of another club, there's plenty here for you to enjoy too, a simply marvellous product that we highly recommend.
Watch a trailer for the DVD
---
How To Order
By Phone : 01708 734 502
By Post : Send a cheque for £16 (payable to Retro Speedway) (add £3.50 if outside UK) to:

Retro Speedway
9 Nursery Close
Glossop
SK13 8PQ
Online : At Retro-Speedway.com
This article was first published on 16th December 2017
[ Use Mobile Version ]
Comment on this Article | Contact Us | Go Back to Main Menu