Riders to Remember: Colin Goad
By David Pickles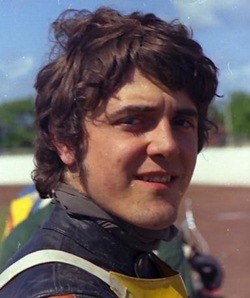 Colin Goad
Could I just be permitted a few words about Colin Goad, the former Ellesmere Port rider? Back in 1972 a friend of mine and I travelled to Quibell Park, Scunthorpe to watch them take on Ellesmere Port. Our intention was to go to Ellesmere Port the following night to watch them race against Rayleigh Rockets, the team we supported in the old 2nd division. We got chatting to Colin in the Scunthorpe pits and said that we were going to go to Thornton Rd the following evening. He asked how we were getting there, and we replied "we don't know" (we were only 17 at the time and would probably have slept on a park bench and got to Ellesmere Port somehow the next day!).
He kindly said that we could go back with him and his father who was with him in the pits, and stay at their place in West Derby, Liverpool, that night. The following day, after his father had an appointment at the local hospital at lunchtime we all ate together and made our way to the track. There, Colin introduced us to the rest of the team (we insisted on paying our admission even though we were guests of Colin) and we had a great evening's racing.
I believe the Gunners won 41-37 and we said our goodbyes after the meeting, got dropped off at Lime Street and ended up on the milk train back to London. All in all a brilliant adventure for two star-struck teenagers. Hopefully Colin reads this website, and from me many many thanks for your hospitality and kindness all those years ago.
This article was first published on 27th January 2013
---

Joan Pate:

"Col is my cousin and today lives in Leigh Lancs with his wife and two sons. Unfortunately my Uncle Tich (Colin's dad) died a few years back. He was my favourite uncle and much loved. "

[ Use Mobile Version ]

Comment on this Article | Contact Us | Go Back to Main Menu