Toronto Motorcycle Show 2010
By David Hensby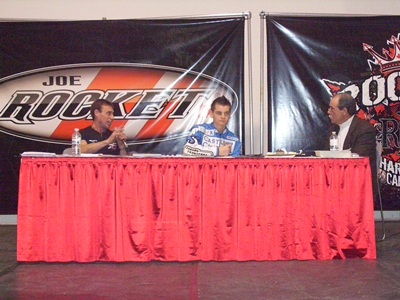 Jeff Orosz and Tommy Hensby are grilled
The 2010 Toronto Motorcycle show was attended by a record crowd over the weekend of Jan 15th through to the 17th. Located right next to Toronto's International airport, this central location offered 5 halls of motorcycle displays ranging from custom built and crafted machines, 100 years of motorcycling, rider outerwear and accessories to individual and club racing displays. The Canadian Speedway Racing Association was present at the event, amalgamating with the Welland County Motorcycle Club as a repeat from 2009 show, to successfully promote the aligning of the speedway racing throughout the summer months at the Welland County Motorcycle Club facility.
With the display of the current 2009 Canadian Speedway Champion and 2009 National Speedway Champion's bike, Jeff Orosz, and new junior rider Tommy Hensby's bike, the display was utilized with many visitors enjoying up close inspections and photographic opportunities both on and off the machines.
The interaction with many riders on hand throughout the weekend, allowed the speedway fan a great opportunity to talk with the riders, Jeff Orosz, Tim Murray, Kyle Legault, Tommy Hensby and Mike Hammond, all provided the insight of the sport with great detail.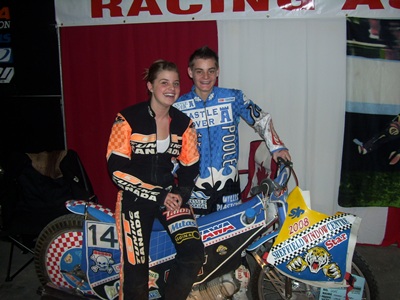 Emily and Tommy Hensby
The show also incorporates live interviews throughout the weekend, and speedway was also involved with both Jeff Orosz and Tommy Hensby openly discussing their goals and recent achievements on stage. Sadly for the crowd, Kyle Legault was unable to speak publically due to some scheduling conflicts, but those who managed to talk with him throughout the weekend, enjoyed his updates of his 2010 commitments to both the Newport Wasps and the Belle Vue Aces for the 2010 campaign.
Canadian Speedway for 2010 will see the continuation of racing events commencing in May at both the Paris Speedway and Welland County Motorcycle Club tracks. For more information of these and other events, please visit our website - www.canadianspeedway.com
[ Use Mobile Version ]
Comment on this Article | Contact Us | Go Back to Main Menu