The 12th California-in-England Speedway Reunion
By Stuart Towner
This event was held on 8th October and the day dawned bright and warm. The mist was rising over the lake as the stalwarts set to work arranging bikes and generally getting organised.
For various reasons there were not quite so many bikes on display but still a good variety and cross section to show the enthusiasts as they arrived. The machines ranged from a 1928 Rudge, 1929 BSA like the one that Jack Parker helped to develop, a 1930 Rudge and a few JAPs, Jawa, Weslake, Jawa Ice racer. Also a replica Luckhurst Mallorca Bultaco, a rotary Norton grass bike and a Bultaco grass bike too making up the numbers.
Various machines were started during the day so the assembled throng could savour that rich aroma of Methanol and Castrol R and from open exhaust pipes - not a silencer to be seen.
Past attending riders were a bit thin on the ground also but California favourites Eric Hockaday and Jimmy Gleed were there as were ex-Aldershot riders Dave Collett and Dai Davies who incidentally had a round trip of 400 miles to be there! Barry Duke and John Hammond were also seen taking in the delights of the sights and sounds. It was fitting too to see Vi and Terry Sharp, the widow and son of California Captain Ron Sharp.
Friends of Speedway, the organisers wish to thank all those who attended and hope to see you all again next year - provisionally on 14th October.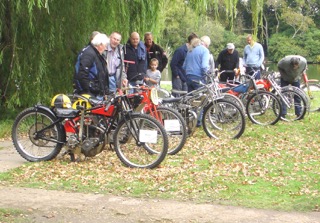 The line up of machines starting with
two Rudges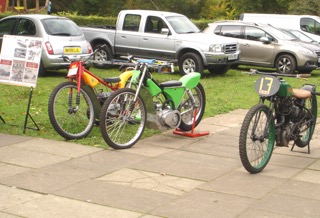 A replica Luckhurst Mallorca Bultaco (left),
Rotary Norton and 1929 BSA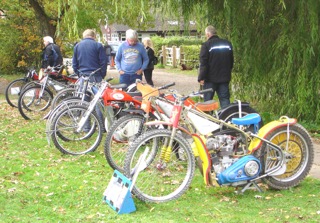 The line up from the lake end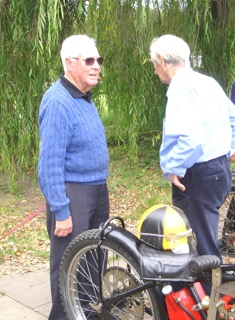 Ex-Aldershot riders Dave Collett
catches up on chat with Dai Davies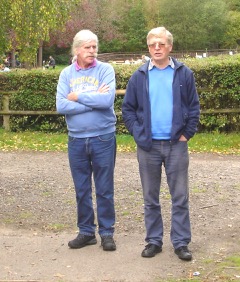 Barry Duke (left) chats to a friend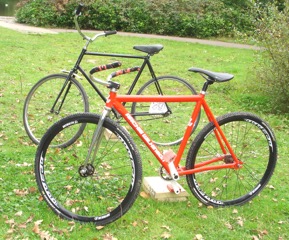 Cycle Speedway bikes on display
This article was first published on 15th October 2017
[ Use Mobile Version ]
Comment on this Article | Contact Us | Go Back to Main Menu