Bryan Tungate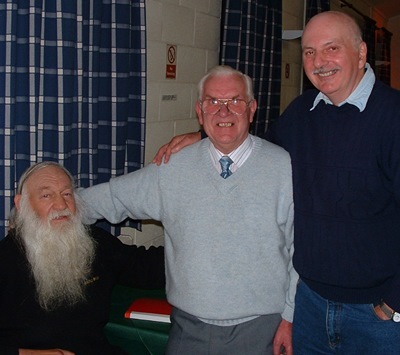 Bryan Tungate, Johnny Davies and Keith Farnam
There was sad news recently when we heard that Bryan Tungate had passed away. Bryan was a keen speedway historian and a regular contributor to many speedway websites until he became ill a few years ago.
His death notice appeared in the Eastern Daily Press on February 23rd and read as follows:
Dedicated Norwich and King's Lynn Speedway Historian, passed away at the Norfolk and Norwich University Hospital on February 9th, aged 75.
Loving brother of Robin and Margaret (Australia) and uncle to Lisa and Ingrid.
Funeral service at St Faith's on Friday, March 13th at 1.15 p.m.
Family Flowers only, please, donations, if desired, for the Elsie Bertram Diabetes Centre, may be given at the service or sent to Peter Taylor Funeral Service, 3A Corbet Avenue, Sprowston, NR7 8HN.
Bryan posted many comments on this very site.
On the topic of speedway research, he said:
"Plenty of people have printed stuff from the past without doing any work on the factual side of things. Speedway evolved from other pastimes, it was not invented by anyone. A number of present day researchers are having difficulty getting this put right."
On the GP series:
"I cannot accept that a GP at Cardiff will ever take the place of a World Final at the Empire Stadium, Wembley. Unfortunately the Empire Stadium has now been lost to the needs of football and is no more. I would willingly swap all the victories of modern day riders at Cardiff for a World Final victory by Ove Fundin at the Empire Stadium."
On guest riders:
"Guest riders are the worst thing ever in Speedway. In a bygone season White City won the League on the back of a permanent guest for Dag Lovaas who had said he had no intention of riding here that year. A guest on each side should cancel out but it doesn't happen."
On the 1964 Norwich v USSR meeting:
"The Russians were stupendous that night at the Firs. There were as many cheering and shouting for them as for Ove and the Stars such was the tension cranked up heat by heat. The result was of no consequence, after all it was only a challenge match. It was however ridden as if the very life of the teams depended on it."
On facilities at King's Lynn:
"Buster and his team are to be congratulated on the job they have done at the Saddlebow Road track over the last few years. The continuing improvements show the Promotion are now getting things right both on and off the track. Whilst the track has always been acceptable the Stadium as a whole now is far more presentable and welcoming."
On Sandor Levai:
"I first heard of Sandor in Belle Vue & Stoke teams in the 1960's. When he came to the Firs in 1964 he was earmarked to replace George Major, who had been riding for the Stars instead of joining the blacked Provincials like numerous other riders. Sandor obviously gained from riding extra bookings at Rye House as well. He soon settled in at the Firs and proved a popular bloke with the Supporters as well. As said he only scored a few points but he had to "wrestle" his way through to get those. He soon became known as a rider 'they didn't mess with' and watching him became as important as watching the Ove way of winning."
Bryan also took part in our 'Dream Team' feature back in 2006. Norwich legends Ove Fundin and Aub Lawson were included in his selection, which you can read here.
Rest in peace Bryan.
Thanks to John Hyam and Mike Kemp for assistance with this article.
This article was first published on 27th February 2015
[ Use Mobile Version ]
Comment on this Article | Contact Us | Go Back to Main Menu