The 1965 British Final
By Peter Colvin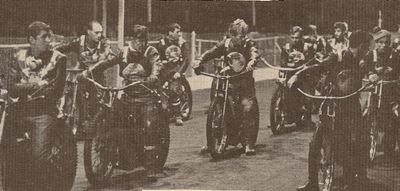 This article is about one of my most memorable races - despite the fact that I wasn't there to see it! This photo shows part of the line-up for the British Final of the World Championship at West Ham on Tuesday 31st August 1965. Fifth from the left is Glasgow's Charlie Monk and furthest to the right is Ken McKinlay of West Ham.
This event had been cancelled a week earlier due to a waterlogged track and was very close to being abandoned because of a pay dispute by the riders. The meeting, which was being televised by the BBC for their Sportsview programme, was delayed for 45 minutes due to a strike over points money and was not completed until 11.15pm. The riders demanded extra cash, despite the fact that their payment for this meeting had been agreed with the Speedway Riders Association in July. I just wonder if that is the reason for the riders becoming rather camera-shy!
This was Charlie Monk's most important meeting of his speedway career. The top six from West Ham would qualify for the World Final at Wembley in just eighteen days time. The first season of the newly formed British League had been a great one for Glasgow's number one and the build-up to this meeting could hardly have been bettered.
Charlie had won the prestigious Internationale at Wimbledon and the Easter Trophy at West Ham. The Internationale included World Champion Barry Briggs, Ove Fundin, Gote Nordin, Nigel Boocock, Ken McKinlay and Bjorn Knutsson. Monk had qualified for the British Final without dropping a single point in four meetings, was third in the averages behind Barry Briggs and Nigel Boocock and had scored twelve points in the previous meeting at West Ham in a league match. Charlie (on eight points), was in the last heat against Ivan Mauger (4), Jimmy Gooch (7) and Ken McKinlay (9). Briggs was British Champion on 13 and Boocock had qualified for Wembley on 11. Brian Brett and Reg Luckurst were both on 10 followed by Mike Broadbanks and Gordon Guasco on 9 points, making up the top six prior to heat 20.
The task facing Monk was complicated by the various permutations of finishing positions of this heat. A win for Charlie would mean certain qualification. Second place would either take him through or become involved in a run-off. Even one point for Charlie could have resulted in the need for a run-off involving up to five riders!
The Speedway Star reporter, Paul Parish, described the drama that was about to enfold in heat 20 as follows:- "McKinlay and Monk have a neck and neck struggle [at the front]. McKinlay through on inside second lap, fourth bend and drifts wide. Monk swoops back on inside and on the pits bend McKinlay comes off. Monk is excluded for boring. He cannot qualify now." [In the rerun], "McKinlay leads from the tapes but Gooch goes by at the end of the first lap to take and keep the lead. Mac is second and the six for Wembley are decided."
Parish went on to say "on the pits bend McKinlay, winding it on around the outside, slid into the fence. I thought [that Monk's exclusion] was because referee Gordon Little had seen something I had not. But on Sportsview a night later I saw all and unless by some quirk of the camera angles the picture we got was all wrong I certainly didn't think Monk had anything to do with McKinlay's fall."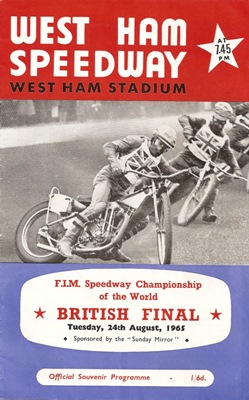 The Glasgow promoter, Trevor Redmond, immediately protested to the Speedway Control Board over Monk's exclusion. This was upheld and instead fined Monk £10 and they ordered a re-run of heat 20 at West Ham - only four days before the World Final!
This decision was relayed to the Promoters' Association Management Committee who were unanimous in their opinion that to allow such an appeal in this manner would prejudicial to the best interest of the sport and made their representations to the Speedway Control Board accordingly. They further expressed the opinion that "it is vital and traditional in all sports to accept the referee's decision on all factual incidents of racing and to amend the ruling made at West Ham on the night of the racing would undermine the authority of any referee at any future meeting." They also believed that "the ultimate effect of this decision could be disastrous to speedway and its proper control."
The Speedway Control Board, as a result of this contention, accepted the recommendation from the promoters and cancelled plans for the re-run and at the same time waived the fine. Therefore, Charlie Monk went down in speedway history as the man who successfully appealed to the Control Board against a referee's decision and gained for himself a re-run, only to lose that opportunity because of a decision by the Promoters' Association.
There were many letters of protest in the Glasgow programmes. A fan from Manchester, who was at the meeting, wrote, "I have been unable to sleep or eat properly and have felt positively ill. I was positioned near the West Ham starting gate and Ken McKinlay cut dangerously in front of Charlie causing him to swerve. No other rider could have avoided hitting McKinlay but Charlie did and on the pits bend McKinlay was on the outside and when he came off, Charlie was not near him."
I had become an avid fan of Charlie Monk and I still remember the feeling of immense disappointment by the fact that he had failed to reach a World Final through no fault of his own. Charlie did make it into the pits at Wembley - but only as mechanic to Barry Briggs who finished fourth behind World Champion Bjorn Knutsson, Igor Plechanov and Ove Fundin in a somewhat processional final where races were generally decided either at the gate or on the first bend.
And what became of the two riders who qualified from that controversial heat 20? Ken McKinlay and Jimmy Gooch scored just seven points between them to finish thirteenth and fourteenth. I still believe that Charlie Monk could have done just as well as the top English rider, Brian Brett, who won two heats and scored nine points.
The history books show that Charlie never reached a World Final. In common with many other scribes, I wonder what effect this injustice had on the psyche of Warren Edric Monk, the quiet man of speedway.
This article was first published on 21st July 2013
---

Tracy Holmes:

"Good work Peter! Indeed a very sad night for Charlie and it was reported he had a slow puncture in heat 15. He was 2nd behind Trevor Hedge at the time but lost a point to Brian Brett, managing to hold off Bob Andrews. I always think that Charlie just may have done what Gordon Kennett went on to do in 1978. While not good enough to win, he may have upset the apple-cart enough to take the silver medal, on his debut. From Plechanov, Fundin and Briggs ? Yup, he was on that kind of form and really was that good. Sadly, we will never know! Monk was not the only 'Top Man' to miss that years World Final. Spare a thought for Sverre Harrfeldt who went to the European Final in CZ on Sunday, to find that the meeting had been held on Saturday! The Norwegian Federation had given him the wrong date!!!"
Robert Griffin:

"I remember this British Final very well and while I was a supporter of Ken McKinlay he should have been excluded. The other reason I am going to let you know that Nigel Boocock should have been British Champion instead of Briggo because Boocock was leading Briggs half a lap to become British Champion until that misfortune when Boocock had an engine failed which cost him the British Championship and Briggs went on to win the meeting, most unfair but that's speedway. "
Roy Brooks:

"I was an avid fan of Hurriken and screamed blue murder at Charlie Monk on the night at Custom House. Saw the replay, McKinlay was running out of track and laid it down - Monk was blameless. However, not a great fan of Monk. Unfortunately, he had a surly manner towards fans. "
John McKinlay:

"Never knew the story until I read this. So was heat 20 re run on the night or was it awarded? "
Peter Colvin:

"Heat 20 was re-run on the night, John."

[ Use Mobile Version ]

Comment on this Article | Contact Us | Go Back to Main Menu