A Tribute to Bob Kilby
By Robert Bamford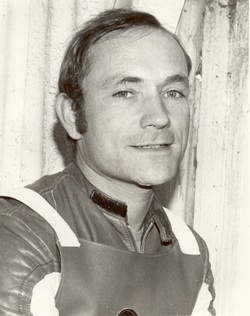 Bob Kilby
ROBERT STANLEY KILBY can rightly be described as the last great discovery of the original National League, which came to an end after the 1964 season. Swindon born and bred - and proud of it - Bob always had an interest in motorbikes and having often popped into Blunsdon to see speedway, he decided to try it for himself.
After initially training at Weymouth in 1964, his progress was so rapid that he subsequently made his debut for Swindon that year in a Britannia Shield match at Coventry on 16 May. Understandably, he failed to score from his two starts at Brandon, but his wholehearted efforts were sufficient for him to establish a regular spot in the Robins' side thereafter. With only seven teams operating in the National League, Kilby remained ever-present throughout the twelve-match programme, netting 30 points for a very encouraging first-year average of 4.90.
The British League was formed in 1965, and although 'Kilb' got plenty of rides, it was tough going and his league average slipped back to 4.11. He really began to make forward strides the following year, however, particularly when he notched his first paid maximum (9+3 points) for the club in a league fixture versus Oxford at Blunsdon on 4 June. Two full maximums later followed in successive home matches against Newport and Belle Vue as Bob stormed to a total 169 league points and an average of 5.76.
The 1967 campaign was one to be remembered by both riders and supporters alike, as the Robins took the British League title ahead of Coventry. Kilb played a major role in the triumph too, clearly looking the part as the fourth heat-leader alongside Barry Briggs, Martin Ashby and Mike Broadbank in what was a powerhouse side. He recorded nine maximums (6 full and 3 paid) along the way and upped his points-tally to 284, with his league average shooting to 8.46 as a result. That same year, he also broke the track record at Hackney, when finishing as runner-up to Barry Briggs in the prestigious Superama individual event.
In 1968, Martin Ashby was posted to Exeter by the Rider Control Committee, so Bob led the Robins' attack, together with Barry Briggs and Mike Broadbank. Regrettably, Swindon's fortunes faded after their Championship glory and, as the going got harder, Kilby's league average dropped back in successive years, falling to 7.80 in 1969.
He hit back with a real bang in 1970, though, netting 11 maximums (10 full and 1 paid) on his way to 359 league points and a huge 9.64 average. At the end of the year, he took a riding trip to Australia, but upon his return, he himself was posted to Exeter, with Martin Ashby travelling in the opposite direction and returning to Blunsdon.
Bob remained at Exeter until early in the 1973 campaign, before moving to Oxford for the remainder of that season and the whole of 1974. While at Exeter, he continued as a potent force; his best year occurring in 1972 when he garnered 321 points to finish with a league average of 9.82.
Although the scores continued to flow from his wheels at Oxford, Kilby always wanted to return to Swindon and, in 1975, he got his wish. He was obviously happy to be back and the Blunsdon faithful were over the moon at again seeing their side include both him and Martin Ashby.
He was to give sterling service as he saw out the remainder of his career at Blunsdon, but he will probably be remembered more for his electric gating technique than his points plundering ability. In 1980, he was awarded a well-deserved Testimonial for his service to the club, his special meeting going ahead on 31 August, when a host of top stars came out to honour a very popular speedster.
That proved to be Bob's last full year in the saddle as a serious back injury curtailed his involvement and it came as little surprise when he retired. However, during an injury crisis at Swindon in 1983, Kilb again donned his leathers, beginning with a home match against Eastbourne in the League Cup on 9 April. It was to prove a fleeting comeback though, and having failed to regain his touch, he again returned to life on the other side of the fence after completing just one league fixture and three League Cup meetings.
Bob did make one further return to the Blunsdon circuit on 8 October 1988, when a special challenge match pitched Swindon's 1967 league title winning side against the Soft Water Centre All-Stars. On a night of nostalgia, he reproduced his trademark lightning starts, making those who hadn't seen him in his heyday realize they had really missed out on something a bit special.
Kilb was both a tremendous rider and a great bloke, riding in a total of 556 meetings for the Robins in all competitions and scoring 4,192 points plus 234 bonus, whilst also netting 68 maximums (59 full and 9 paid).
This article was first published on 15th January 2009
---

Dave Prescott:

"I remember seeing Bob riding at Brandon on many occasions in the 70's and we always knew it would a tough meeting when he was involved. A great man on and off the track."

[ Use Mobile Version ]

Comment on this Article | Contact Us | Go Back to Main Menu