Updated on 28th February 2004
Scunthorpe Favourites - Woffinden, McKinlay and Teager
Speedway will return to Scunthorpe this year for the first time since 1985. The new circuit at Normanby Road will take shape over the next couple of months and racing will be underway in the early summer. To celebrate this we've decided to make this "Scunthorpe Week" here on Speedway Plus.
First up is a quick summary of the history of the sport in the town. Check out The Non-Essential Guide to....Scunthorpe Speedway.
The first meetings in Scunthorpe were staged at Quibell Park. Richard Hollingsworth and his trusty camera popped along recently to get some pictures of the stadium. It seems that very little has changed at the stadium since the last Speedway meeting over 25 years ago. View the pictures.
Scunthorpe fan Brian Smith took part in our 'A Matter of Opinion' series last June. At the time he suggested that "If it's left up to the council I don't believe they will ever provide ground for a motorsport venue". Thankfully it seems that eight months is a long time in local politics. Read the full article.
Scunny are further ahead than Middlesbrough in their attempts to revive the sport. The boys from 'Boro remain as keen as ever and will be staging more challenge matches around the country this summer. Find out more at their brand new website.
Cradley fan Steve Johnson has put together a new biography of Bruce Penhall. Find out more at the all-new brucepenhall.co.uk website.
Eastbourne 'Wonder Kid' Eddie Kennett has now got a personal website. Click here to pay it a visit.
Sheffield's Richard Hall has also now gone online. It's yet another designed by the prolific Graeme Paterson. The address is www.hall-racing.com.
Updated on 22nd February 2004
The size of the Ashfield and Armadale pictures has been increased. These pictures date from 1999 but little has changed at either venue in the interim.
Updated on 14th February 2004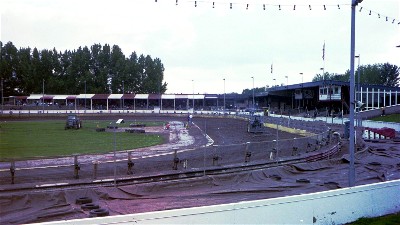 We can add another set of snaps to our Stadia Pictures today. This new addition is Mildenhall's West Row stadium. Richard Hollingsworth was once again the man behind the lens.
Mary Howarth offered the following comment on George Cox's Dream Team:
"I agree with you. Peter Craven was the best rider ever. I was lucky enough to know him personally as I was in Johnnie's Marching Girls. Kind of mascots for the Aces. We used to march at the beginning of the interval and end. I can still see Peter now with his mop of red curly hair and cheeky smile. I was heartbroken when he was killed."
Carmarthen's Darren Hatton's new personal website is a good one. Darren hopes it will help him find some sponsorship as he makes his way in the sport. This is especially vital for Darren as he's studying in his final year of university for a Maths degree. The site offers the chance to sign up for 'Hatton Racing', members will receive weekly e-mails, a monthly newsletter plus the chance to win Hatton Racing polo-shirts, photos and British GP tickets in the monthly prize draw.
A new magazine will cater for those who like a bit of nostalgia. 'Backtrack' is the brainchild of Tony McDonald, previously associated with the Speedway Mail, and will cover the seventies and eighties. Find out more at retro-speedway.com.
Sam Hurst is one of the many schoolboy racers hoping to carve a career in Speedway. You can follow his progress at the brand new www.samsspeedway.co.uk.
Edinburgh Fulfilment Factory Monarchs new-kid-on-the-block, Cameron Woodward, has launched his official website at www.cjwracing.com. The site, under the design and management of GPNetMedia.com, gives information about the young Australian, as he prepares to make his first full season debut here in the UK, with the current Premier League title holders. Woodward is the latest in a series of riders to sign up with GPNetMedia.com, moving their list of rider clients into double figures.
Woodward said, "It's great to be online. I'm coming over to the UK with the intention of making a success of things, I've made it crystal clear that Edinburgh is my number one priority this year, and of course I'm going to be looking for new sponsors as soon as I arrive. Having my own official website is a great way to attract new sponsors, as well as keeping the supporters and fans up to date as well. I know a few of the lads who have sites with GPNetMedia.com already, in particular my new team mate and fellow Aussie, Rory Schlein, and was delighted when I reached a deal with them to look after me as well."
Updated on 7th February 2004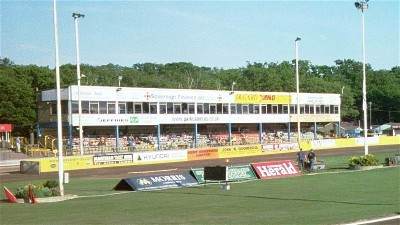 Eastbourne's Arlington Stadium has been a home to Speedway for over 75 years. These new pictures from Richard Hollingsworth replace the poorer quality pictures we used to have of the circuit.
Tony Simmons followed Ipswich in the eighties. His 'Dream Team' features the likes of Sanders and Sigalos.
A number of new websites to bring to your attention this week:
Sittingbourne Crusaders
Amy Carpenter
Gareth Hickmott
James Minall
Updated on 1st February 2004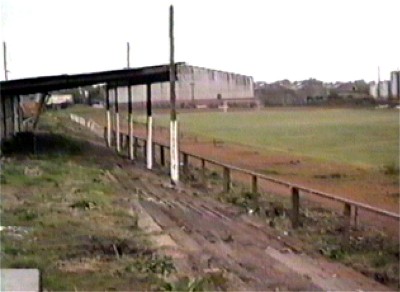 Glasgow Tigers raced at Craighead Park in Blantyre from 1982 until 1986. The non-league football ground could boast only the most basic of facilities and the track itself attracted regular criticism. New pictures of the venue have now come to light, these were taken in 1988 and give a good indication of the way the Speedway once looked. Click here to view.
Thanks to Ken Burnett for pointing out that www.solent.tv shows Speedway on the web each Wednesday evening.
Junior rider James Purchase, son of Steve and Vanessa, has launched a personal website. The address is www.jamespurchase.co.uk.
Jan Staechmann
There's very little that Jan Staechmann hasn't done in his long career. He's ridden in a World Final, the Grand Prix, Internationals and in all the top leagues. He's also dabbled in promotion with his involvement at Buxton. We're pleased that Jan has kindly agreed to feature in our 'A Matter of Opinion' series. Click here to read his views on 2003, his Jubilee meeting, Buxton and more. If you'd like to take part in this series then drop us an email at speedwayplus@hotmail.com telling us a bit about yourself.
Dan Neve has watched speedway regularly at Bradford, Sheffield and Workington. This is reflected in the riders he has chosen for his 'Dream Team'.
Shane Colvin's back after one of the shortest retirements on record. He's joined up with the Weymouth Wildcats and he's also launched a website. The address is shanecolvinracing.co.uk.
The town of Barrow-in-Furness has staged Speedway at two different circuits. One of these, Park Road, is long gone but the other, Holker Street, is still used as a football ground. There are pictures of the stadium on the football club's website at barrowfc.com.
Poole fan Paul MacKay runs a model railway and has a website dedicated to his 'layout'. He's named his station after a Speedway track, check out the 'other' Kirky Lane here. Similar 'tenuous links' welcomed at the usual address.
Updated on 17th January 2004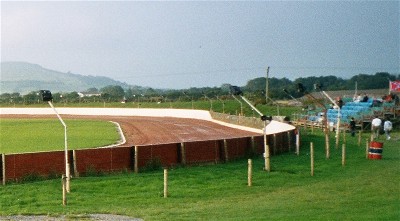 The Oak Tree Arena is the purpose-built home of the Somerset Rebels. Richard Hollingsworth and his trusty camera visited the circuit during the summer. View the pictures.
Glasgow fan Tommy Murdoch takes the hotseat in this week's 'A Matter of Opinion'. Topics include the best and worst signings of the Winter. If you'd like to take part in this series then drop us an email at speedwayplus@hotmail.com telling us a bit about yourself.
The Boston Barracuda-Braves are all set for another year in the Conference League at their temporary base at King's Lynn. The club remain hopeful of a return to Boston in 2005. The best place to keep up with all the developments is their new official website. Ben Creamer and Andy Taylor are the men behind the brand new boston-barracudas.com site. Just one request - can't the team go back to being the plain old Barracudas ?
The new promotion at Swindon continue to impress with their modern and professional approach to the sport. Latest innovation is a website dedicated to their Conference League side. It uses the same 'clean' design that the Robins main site uses and can be found at swindon-sprockets.co.uk.
Unofficial Newport Wasps websites seem to appear regularly, unfortunately few last for long. Hopefully this new one at www.newport-wasps-speedway.co.uk will buck the trend.
Updated on 11th January 2004
Over the last few weeks we've made a number of changes to the way that this site is constructed. The latest change is the introduction of the new look that you see before you now. Your feedback is, as ever, welcome and valued. You can get in touch by using the feedback form at the bottom of any page on the site.
Hull fan Tony Fletcher has waited patiently and now kicks off a new series of 'A Matter of Opinion'. This feature allows Speedway people the chance to share their views on topical issues. If you'd like to take part then drop us an email telling us a little bit about yourself. Read Tony's thoughts here.
A detailed history of Glasgow's tracks that operated between 1928 and 1940 is contained in a new book by Jim Henry. It's available from Robert Bamford, 3 The Mews, Gastons Road, Malmesbury, Wiltshire. £17.99 + £2.00 p&p.
The latest American Ice season kicks off this week. Scott Courtney, David Meldrum and Anthony Barlow are amongst those taking part. Keep up to date with the series at the new official website. The rider profiles on the site make for interesting reading, particularly Kevin Little's which tells us that crochet is one of his hobbies.
Benji Compton has set up a personal website. You can find it at www.benjicompton.co.uk.
Coventry have high hopes for young Danish rider Morten Risager. The 16 year old Dane is rated as one of the hottest prospects in the sport. Find out more at www.mortenrisager.dk.
The Official Mildenhall Fen Tigers website is now back online. Updated on 4th January 2004
The Sidewinders junior circuit has launched the careers of many Australian riders. Mark Martin has provided us with photographs of the track. View the pictures.
Edinburgh Monarchs once again have an official website. The newly launched EdinburghSpeedway.com, managed by GPNetMedia, must already be considered one of the best Speedway sites on the 'net.
---
ARCHIVE
[ Use Mobile Version ]
Comment on this Article | Contact Us | Go Back to Main Menu