New Zealand 74/75
By Tracy Holmes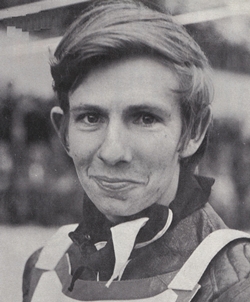 Gary Peterson
The 74/75 New Zealand season was an amazing one for solos. Gary Peterson made his comeback and two International teams paid a visit, the first was a British League side. Three tests saw the following results;
1st Test. 25 November '74. Western Springs. Auckland.
British League 33
Dave Morton 15; Craig Pendlebury 10; Mike Hiftle 8; Ian Cartwright 0; Res Colin Tucker 0
NZ Select 27
Gary Peterson 9; Ronnie Moore 7; Graeme Stapleton 7; Ian Ross 4; Res Terry Darwent dnr
2nd Test. 30 November '74. Te Marua. Wellington.
British League 41
Dave Morton 14; Mike Hiftle 10; John Davis 9; Ian Cartwright 8; Craig Pendlebury 0
NZ Select 19
Robin Adlington 9; Graeme Stapleton 4; Graeme Smith 3; Res Don Eade 2; Ronnie Moore 1
3rd Test. 9 December '74. Templeton. Christchurch.
British League 31
John Davis 11; Dave Morton 10; Mike Hiftle 6; Ian Cartwright 4; No Res Craig Pendlebury injured.
NZ Select 29
Ronnie Moore 14; Graeme Stapleton 8; Larry Ross 4; Tom Black 3; Res Gavin Rhodes dnr
The visitors were at Palmerston North on January 14th '75 for the New Zealand Championship. Missing from the event were defender Ivan Mauger, '73 winner and home favourite Gary Peterson, I would love to know what that was all about, with a South Island 'no show'. The Poms all but dominated the day;
1st Dave Morton 15
2nd John Davis 14
3rd Craig Pendlebury 12
4th Robin Adlington 11
5th Ian Cartwright 11
6th Mike Hiftle 11 ahead of Graeme Smith and Bob Andrews.
If anyone has a photo of the presentation, please let me know !!!
January saw the Amazing Rythem Aces from Poland arrive, sadly without the 1973 World Champion Jerzy Szczakiel, forced to stay at home for political reasons. Tragically, NZ would be without Ronnie Moore as his career and very nearly his life was ended in an Australian smash at Newcastle's Jerilderie Park, January 20. [ See Ronnie's book for all the details and just how well he was riding at the time. ] Ivan Mauger and Barry Briggs returned to lead the Kiwis.
1st Test. January 25. Western Springs. Auckland.
New Zealand 62
Gary Peterson 18; Ivan Mauger 17; Graeme Stapleton 12; Barry Briggs 8; Robin Adlington 5; Res John Goodall 2; Bob Andrews 0; Res Terry Darwent 0
Poland 45
Edward Jancarz 12; Zenon Plech 10; Andrzej Tkocz 8; Piotr Bruzda 7; Piotr Pyszny 5; Andrzej Jurczynski 3; Res Zygfryd Kostka dnr; Res Henryk Zyto dnr
The results of this meeting were declared void by the NZCB after it was found that both teams had used Nitro.
Before the 2nd Test, a 'Pall Mall International Best Pairs' meeting was held at Templeton on Febuary 1st;
1st England 18
John Louis 10+half John Davis 7+half
2nd Poland 12
Edward Jancarz 6 Zenon Plech 6
3rd New Zealand 6
Graeme Stapleton 6 Robin Adlington 0
2nd Test. Febuary 5. Templeton. Christchurch.
New Zealand 56
Ivan Mauger 17; Gary Peterson 15; Robin Adlington 10; Graeme Stapleton 7; Barry Briggs 7; Larry Ross 0; Res Graeme Stewart 0; Res Gavin Rhodes 0
Poland 50
Edward Jancarz 15; Zenon Plech 14; Andrzej Tkocz 7; Piotr Bruzda 7; Piotr Pyszny 3; Andrzej Jurczynski 2; Res Zygfryd Kostka 2; Res Henryk Zyto dnr
I'm told that as the rain came down later in the meeting, the Poles came into their own and put up a spectacular fight.
3rd Test. Febuary 8. Te Marua. Wellington.
Poland 70
Zenon Plech 18; Edward Jancarz 16; Andrzej Tkocz 15; Andrzej Jurczynski 8; Piotr Pyszny 7; Piotr Bruzda 5; Res Zygfryd Kostka 1; Res Henryk Zyto dnr
New Zealand 38
Ivan Mauger 13; Gary Peterson 10; Barry Briggs 7; Colin Farquharson 4; Robin Adlington 3; Res Bill Sargent 1; Res Graeme Smith 0; Larry Ross 0
Inspired by their Templeton performance, the visitors came out guns blazing and put up a magnificent performance, Poleaxing the home team and stunning the crowd.
So to the decider;
4th Test. Febuary 18. Western Springs. Auckland.
New Zealand 70
Gary Peterson 18; Barry Briggs 18; Ivan Mauger 16; Graeme Stapleton 9; John Goodall 4; Robin Adlington 4; Res Bob Andrews 1; Res Colin Tucker dnr
Poland 38
Zenon Plech 12; Edward Jancarz 11; Andrzej Tkocz 6; Piotr Pyszny 4; Piotr Bruzda 3; Andrzej Jurczynski 2; Res Zygfryd Kostka 0; Res Henryk Zyto dnr
When Plech and Bruzda won the first heat from Mauger and Andrews, they were overjoyed. Mauger was furious and anyone that can remember his comments after the match can only cringe in shame !
So New Zealand won the series 2-1 with one match void. The Poles were brilliant in attitude and appearance despite their touring hardships. Recently, Plech revealed some of what actually went on, 'we often slept in cars like gypsies to avoid spending our expenses on hotel rooms. Even though the team manager would collect hotel receipts that the PZM would later convert to cash for beds that were never slept in.' The team manager, Bernard Kowalski pocketed the lot!
Another 'Test' held that season was at Oreti, Invercargill where New Zealand took on 'The Rest of the World'. The 'World' squad made up from Stars in the Mauger/Briggs flying circus;
'Rest of the World' 60
Ole Olsen (Denmark) 16; John Louis (England) 12; Tommy Jansson (Sweden) 11; Scott Autrey (USA) 7; Henny Kroeze (Holland) 7 ; Egon Muller (West Germany) 7
New Zealand 48
Barry Briggs 17; Ivan Mauger 16; Graeme Stapleton 7; Gary Peterson 6; Larry Ross 2; Graeme Stewart 0
The likes of that season would never be seen again and that wasn't all, Gary Peterson returned to the UK, riding for Wolverhampton. He lost his life on October 17 and NZ lost one its most spectacular 'Stars'!
This article was first published on 2nd June 2013
[ Use Mobile Version ]
Comment on this Article | Contact Us | Go Back to Main Menu