I'll Never Forgive Kenny McKinna
By James Smith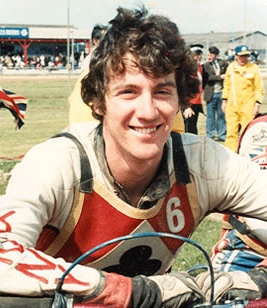 Kenny McKinna
Although I watched Belle Vue Aces for more years than I care to remember, I never saw the Aces record the perfect score. It's always fascinated me that teams have sometimes gone right through the card, recording five-ones in ever y race from beginning to end. It's something I always wanted to see and it very nearly happened on May 19th 1984 - only a lapse from a Scotsman letting me down.
The occasion was the British League match between Belle Vue Aces and Eastbourne Eagles. The Aces were still resident at the fabulous Hyde Road at that point and under the management of Stuart Bamforth the former Stock Car champion.
Bamforth had assembled an impressive side during the winter and the Aces were widely tipped to be league champions. The side was led by the dynamic duo - Peter Collins and Chris Morton. 'Mort' was probably at the peak of his powers around this time and although 'P.C' was slightly past his very best, they were still a formidable spearhead. Indeed this was the year that the school buddies combined to win the World Pairs in Lonigo.
Backing them up were Larry Ross (Kiwi we signed from Wimbledon for big bucks), Andy Smith (just a pup in those days), Peter Carr (one of a pair of racing brothers), Mark Courtney (talent without application) and Kenny McKinna (but more about him later!).
The visitors were Eastbourne Eagles who'd joined the big boys of the British League a few years earlier after enjoying tremendous success in the National League. Much of their success had come from developing local youngsters into stars - principally Gordon Kennett who I've always felt was under-rated, when he was on form he was unstoppable. Kennett wasn't in the Eagles side in 1984, instead Bobby Schwartz led the side. Schwartz was one of many flamboyant Yanks to ride over here in the eighties, not the best of them certainly, but an excellent rider who I believe still rides today.
His team mates were Colin Richardson, Steve Lucero, John Eskildsen, Denzil Kent and Paul Bosley. Paul Woods, certainly one of their better performers, was out through injury and the rider replacement facility was in use. The records tell me that borrowed Belle Vue junior Barry Ayres was the nominated number eight.
On paper, both then and now, it looks/looked an obvious mismatch. The likes of Eskildsen and Kent were reasonable performers but no match for any of the Aces lads around their own circuit.
The meeting started normally enough with Larry Ross and Mark Courtney combining for a 5-1 win in the first heat. Ross completed the four laps in 69.7 - wonder what kind of times today's bikes could have managed around the sweeping bends of Hyde Road? Sadly, we'll never know. Bobby Schwartz failed to finish for the Eagles - a bad start for the visitors and things were only going to get worse.
Heat two saw Smith and McKinna easily deal with Lucero and Bosley and in most fans minds the meeting was already as good as over. Heat three was another 5-1 and the maximum heat advantages just keep coming.
At the end of heat six the score read: Belle Vue 30 - Eastbourne 6.
The meetings were only over thirteen heats in those days (a format that I believe has never been bettered despite repeated tinkering over the years), so with only another seven to go thoughts were beginning to turn to a whitewash. Could it happen, it certainly seemed possible. Schwartz was the only genuine threat and he'd only amassed two points from his first three rides. 'Yes' I decided, it was definitely going to happen. A popular slogan at the time was "Happiness is 40-38", for me it was going to be 65-13.
The riders lined up for heat seven and I surveyed my programme - Chris Morton and Kenny McKinna for the Aces; Colin Richardson and Barry Ayres for the Eagles. The fact that Ayres was thrown in shows just how much the Eagles were struggling and how desperate they were to avoid the ultimate humiliation.
The tapes rose on the race and I settled back in my usual seat to enjoy the inevitable five-one. I'd virtually have put my mortgage on Chris Morton winning the race, him being followed by Kenny Mac with Colin Richardson a close but unthreatening third. My experience of watching the second halves told me that Ayres would be a distant fourth and I got that bit right.
70.9 seconds later and everything had changed. I felt the colour drain from my face as the grim reality hit me - the dream was over, we'd only got a 4-2! Colin Richardson managed to outfox Kenny McKinna and grab second place behind Mort. The Speedway Star report of the meeting I'm referring to (sorry to disillusion any of you who thought I could remember race times from 25 years ago!) describes heat seven as 'a good race'. Well not for me it wasn't, it was a disastrous race, probably the worst of the whole decade at the old stadium.
Richardson was a solid but unspectacular rider who for me had never particularly stood out, but after that night I've never forgotten him! Colin is of course the father of current rider Lee Richardson who was in the Grand Prix series a year or two ago.
I've never known whether to blame him or Kenny McKinna for crushing my dream. On balance, it was probably McKinna's fault and I hold him fully responsible!
Although the meeting still have another six races to go, all interest had now gone out of it. The Aces had won the meeting and there was no longer a maximum score to chase. The meeting continued nonetheless, though I remember watching events with a rather hollow feeling.
Heat eight brought Richardson out again and he popped out the tapes and led the race until a puncture brought his involvement to a premature end. The Aces picked up the (now rather pointless) 5-1 by leading home the hapless Lucero.
From then on normal service was resumed as the Aces won the last five heats by 25-5. This left the final score as 64-14 to the Aces, close but no cigar.
The scorers on the night were:
Aces 64: Ross 12 (max), Morton 12 (max), Carr 11 (paid max), Courtney 8 (paid max), Collins 8 (paid max), Smith 8 (paid max), McKinna 5 (no maximum)
Eagles 14: Richardson 4, Schwartz 4, Lucero 3, Eskildsen 2, Kent 1, Bosley 0, Ayres 0
To be fair to Kenny McKinna, he did play a part in another massacre later in the season when Wimbledon left Hyde Road with just 17 points. McKinna got a paid maximum that night and so the blame for that one lies elsewhere! He was a very good servant to the Aces and went on to enjoy successful spells for the clubs in his native Scotland later in his career.
Despite the Aces' pre-season tag as favourites, the title didn't come to Hyde Road. Ipswich Witches actually won the league, just pipping the Aces. The Witches team that year included John Cook, Kai Niemi, Billy Sanders, Jeremy Doncaster, Richard Knight and Carl Blackbird. Blackbird joined the Aces the following year and did very well for a short while.
The Witches also won the Knock-Out Cup - beating Aces in both leagues of the final to win convincingly.
Despite their disaster at Hyde Road, the Eastbourne Eagles were not the worst team in the league and finished 11th with a few clubs below them.
I often look back on the meeting and wish that Kenny had managed to get the better of Richardson in that fateful heat seven. Perhaps one day I'll see a team record the perfect score, if that's the Aces and it's televised live on Sky then all the better.
This article was first published on 8th October 2009
---

Andy S':

"Nice article. I know the feeling. Nobody really wants to see a whitewash especially if you're on the receiving end but when it comes as close as this...."
Colin Richardson:

"I also remember that day. I always loved riding at Belle Vue and as such was the only Eastbourne rider that came up via the Eastbourne training school era that really did. The tight turns of Eastbourne meant that when you went to Belle Vue the need to turn the bike was not required and in fact most of the team just didn't enjoy Belle Vue for that very reason. In fact I had on several occasions done deals with Eric Boocock to join Belle Vue while I was with Wimbledon but every time Cyril Maidment blocked the move, eventually I moved to Kings Lynn a time which I enjoyed immensely. It's a shame that I had the puncture in Heat 8 as in doing so it damaged the clutch, forcing me to use my spare bike which was not any use around Belle Vue. It was set up for Eastbourne so my chances of scoring many more points that day was over.....or at least that's my story......... "
Bill Elliot:

"Think I can empathise with James, although maybe in the opposite sense. The Paisley Lions went to Workington in 1976 and but for a truly Braveheart ride by Mike Fullerton, which saw him grab a second place in the latter stages of the meeting (I think he beat Robbie Gardner for the two points), my beloved Lions would have recorded the ultimate 65-13 reverse which folk would still have been referring to now. When Paisley closed at the end of 1976 Mike was accredited as the last track record holder at Paisley but I think his second place at Workington easily equals his most noteworthy achievement in the colours of the Scottish Lions."

[ Use Mobile Version ]

Comment on this Article | Contact Us | Go Back to Main Menu