The Jim Ryman Crash at Boston Speedway 26 August 1973
By Arthur Price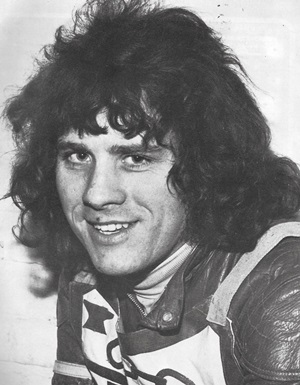 Arthur Price
I have always held the belief that Jim Ryman blamed me for the crash at Boston when he broke his leg in two places, but now mainly because of some recent events, I have begun wondering what, recollection of the race (after such a traumatic crash) did Jim actually have or if he was 'told what happened' by people who wanted him to believe it was all my fault.
The memory of the race has always stayed clear in my mind so now I'll share it with anyone who may find it of interest.
It was the Scratch Race Final of the Boston v Workington match. I was on the inside gate. Carl Glover and Jim were on the outside gates. The other rider was Dave Piddock.
Anyway, I made the gate and as I was coming out of the first bend Carl and Jim passed me on the outside line side by side with Jim nearest the fence.
As we went down the back straight, I could not believe my eyes as they were actually elbowing each other. I'll never forget the sight of Carl's arm/elbow fending off Jim's elbow and it continued all the way down the back straight. It was really "hairy stuff" in those days. Obviously I thought to myself those two have got to go far too wide on the 3rd/4rth bend riding like that and they did. They left a big gap on the inside for me to ride through and I did. As we came out of the fourth bend, I passed them both cleanly and in a fair manner. The same way I'd passed riders there for 4 years and neither me or my bike touched either of them. I was in front when the crash happened so I was amazed to find myself excluded.
For the only time I rode at Boston, I climbed the ladder to the referees box to confront him, a Mr L.R.Pike (anybody know anything about him?). He was not a regular Boston referee. I don't know what I said but knowing me in those days, I suspect not a lot! I did it more to show my disgust for such a diabolical decision.
NO ONE can ever say I was a dirty rider, so why would I want or need to ride a dirty line that would cause Jim to crash, I'm sure, if it hadn't been for Carl and Jim recklessly elbowing each other down the back straight they wouldn't have left me the gap and they wouldn't have put themselves in such a dangerous position. I know that whatever happened, happened behind me not because of me.
That's Arthur's take on the event, but he would love to find out a little more about the referee, Mr Pike, who made, in Arthur's opinion, a terrible and wrong decision which has led to a perception of ill feeling over the intervening years. Can any Speedway Plus readers offer any recollections or anecdotes of referee Mr Pike or maybe they have memories of the crash? Either way, Arthur would be grateful for any contributions.
This article was first published on 22nd January 2017
[ Use Mobile Version ]
Comment on this Article | Contact Us | Go Back to Main Menu