New Book: Cobble Street Speedway Star
By Michael Hansen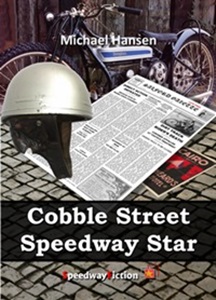 THE STORY:
"Speedway may have been born in America and spent its childhood in Australia but, in Britain, it came of age."
SALFORD, England, 1928...
When Australian entrepreneurs Albert John 'AJ' Hunting and the more enduring J.S. 'Johnnie' Hoskins landed at Southampton on the SS Oronsay, it was with the sole aim of introducing the form of dirt track racing known as 'speedway' which had proved hugely popular on their own shores and which, if it took off in the Mother Country, would make them a fortune.
But it doesn't take British entrepreneurs long to spot an opportunity, either. Charles Cavanagh is the manager of Salford's ailing Albert Theatre and Cinema. Charlie knows how to put on a show and decides to bring the speedway circus to his town.
James Brennan is 22 and a miner at Pendleton Colliery earning £5 a week in 99-degree temperatures at the coal face. When dirt track racing is introduced to the Albion Stadium, just across the river from his home in Broughton, he and his brother Harry are amongst the crowd of 20,000 excited spectators who stream through the gates to witness the spectacle that had swept across Britain during that inaugural summer. Like scores of young men, James is captured by the excitement and lured by the money to be earned from Britain's newest motorsport. Taught to broadside by American ace Brad Newton, he secures novice rides at the new Guide Bridge track and is taken under the wing of Sir Gerald Hardwick, a director who sees a future for speedway racing - but not as the circus show it currently is.
But the fast buck never comes cheaply and the hazards in this gladiatorial form of racing are all too apparent. When tragedy strikes at Guide Bridge, everyone must face the question: are the dangers simply too great, however big the rewards? Is speedway even a sport or is it just bare-knuckle fighting of a more sophisticated kind?
As the first season of dirt track racing in Britain comes to a close, a group of riders look to earning a living over the winter months by racing in Egypt. Arrangements are made to establish a speedway inside an existing greyhound track at Zamalek, Cairo and James manages to secure a place on this tour, despite being only a promising novice. Some of the riders resent his presence, however, and when he refuses to go along with one of their less-than-honest money-making schemes, life becomes very uncomfortable.
But when a visit to the Great Pyramid of Khufu, just outside the city, turns into something altogether less pleasant, it seems that his racing competitors are prepared to go to any lengths to protect their interests - and does that include stealing his one prized possession, the Dirt Track Douglas he still hasn't paid for?
On and off the track, James has much to celebrate and plenty to lament in the year that the sport of dirt track riding swept through Britain.
---
Cobble Street Speedway Star is available from speedwayfiction.co.uk
This article was first published on 19th October 2014
[ Use Desktop Version ]
Comment on this Article | Contact Us | Go Back to Main Menu