It's All About You... Tracy Holmes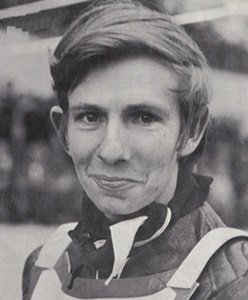 Gary Peterson
Tell us about your introduction to speedway
Febuary 17, 1971. Awapuni Speedway, Gisborne, New Zealand. England V NZ, 'friendly'. Nigel Boocock, Bob Andrews, Ken McKinlay, Bryce Subritsky, Tom Sweetman, Freddie Timmo, Roy Trigg, Jack Millen, Chris Pusey, John Goodall, Howard Cole, Colin Farquharson & Gary Peterson. Very first race, first corner, right in front of me, Boocock, Sweetman and Millen tangle - SMASH into the fence! Bikes, bodies, I can still feel the THUMP! And they all got up!! Bikes going sideways, hooked!
Tell us about your favourite meeting of all time
1976 Australasian Final, Febuary 21, Western Springs, Auckland, New Zealand. Only top 4 go to last World Championship round at Wembley. Ivan Mauger breaks the tapes & is in big trouble. He has to beat Phil Herne & Mitch Shirra in a run-off to qualify. With his opponents under starters orders, Ivan rolls up, starter lets the tapes go and Ivan rockets into the first turn before Herne & Shirra leave the start line. He wins in record time! Well Goodness Gracious me!
Tell us about your favourite rider of all time
The late Gary Peterson. He scored 17 points in the first meeting I ever saw. He looked like his mates Ivan Mauger & Ole Olsen on the track, gutsy and stylish. He would disappear for months and then come back better than ever. Always smiling and freely giving autographs to open mouthed young kids. Sparks flying off his steel shoe, a comic book hero sliding a roaring speedway bike, spraying dirt all over us, waving to adoring fans. World Champion or die trying; he did!
Tell us about your favourite track/stadium
Western Springs, Auckland, New Zealand. A 20s cycle velodrome with the cycle track linked up to the safety fence, so steep that it could launch a rider into space. Ask Bob Andrews! Set in a picturesque, natural ampitheatre, the hillside covered in pinetrees, this was country, rodeo, down to earth atmosphere that made for real excitement and action. The solos had to leave eventually because of the dictates of the car racers but the memories of 'The Springs' are priceless!
What are the best things about speedway?
Riders lining up at the tapes, tearing down a straight and putting their bikes sideways to go around the turn and then rocket into the next straight. Bikes with no brakes, Brilliant! Hoping to stay in front or hoping to outride the leader, all in just 4 laps, breathtaking excitement. When something goes wrong, LOOKOUT! Its guts, flashy & glory . Sometimes mud, slippery and gory. But for me, Speedway is more art than sport. Looks easy until you try it!
What are the worst things about speedway?
The Politically Correct brigade. This is where your Grand Prix came from. It wasn't fair that one could lose a meeting because of one or two mistakes, an engine failure or an unforseen circumstance. Lets suck the life out of it! Bikes that have become advertising billboards. Race-jackets that are just sandwich-boards. Dirt deflectors. Rain-offs. Toilets from hell! Food vendors who really dont care where their products come from and skimp on tomato sauce!
What one thing would you do to improve speedway?
Give the Speedway World its Jewel in the Crown back. 'The World Speedway Final.' Where 16 riders would line up to do battle with the winner taking with him the Title, 'Champion of the World.' One mistake could cost the favourite that Title. One bit of unforseen circumstance. One piece of rotten luck. No its not fair, but it is excitement in the extreme. Give the riders their countries flag on their race-jackets and give them dirt on their tracks and let 'em go for it!
Tell us about a rider you wish you'd seen
Peter Craven! Thanks to videos and dvds, I have been able to catch glimpses of this absolute talent. Reading about his Golden Helmet races against Ove Fundin and then seeing them on the screen, thats 'Wow factor 10.' Watching him battle Ronnie Moore at Wimbledon!!! I have spoken with Fundin, Moore and Bob Andrews about him & they all say the same, he was THE nicest guy. Seeing how he hung off that JAP, blasting around his opposition at Belle Vue, that would have been something!
What does the future hold for speedway?
I could be roasted for this but speedway is a sport for men with balls! Get rid of the 'PC' brigade, the 'greenies' and all round 'do-gooders'. While I'm all for airfences, tracks need dirt. Too often, people say it's better to stay home and watch it on TV. And that's where speedway could be headed unless people can be offered and treated to a family night out with clean facilities and gutsy entertainment. Stoke the thrill factor up before 'speedway' becomes 'speedwas.'
If you could go back in time and alter just one piece of speedway history, what would that be?
The 1983 World Final would not have been held at Norden. To take speedways ultimate show-piece and stick it in the German countryside was a disgrace! Egon Muller says the track was not purpose built for him. Gunther Sorber alluded otherwise. No Norden would have meant no Muller as winner. And speedway's Hiroshima would never have happened!!!
Take part in this feature
This article was first published on 22nd October 2009
---

Chris Stockwell:

"Yeah, Rock on Tracy!! I agree with you 100%, bring back the one off World Finals. 20 heats of fast and furious racing, let everyone have their 15 mins of fame. I mean this GP lark is a total farce, Jason Crump was World Champion this year after heat 12 of the last GP round and the year before Mr Pedersen was Champion after heat 3!! First round in this year's GP was won by the IMPRESSIVE Emil Sayfutdinov he scored 17 pionts and SECOND place Freddie Lindgren scored 19 points!! Yes Speedway really knows how to shoot itself in the foot. Something else Speedway needs to get rid of, this GRAND FINAL RACE. Some guy rides his heart out and scores 15 POINT MAXIMUM, then goes into the Final and some bloke who scored 10, gets the jump on him and he's declared the Winner. No wonder Speedway isn't taken seriously."

[ Use Desktop Version ]

Comment on this Article | Contact Us | Go Back to Main Menu