It's All About You....Richard Goodwin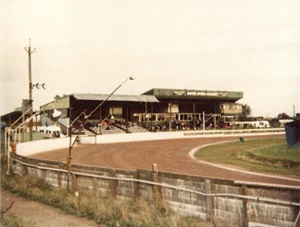 Boston
Tell us about your introduction to speedway
First saw speedway at Kings Lynn live but had always watched on tv, hooked from the first heat.
Tell us about your favourite meeting of all time
So many - 81 world final, Mildenhall v Rye house 79, one of best for racing was Kings Lynn v Sheffield in 1974, great racing, so hard.
Tell us about your favourite rider of all time
Ray Bales, Terry Betts, John Louis, Peter Collins, Barry Briggs,could go on and on.
Tell us about your favourite track/stadium
Kings Lynn, Mildenhall, Boston, Belle Vue (Hyde Road), Hackney and Peterborough.
What are the best things about speedway?
Racing under lights, the excitement, the element of danger, the fans, the riders, the noise and the smell.
What are the worst things about speedway?
Rain offs, taking so long to restart heats after false starts. If the tapes are not touched races should be left to carry on. The price of entry is expensive now for something that doesn't seem so good as it used to be.
What one thing would you do to improve speedway?
Make restarts quicker, raise the points limit, try to get the cost down for riders and fans. I like the idea of the F2 bikes, this would bring more outside interest in with different makes of engines.
Tell us about a rider you wish you'd seen
Jack Young, Vic Duggan, Peter Craven, Tom Farndon and all the riders for the 30s 40s 50s and 60s - just all of them.
What does the future hold for speedway?
Hard one, they have to make some big decisions, need to stop shooting themselves in the foot. Prime example this time the only one rider over 8, they make a decision on fixed nights to make it better for the top riders then try to block them with this rule, talk about snatching defeat from the jaws of victory.
Take part in this feature
This article was first published on 18th February 2018
[ Use Desktop Version ]
Comment on this Article | Contact Us | Go Back to Main Menu