It's All About You... Gerald Clark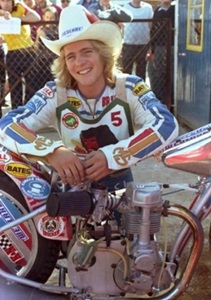 Too Big for Speedway?
Tell us about your introduction to speedway
1976 and I used to go to Monmore Green on a Friday's and Cradley on Saturday's. Cradley was nothing to look at, but it had an atmosphere like no other. Fans would fill the whole stadium, not just the start straight. I was hooked on the smell, the noise and the non stop fast action. Couldn't believe that as an 11 year old shouting my heart out to men in leathers.
Tell us about your favourite meeting of all time
My favourite meeting has got to be Wembley 1981. A wonderful experience of such a stadium full to the rafters, and breathtaking overtaking races, especially heats 7 & 11. Penhall versus Olsen & Knudsen, brilliant. I still say to this day, Knudsen tried to take Penhall out on the 1st bend out of the tapes, but wow, how did he get up the inside of him by the 2nd bend? You will not see better.
Tell us about your favourite rider of all time
As mentioned above and in my Dream Team, Bruce Penhall was just too big for Speedway. Within 5 years to become World Champion, bringing fans by the 1000's through the turnstiles alone, confident infront of the camera. Then going on to become World Champion in Power Boat racing too. What a guy.
Tell us about your favourite track/stadium
As much as I think that Dudley Wood was a great fair track, the old Hyde Road was a racers track and the best I have seen, with its fully enclosed grandstands just adding to the atmosphere.
What are the best things about speedway?
The fast action of 4 quick laps, and on to the next heat, the smell, the smell & oh yes, the smell.
What are the worst things about speedway?
I think that the GP Series has killed club speedway. Especially in England. Very little Saturday top flight racing, and therefore reduced attendances of away fans for midweek meetings. I have never been a fan of the points limit, and the current points system for wins, loses, draws home & away is baffling for veteran supportes, let alone trying to explain it to potentially new supporters????
What one thing would you do to improve speedway?
Bring back the old single night World Final
Tell us about a rider you wish you'd seen
I wish I would have seen Peter Craven (The Wizard of Balance). Far too long before my time.
What does the future hold for speedway?
I think that the number of fans visiting meetings will continue to dwindle, as seen over recent years. Perhaps Sky's exposure has not helped? And provided armchair fans with their wish?
Take part in this feature
This article was first published on 29th October 2009
---

Philip Dalling:

"I look forward to reading the 'It's all about feature' each week. Amazing that so many people share the same thoughts: they wish they had seen Peter Craven in action and they would love to see return of the old-style World Championship."

[ Use Desktop Version ]

Comment on this Article | Contact Us | Go Back to Main Menu