Wimbledone?
By David Pickles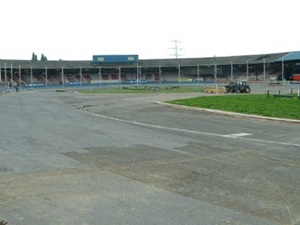 Plough Lane
Given that the UK as a whole regards football as a religion, I was nevertheless aghast to recently discover that the GRA, owners of Wimbledon Greyhound Stadium, in cahoots with AFC Wimbledon, have applied to Merton council for permission to redevelop the stadium into, amongst other things, a football stadium with a capacity for between 10-15,000. The rest of the site would be made up of retail and residential.
Now, whilst I don't deny that the football club's spiritual home is back in the area, if this proposal were to go through then any slim prospect of speedway returning to Plough Lane would be killed off forever. Having read the planning application from the GRA, and the supporting documents from AFC Wimbledon, scant regard is given to greyhound and stock-car racing, which currently occupy the stadium. Wimbledon Park residents association have come out against the proposal, but still managed to mention the "noise" from stock-car racing.
As when the FA killed off speedway at Wembley after the 1981 World Final, the attitude of football clubs and the FA seems to be that if there is a site suitable for the "beautiful game" then, as of right, football shall reign supreme and every other sport shall be pushed onto the sidelines. Never mind that Wimbledon reguarly ran to sell-out crowds of 30,000 plus every week for a large number of years.
We are now a forgotten sport.
This article was first published on 24th March 2013
---

Graham Brown:

"I couldn't agree more with David Pickles about how football is 'automatically' seen as being the most 'important' sport whenever there is a conflict of interests with other sports over the siting and use of venues. And as for calling it the beautiful game...whoever came up with that rubbish. The whole thing is unsporting crap driven solely by money. Speedway, and indeed all forms of motorsport, require real skill and bravery. Get it wrong badly enough in either and you will pay with your life; it tends to concentrate the mind somewhat. Which is why these are the sports I follow, not 22 overpaid idiots kicking a pigs bladder around. Sadly, I am in a diminishing minority and I do not think any amount of 'swimming against the tide' will alter the direction or strength of that tide. I am only amazed that Wimbledon Stadium has lasted as long as it has. The price of land in London should have seen it turned into a shopping centre or something years ago, and now things like the LEZ are banging the final nails in the coffin. So, Stock Car and Hot Rod fans, enjoy it while ye may. Sooner or later it will go the way of all flesh and the last remaining oval racing venue in the capital will, I fear, be gone to join West Ham, Hackney, White City, Harringay and all the rest."
Celestial Toy Maker:

"It is so sad that Football seems to be the be all and end all in this country, I HATE Football with a passion but i always have loved Speedway... The biggest problems I see with Speedway now though, is, promoters do not wish to spend any money whatsoever on track equipment, or even the covers the sport so badly needs, in fact it seems now promoters do not even like paying for the sites they use.Tthere are still a few tracks dormant but still intact around the country, yet we moan that there are too few teams, when will the people with the money and the power do something about it. If I had the money (I never will) I would if need be build a new venue in new area where Speedway has yet to be, then seek election to the Elite League, when will speedway get its house in order and help itself ?"

[ Use Desktop Version ]

Comment on this Article | Contact Us | Go Back to Main Menu