West Ham - More Colour Memories
by Robert J. Rogers
Pictures by John Rogers
Ken McKinlay, Sverre Harrfeldt, Norman Hunter. Malcolm Simmons and Brian Leonard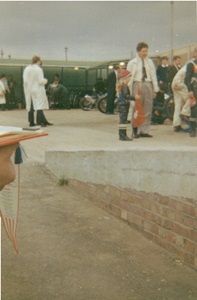 Shot of the 'new' pits area, in the middle is Trevor Rushbrook the West Ham mascot.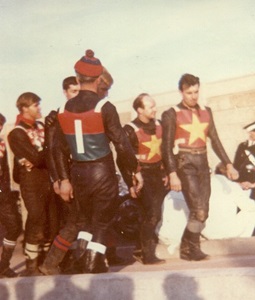 Always a good night's racing, when the Dons from Wimbledon came calling. Reg Luckhurst, a Hammer who became Don then became a Hammer again, plus Jim Tebby, plus the Hammers including Tony Clark. It must have been a sunny tuesday night, as you can see my Dad's shadow taking the photo.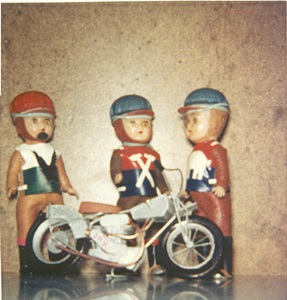 My Dad not only took photographs, he created his own riders. How many old West Ham fans of the 1960's remember the Speedway Mascots, sold by the supporters club for 5/- (25p)?
Each rider had his own leathers, race jacket and steel shoe, and were about 10" tall. The leathers wore genuine leather, it was kid which gloves were made of.
Mum used go and buy the materials and the dolls, Dad would cut it all out, and then all three of us would glue them all together, my special job was making the steel shoe out of aluminium baking foil, now that was what you called a family of fans!
Dad also made a miniature Speedway bike, but it was not a JAP, as his name was John Arthur Rogers, it was a JAR.
You may notice that the Exeter Falcon has a small beard, Dad was asked to produce this for a Tommy Sweetman fan. The other rider is wearing the Halifax Dukes race jacket.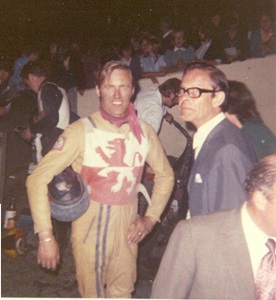 One for the Wembley Lions fans, Gote Nordin in the pits at Wembley.
We used to go to Wembley on a saturday night, when my dad could afford it, get the last underground train, then WALK!, through the back streets of West Ham at about 01-00 am for about a mile and a half to get home. I would not do it now even with a squadron of SAS guarding me!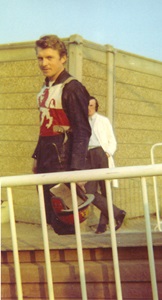 Our Sverre became a Wembley Lion in the early 1970's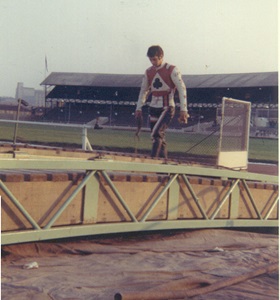 One for the Belle Vue fans, Ivan Mauger. As the majority of riders still wore black racing leathers, riders like Ivan were considered unusual with these multi coloured leathers
This article was first published on 8th May 2006
---

Lynne Watson:

"I used to go speedway at West Ham when I was 14. I remember the terrible tragedy. I used to go to Hackney and Wimbledon, but West Ham was always my favourite, being born and bred in Stratford. I took my youngest granddaughter to the city airport open day last year and they had a West Ham speedway exhibition."
Bill Reynolds:

"Lovely photos and good memories. I remember going there in 1966 - West Ham 48 Newport 30 (Gote Nordin 15). Keep up the good work."
Robert Rogers:

"Thanks for giving my old dad a mention. Bet he never though one day his photos could been seen all over the world!"
Mervyn Carter:

"Super site. As for the article, I used to go to Custom House on the Tuesday, and Hackney Wick on the Friday. This brings back many fond memories."
Steve Hebden:

"My how this article and the others about West Ham have rekindled some wonderful memories of my visits, albeit too few, to Custom House during the late sixties and early seventies as a teenager. I used to travel by bus, tube and then the stadium special buses from Plaistow underground from my parents home in South London (Crofton Park). I always had to leave before the second half races got underway in order to catch the last tube from Whitechapel to New Cross or New Cross Gate.

Being a Millwall football fan meant that during the football season and speedway season 'overlap' my pocket money had to stretch further than was possible and I often had to walk home from New Cross as I would not have enough money to go the Den later in the week. Not sure I would consider doing the same journey nowadays from a safety aspect! But then again I was young and carefree in those days!

I clearly remember the stadium and even Ivan Mauger in his 'flashy' leathers. Tony Clarke and Sverre Harrfeldt were my favourites although Christer Lofqvist was to become my alltime favourite rider following Sverre's injury in I believe the European Final of the World Championship. Oh so many memories! I currently run a 'Fantasy' West Ham speedway team in the speedway postal game run by sportingdreams.com - Although I have had to call them 'Dockers' as the Hammers name was not allowed. Thanks for the memories."

[ Use Desktop Version ]

Comment on this Article | Contact Us | Go Back to Main Menu