Board Game: Skid-O
Many a speedway fan will have spent some of the festive season playing the new Speedway Grand Prix 15 game. Things were a little different back in 1952 when it was more difficult to replicate the thrill of speedway racing from the comfort of your own home.
That didn't stop people from trying, either by playing speedway subbuteo or reaching for a board game such as 'Skid-O'.
Skid-O was issued by Pepys Games and consisted of a fold-out speedway track, some cardboard riders slotted into a wooden base and a pack of 50 cards.
The cards were distributed between the players and 'played' judiciously to ensure quick progress around the track for an agreed number of laps.
Here are some pictures of the board, riders, cards and the full details of the rules. Get in touch if this brings back memories of happy family evenings in front of the fire.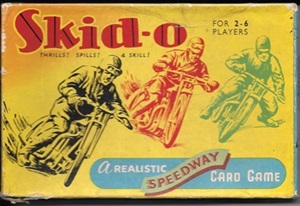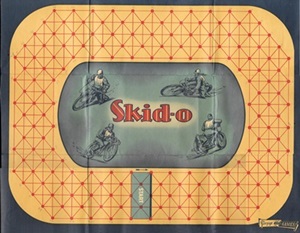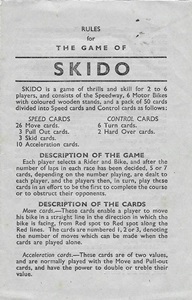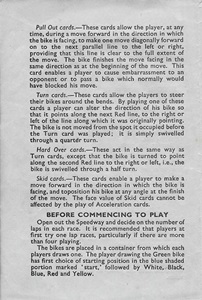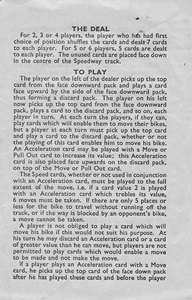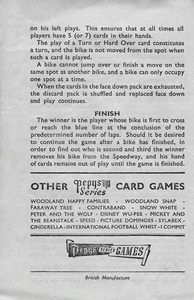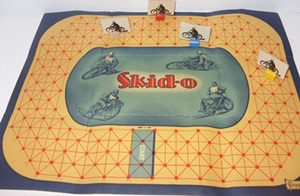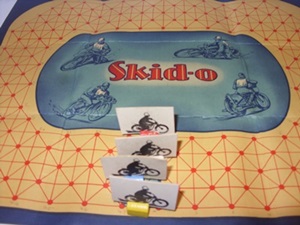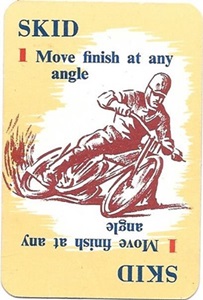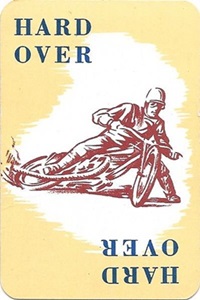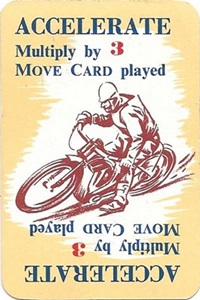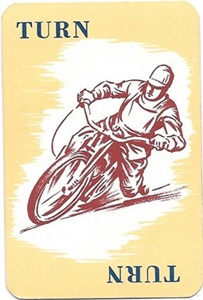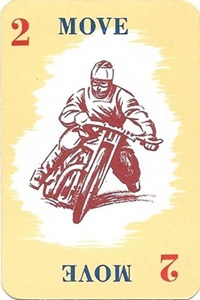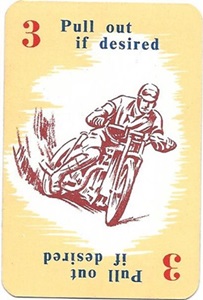 This article was first published on 7th January 2016
---

Richard Hodgson:

"The Skido article brought back so many memories and I still have mine somewhere! Having no one to play it with I devised my own "solo" version whereby the cards were divided into four piles (red, blue, white, yellow) face down and were turned over singly in turn. Riders could only move if a move card was turned up and could only turn at the end of a move therefore they could be thrown out towards the fence if a 3 or 5 move card was turned. Red and blue always had gates 1 and 3 to simulate home track advantage and always "won" a dead heat. Races were over one lap. Whole matches could be run using real programmes with the genuine results rubbed out and fictitious ones substituted. This caused confusion when I sold these programmes to collectors 50 years later!"
Paul McHarry:

"There's a happy little video called 'Dice Racing' on the Speedway Fiction website that reviews the development of speedway games. Only brief but worth a look."
Jerry Lunn:

"Thank you so much for writing this and posting up the rules. I have my Dad's copy of this, but the rules were mislaid many years ago - although I remembered mostly how to play it. "
Stephen Cobden:

"Stumbled on this article, glad to know that people are still playing Skid-o. The game was actually invented by my late father in law. A Mr Sidney Chapman. Who sold the rights to Casell Brothers of Glasgow in 1949, for the princely sum of £100."

[ Use Desktop Version ]

Comment on this Article | Contact Us | Go Back to Main Menu