DVD Review: Simon Cross Racing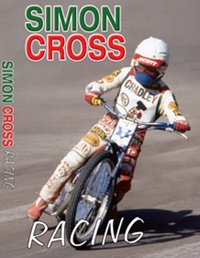 Fans from the 80s and 90s will remember Simon Cross, the always-entertaining Cradley Heath and England star. You can now relive many of the best moments of his career on Simon Cross Racing, a double-DVD from the folks at Retro Speedway.
It really does cover the full length of his career, from an early outing as an Oxford Cheetah in 1982 right through to his final season as Coventry Bee in 1996.
Right from the start his potential is evident, with legendary Edinburgh commentator Mike Hunter supplying the soundtrack as Simon storms to 16+2 from 7 rides as the Cheetahs host the Monarchs. A score made all the more remarkable when we hear it's only his 7th speedway meeting!
His spell at Oxford was short-lived and he turned up at Weymouth in 1983, riding as a Wildcat alongside National League legend Martin Yeates. He really cemented his reputation as an emerging talent that season and parent club Cradley Heath promoted him into their British League side the following season.
We see him in Cradley colours for the first time in 1985 action against his old club Oxford. The Cheetahs had gone under a remarkable transformation themselves since Simon had been one of their number, now being led by the magnificent Hans Nielsen and very much one of the glamour clubs of the era.
As well as establishing himself as a key member of the Heathens' side, Simon had started to pick up international recognition, such as in the England v Denmark test matches in 1987. In one stand-out race we see him defeating Hans Nielsen around his own home track in the Oxford test.
1987 was also the year that Simon made it to the World Final, staged over two days in Amsterdam. He finished a creditable 11th overall, starting with a solid seven points on the first day but only mustering three the following day.
He tasted individual success in the 1988 Overseas Final at Coventry. On a wet evening we can watch him clinch the title after a run-off with Kelvin Tatum and Simon Wigg. Sadly his world championship ambitions suffered a blow in the following round, scoring five points in the Intercontinental Final and only qualifying as a reserve for the world final.
By 1989 meetings were being regularly covered for VHS sales so we get to see more of Simon in club action for Cradley.
1989 would prove to be a significant year in Simon's career, as he was involved in the tragic crash at Bradford that ended the career of club-mate and three times world champion Erik Gundersen. Even 30 years on the crash looks horrendous and Simon was lucky to walk away relatively unscathed physically, though there must have been psychological impacts from seeing a friend injured quite so badly.
In Erik's absence, Simon was appointed captain of the Cradley Heathens for the 1990 season. The DVD includes action of him in action for club and country, racing against Les & Neil Collins in world championship qualification and winning the prestigious Golder Hammer meeting at Cradley Heath.
For the second year running he endured extreme misfortune, crashing out of the World Pairs final at Landshut, hitting his back against the fence and suffering injuries the ended his season and kept him out until well into 1991. The meeting was being run on the unpopular six riders in a race formula, abandoned soon afterwards as it was belatedly agreed to be dangerous.
1991 was Simon's testimonial season and there's footage of him parading around the track in a convertible car with a "psycho" number plate, a reminder of his nickname in less politically correct times. Thankfully Simon's injuries had sufficiently healed to allow him to race in his own meeting, indeed he had just signed up with second division Middlesbrough to help them through an injury crisis and feel his way back into the sport.
He was back in the Cradley team when the 1992 season began, though he admits in an interview that by this stage he was thinking twice and taking fewer risks than he had been previously, hardly surprising given his recent run of bad luck.
There's film of him racing in the Polish league that season, signs that the speedway world was changing and the British League was no longer the only place that the world's best could ply their trade.
Although Simon was still a competitive force at British League level there's little doubt that injuries had removed some of his previous edge. It wasn't too surprising therefore when he announced his retirement at the end of the 1993 season. The DVD includes footage of his emotional farewell at Dudley Wood as he completes his last meeting for the Heathens.
That seemed to be the end of his story, but when the tapes went up on the 1994 season, he was back in his usual place in the Cradley side, seemingly rejuvenated during the winter break. He was still good enough to make the British Final and we see him in action on his way to 9 points.
The first and second divisions amalgamated into a much bigger Premier League for the 1995 season and Simon was retained by Cradley to form a triple-threat heatleader trio with Billy Hamill and Greg Hancock. That trio was the envy of much of the league, some teams unable to track any genuine heatleaders, or even seven riders of their own at all. The Heathens finished in third place (no play-offs back then) and we see Simon posting a six ride maximum when they visited lowly Exeter.
Cradley's famous Dudley Wood stadium closed for the last time in 1995 and Cradley made a temporary move to Stoke for 1996, hoping they'd be able to return to their traditional heartland before too long, an ambition that's sadly unrealised all these years later.
As well as losing their home, they also lost one of their favourite sons as Crossi became a victim of the points limit and was left out of the 1996 side. A cruel below to a club legend who had given 14 years solid service to the club. The fact that it was the dynamic duo of Hancock and Hamill that were retained must have cushioned the blow somewhat.
Simon made the move to Coventry, a track he'd always excelled on and which seemed like the most logical destination. The Bees visit to Peterborough is included on the DVD, though sadly we see Crossi involved in yet another crash.
One season as a Bee was enough and Simon quit for good at the end of 1996.
These DVDs re-inforce the impression that he was a rider on the verge of greatness, who just got incredibly unlucky with injury. If it hadn't been for the fateful crashes in 1989 and 1990 it seems likely he'd have continued to develop on the world stage and been a contender well into the Grand Prix era.
Thanks to everyone at Retro Speedway involved in producing these DVDs, allowing us to enjoy seeing Simon once more at his youthful, dynamic and devastating best.
Watch a trailer for the DVD
---
How To Order
By Phone : 01708 734 502
By Post : Send a cheque for £20 (payable to Retro Speedway) (add £2.50 if outside UK) to:

Retro Speedway
9 Nursery Close
Glossop
SK13 8PQ
Online : At Retro-Speedway.com
This article was first published on 3rd October 2019
[ Use Desktop Version ]
Comment on this Article | Contact Us | Go Back to Main Menu