EDINBURGH - Powderhall Stadium
Home of Edinburgh Monarchs from 1977 to 1995
Pictures taken in 1994 - courtesy of Graham Burrows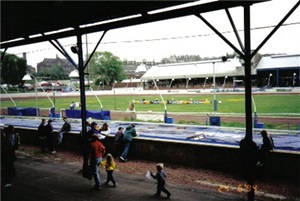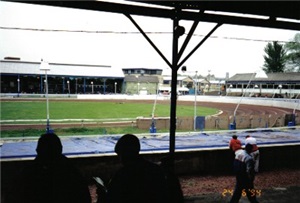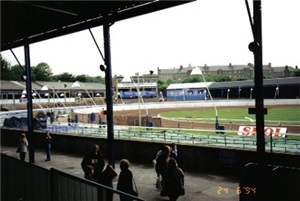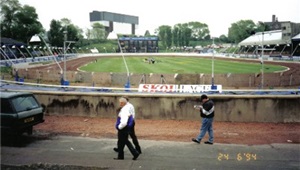 Pictures below taken in the seventies before speedway opened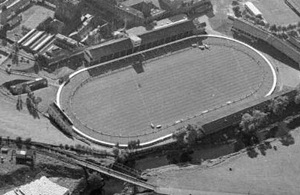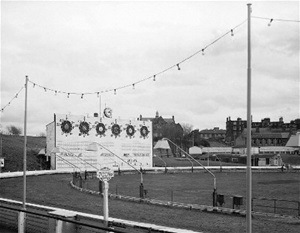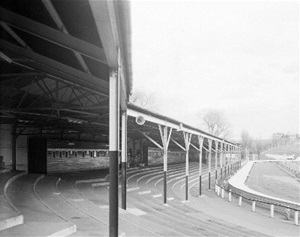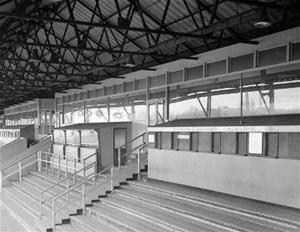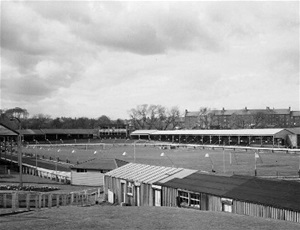 Pictures below taken in 1999 after demolition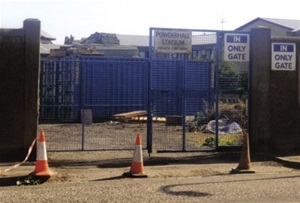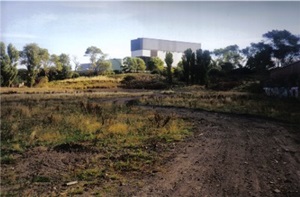 This article was first published on 5th March 2005
---

Tom Marriott:

"Looks like a tidy little stadium...but please leave the photos of this stadium in disrepair on the site as well so we can always be reminded as to what can happen.

Also many thanks to all who sent me information on Canadian riders...(Still looking for more, is this lad never satisfied!) especially Brian Collins, Ray Bysouth, Norman Jacobs and John Skinner. Speedway fans and historians are fantastic people.

Also a special thank you to my favorite web page!...."
Tom Sample:

"Why didn't Edinburgh just stay there instead of going to Armadale. Armadale is closer to Glasgow than Edinburgh. That is a much better stadium then Armadale!"
Paul Houghton:

"I only ever visited Powderhall once for a meeting, Coventry's premier league match in July 1995, I broke my leg and I was a spectator! Lovely old stadium with warm friendly fans, I went back twice after its demolition with friends Bob Arnold & Chris Durno. The first was when the place was just cleared of the rubble but you could make out the track's inner kerb, it was really a shame that it had to go. Chris just walked round looking at where he had stood on his many visits, you could tell he was upset at seeing it like this. The final time I went was when they had built the new luxury flats, they called it "the Powderhall Complex" I think, as we left there was a sign attached to a lamp post nearby, it stated "Powderhall Stadium", at least one reminder of a lovely stadium and a good racing track"
Tony Richardson:

"Nice to see pictures of the old Powderhall track, I had some good & bad junior meetings at the track, but the track was always great to ride and well prepared (even when it was socked with rain). One of my favorite tracks to ride along with the old Cleveland Park circuit & Berwick's Berrington Lough track (all now gone)."
Kenny Walker:

"A great Stadium at the time for racing and we also had the pleasure of having Les Collins in our Team. Happy days."
Nick Pattison:

"My Dad dropped off there one Friday night when I was probably 12 years old. We were on holiday at relatives nearby. I was brought up on speedway at Coventry so I had never seen anything like it! I could not believe how small the track was."
Alastair Soutar:

"Difficult early years, then they changed the track and widened the corners. Great racing with George Hunter, Neill Collins, Davey Trownson and visitors like Bruce Cribb. Wonderful to remember Carlo Biagi's testimonial with the Collins bros and Tony Briggs. Not quite Old Meadowbank but near it! "

[ Use Desktop Version ]

Comment on this Article | Contact Us | Go Back to Main Menu