Otto Holoubek - A Lesson Learned
By John Hyam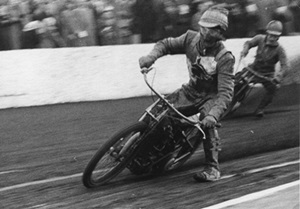 Otto Holoubek - An Ipswich Witch in 1957
WHEN I was editing at the 'Speedway Star' in the late 1950s, the name of Austrian rider Otto Holoubek frequently came up in reports from Eastern Europe.
It appeared that Otto was something of a big star - in the old Yugoslavia, Hungary and his native Austria. The results indicated that Holubek was something of a front-runner in the sport.
Otto established a regular correspondence and pressurised me into trying to get him into British racing. Thus it was that at the start of the 1957 season I passed on the Austrian's details to Arthur Franklyn, then the promoter at Ipswich. Like me, he was impressed with the Austrian's career details. As a result, Otto was signed to ride for the Witches.
When he turned up in England it was without a bike - a matter of a few days before he was due to make his first appearance for Ipswich in a match at Norwich. At the time, Otto was staying at a boarding house in Clapham, and the nearest British riders living in the area were Maury McDermott and his rider-mechanic pal Al Hollliday.
I contacted them in the search for a bike for Otto to buy and use. And Maury and Al came up with the goods. Otto liked the bike, he bought it and then announced he also needed to buy a van to travel around the country. Again, the south London duo came up trumps. And we sent Otto on his way.
I spent a worrying weekend wondering just how well Otto would do at Norwich. It was a track in shape and size that suited most European riders. Then came the news - Otto had, to put it mildly, struggled to impress. In fact, he was completely outclassed. And it was much the same when he made his home debut at Foxhall Heath a few days later.
To put it kindly - he didn't have a clue about what was going on. In four rides at Norwich he scored one point, then failed to score in two rides at Ipswich. Subsequently, kind-hearted as he was, Arthur Franklyn suggested to Otto "on yer bike" and the rider went back to his home in Graz.
That, however, was not the last we heard of Otto Holubek. He persevered and the results featuring him again started to come back from Eastern Europe. And his name appeared regularly in various Austrian international teams into the early 1960s. He even managed to get selected for the Combined Europe team that competed in South Africa in their 1960-61 season.
When his speedway career ended, for many years Holoubek worked as a technician on Austrian TV. He was a likeable enough guy, but I learned an important lesson: never recommend a foreign rider to a British club based on results alone. Always try to see them in action before passing their name on to a promoter.
This article was first published on 5th January 2017
[ Use Desktop Version ]
Comment on this Article | Contact Us | Go Back to Main Menu