DVD Review: National League Heroes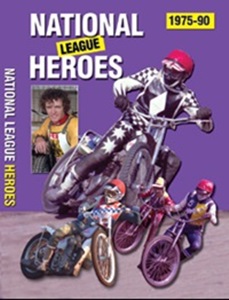 The National League era (1975-1990) will always be highly regarded by speedway historians and fans of long standing. It was a 'rough and ready', competitive and entertaining league - generally well organised and provided good value for the fans.
This new DVD from Retro-Speedway brings us four hours of classic National League racing, broken down year-by-year and split over two DVDs.
The DVD is all about the action, interrupted only by the odd caption to explain the context of the action we're watching. There aren't any interviews, league tables or statistics - just great racing.
The Owen brothers, Steve Lawson, Steve Wilcock, Martin Yates, Andy Galvin and Andrew Silver are the kind of names that spring to mind whenever the National League is discussed and all of these legends are present and correct on the DVDs. There's even rare footage of Joe Owen being overtaken and defeated - a real collector's item given Joe's legendary dominance at this level of racing.
There's also a chance to see some early rides from Mark Loram, Michael Lee, Simon Wigg and Gary Havelock, four Brits who graduated from the NL and became World Champions in track racing.
Although the biggest names in the National League feature, it's also great to see some of the lesser lights in action once again - riders likes Rob Grant, Kevin Teager and Rob Woffinden will be warmly remembered by many fans.
It's not just the riders that bring back memories, there are also the tracks of days gone by. We see footage from Ashby Ville, New Hammond Beck Road and Kingsmead amongst other long gone circuits
The second DVD benefits from television quality coverage of the National League's individual, fours and pairs championships. This allows us to see the top riders of the late eighties in direct competition with each other.
If you remember the National League then you'll love this feast of NL nostalgia, if you don't then these DVDs will assist with your speedway education.
---
How To Order
By Phone : 01708 734 502
By Post : Send a cheque for £16 (payable to Retro Speedway) (add £2.50 if outside UK) to:

Retro Speedway
9 Nursery Close
Glossop
SK13 8PQ
Online : At Retro-Speedway.com
This article was first published on 16th November 2014
---

Russ Coppack:

"In your list of riders highlighted in this video you didn't include John Jackson. Do you expect us to take this video as a serious historical record of the national league over the period in question if Jacko is not included alongside the Owen brothers as the dominate riders of the age? Come on, be serious."
'Jacko' is one of the many great riders included on the DVD. For a full list check out the Retro Speedway Website.

[ Use Desktop Version ]

Comment on this Article | Contact Us | Go Back to Main Menu