Book Review: Bert Harkins Autobiography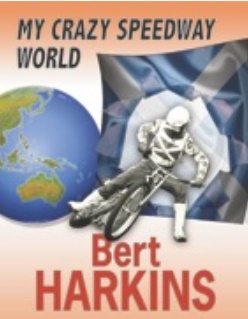 "My Crazy Speedway World" is the autobiography of Bert "Haggis" Harkins, speedway star of the sixties and seventies and speedway enthusiast from the fifties to the present day.
The Harkins story is remarkable one, he was a massive speedway fan who lived the dream of making the Edinburgh Monarchs team and for a number of years it looked as if that may have been the limit of his achievements. It's not too difficult to imagine an alternative timeline in which Bert is vaguely remembered as a popular tail-ender who never quite made the big time. However, Bert's commitment and ambition ensured that the story didn't end that way, instead he kept working at his craft until he cracked it and become an international star.
This book tells the story of his gradual improvement from wobbling second halfer to captain of the famous Wembley Lions. It's all written by Bert himself in a chatty and enjoyable style, filled with wonderful anecdotes and dozens of corny jokes!
Bert's career took him around the world many times, as well as to glamorous places like Coatbridge and Milton Keynes. A lot of the book covers the various racing trips he took to Australia and America in particular. His insights into the different speedway cultures are fascinating, as are his reviews of the various foreign hospitals he ended up in.
He rode with and against many of the sport's greatest stars - Briggs, Fundin, Mauger, Moore etc - and was often recruited by those luminaries to add colour to their various international tours and special events. Not bad for a lad from Govan.
The book includes some fantastic photographs, some of which you're surprised to find exist at all. What are the chances of someone snapping him on his road bike as he lines up for a trial at Motherwell's Milton Street track? He must have been a photographer's dream throughout his career, always willing to pose for a silly picture if it helped speedway make the papers.
If there's one criticism of the book then it's a pity there's not a little more on Bert's British League days with Wimbledon and Sheffield. There's obviously a limit on how much can go into any book and perhaps Bert thought his overseas adventures would be of more interest.
The general impression is of a life well-lived, particularly when he meets and marries the lovely Edith, making up one of speedway's most unlikely, but most enduring, couples. She has her say in the book and offers an insight into what Bert is really like - turns out he actually is the same crazy and lovable guy that we've always known him to be.
The book is mainly focussed on his speedway career, though he does cover "life after speedway" in the final chapters, telling us about his successful business and his involvement with the World Speedway Riders Association.
It's a great read and the passion for our sport jumps off every page. It's a classic tale of the underdog who came good, all told in a humorous and self-effacing manner. Definitely one that's worth adding to the speedway bookshelf or taking on holiday this summer.
How to order:
The book can be ordered from the London League Publications Ltd website, http://www.llpshop.co.uk for £14.50 post free in the UK.
This article was first published on 15th March 2018
[ Use Desktop Version ]
---

Bert Harkins:

"Many thanks for the kind comments on your review of my autobiography. Regarding the comment about not enough written about my days at Wimbledon and Sheffield, as you mentioned, I thought that it would be more interesting letting UK Speedway folk hear a bit more about racing in other countries. Most of my UK exploits have been in the pages of Speedway Star and I did not want the book to read something like,..."I scored 10 points here and then I went there and scored 5 points", etc and have it as "Me,Me, Me".

Anyway, thanks again and I hope that if anyone buys the book they will enjoy it and have some laughs and tears along the way. I am thinking of supplying a box of tissues and some "Deep Heat" muscle relief with every book as the reader may need them as he or she turns the pages and learns about "My Crazy Speedway World".

Regards, Haggis"

Dot Laird:

"I've read Bert's book and found it to be one of the best speedway autobiographies ever. He's right though. There are a few times when I needed the tissues but thankfully far out-weighed by the laughs and the "WOWs". In my humble opinion he has the mix quite right. The overseas adventures have never really been described in such detail, from nail biting, harum scarum journeys, to the different track sizes/surfaces, and the local population and their customs. But what I loved most, was his determination to write it all himself. It's from the heart. THIS IS BERT...and don't we know it. He's a one off, and for those who have never been lucky enough to meet him - he has a heart of gold under all that bravado. Fantastic stuff."

Comment on this Article | Contact Us | Go Back to Main Menu