New Book: My Crazy Speedway World by Bert Harkins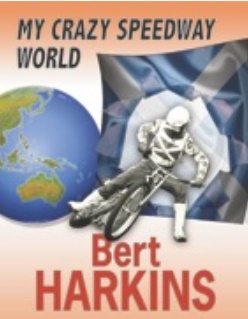 London League Publications Ltd are pleased to announce that Bert Harkins's autobiography, My Crazy Speedway World, will be launched at the Celebration of the 90th Anniversary of Speedway in the UK at Paradise Wildlife Park on Sunday 18 February 2018.
Bert will be available to sign copies of the book. It will then be available to order from the publisher at www.llpshop.co.uk , on Amazon and Abe Books, and from any bookshop. An E-Book for Kindle users will also be available on Amazon.
Bert commented:
"Here we are folks, after many months of being stuck to my computer keyboard, I have finally finished my autobiography having bashed out every word, dot and comma along the way. It covers my early days growing up in Glasgow, to Cycle Speedway, Road Racing, Speedway and life after I had hung up my white boots and tartan leathers. This is the story of a wandering Speedway Scotsman and I hope that you will enjoy it.
The book covers Bert's complete career, from his early years at Edinburgh and Coatbridge, his time at Wembley, Sheffield and Wimbledon, his season racing in America with the Bakersfield Bandits, his return to Edinburgh and finale with Milton Keynes. It also includes his international outings with the British Lions, Scotland and the Rest of the World, as well as his time racing in Australia, America, South Africa, New Zealand and many European countries. It will be of great interest to all speedway fans.
Published in February 2018 @ £14.95
The book can be ordered from the London League Publications Ltd website, http://www.llpshop.co.uk for £14.50 post free in the UK.
Book details: 252 page paperback illustrated with photos. ISBN: 9781909885165
This article was first published on 4th February 2018
[ Use Desktop Version ]
Comment on this Article | Contact Us | Go Back to Main Menu