Ellesmere Port Gunners Reunion 2010
Words and Pictures by Keith Dwyer
We held the first Ellesmere Port Gunners reunion in 2010 and the evening was a great success. The room we booked only holds 300 people and it was full, we had to use one of the other rooms in the club. It was so successful that we are planning a repeat in 2011.
Thanks to all the fans and riders that attended - including 'guest' riders Les Collins, Nigel Crabtree, Bernie Collier, Garry Stead and Alan Carter (Kenny's brother).
Thanks also to my family for their help and to Hubbard's mobile speedway museum, Ron Jones, Gary O'Hare, Pete Ellams and Gerald Smitherman for bringing along their bikes and other pieces of equipment.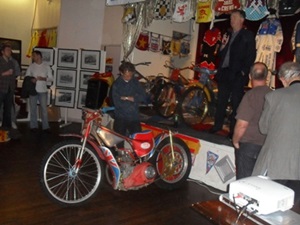 Our display of machines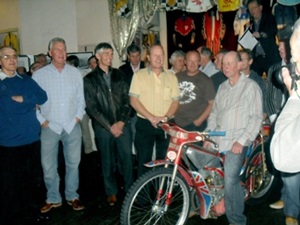 'Jacko' back on a bike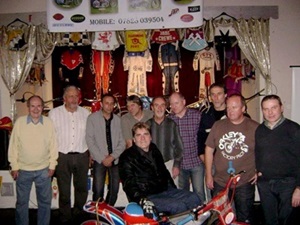 The title winning side of 1985 are reunited
Chris Turner, John Jackson, Les Collins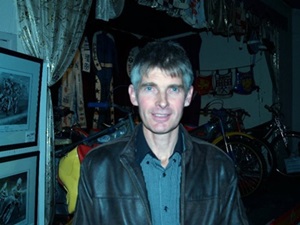 Chris Turner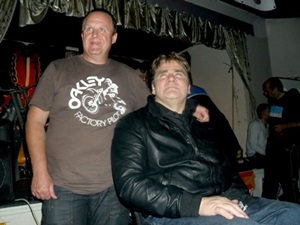 Gary O'Hare and Joe Owen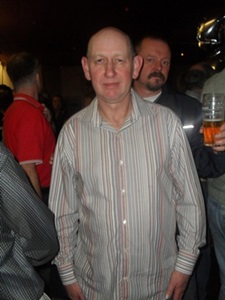 John Jackson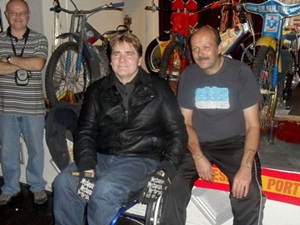 Joe Owen and organiser Keith Dwyer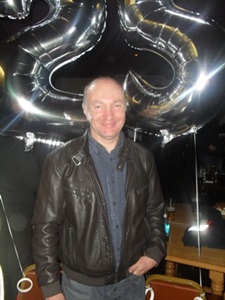 Les Collins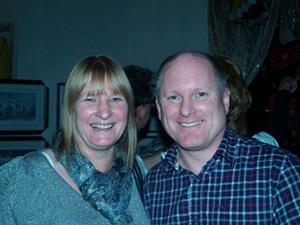 Miles Evans and his sister Karen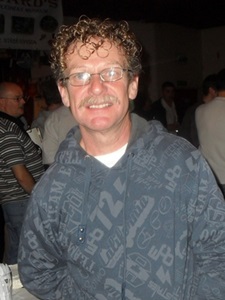 Neil Collins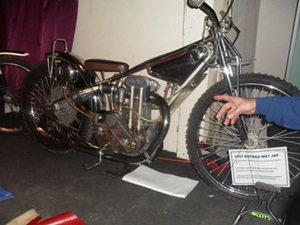 Ron Jones' JAP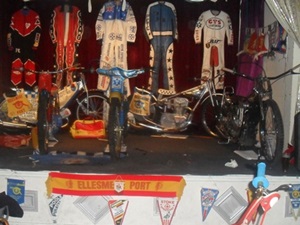 The Stage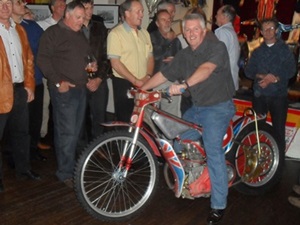 Steve Finch
This article was first published on 27th January 2011
---

Ian Davies:

"The Ellesmere Port reunion was a great nite a chance to get together with all the former riders and enjoy and relive all the memories and stories of the Gunners at home and their travels. A big thank you to Keith Dwyer for taking the time and effort to organise the reunion and to get a sell out at the club of over 300 people shows how much speedway is missed in the Port. Due to the success of this reunion another is planned for later in the year which I and many more can't wait for. Also as a result of the nite there is a petition to get the Gunners up and running again."
keith dwyer:

"May I comment once again on the good work of this site. As you all know I organised the Ellesmere Port Gunners reunion last year. Well i have organised another one for the 12th November 2011. Tickets are on sale now priced at £4.00 or £5.00 on the door with all proceeds going to Joe Owen this year. It is being held at the same club as last year which is the Greyhound next door to the old stadium. Anyone wanting to come along and have a good night can contact me on 0151 356 4931. "
Alan R Davies:

" It was good to see the riders from the past. Really missed the sport. Myself was a junior rider, started 1976 and really enjoyed it.The only sad thing was I was in the race which Stuart Shirley was killed. Great to see Jacko and Finch. Please let me know of any planned reunions."

[ Use Desktop Version ]

Comment on this Article | Contact Us | Go Back to Main Menu