The Team: Glasgow Tigers 1978
This series of pictures show the Glasgow Tigers lining up at Berwick in a challenge fixture on 26th March 1978. This was the second fixture of the season for the Tigers, they had lost 60-17 at Edinburgh two days previously, suggesting that a season of struggle lay ahead. This wasn't too surprising as the entire heat-leader trio from the previous season were no longer in the side. Brian 'Pogo' Collins had moved to arch-rivals Edinburgh, Mick McKeon had been called up for full-time service with the Halifax Dukes and Grahame Dawson had suffered career-ending injuries in a crash at Barrow the previous summer.
The seven Tigers on duty at Shielfield that Sunday afternoon were:
Steve Lawson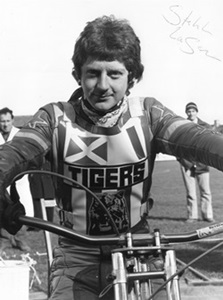 Lawson joined the Tigers from his local club Workington for whom he'd first appeared in 1974. An incredible 1976 season had seen him jump from reserve to heat-leader and earned him bookings with Belle Vue. An injury slowed his progress and his 1977 season hadn't reached the same heights, leading to him seeking a move north to reignite his career. Despite a slow start to his life as a Tiger, the stylish Cumbrian went on to become the greatest ever Glasgow Tiger, scoring 4,981 league points between 1978 and his retirement in 1992. Included in his record were a phenomenal 89 full and 11 paid maximums. He topped the National League averages in 1984 and was the highest scorer in National League history. Despite his incredible success in lower league racing, he never moved full-time into the British League - but did make irregular appearances at that level, most notably for Cradley Heath. Steve is the father of Lakeside regular Richard.
Terry Kelly
Enthusiastic Mancunian who did the rounds of some of the sport's less glamorous circuits throughout the seventies - counting Rochdale, Ellesmere Port, Scunthorpe, Barrow, Workington and Berwick amongst his former clubs. He also turned out for local club Belle Vue on 17 occasions, but found points hard to come by at that level. He joined the Tigers as captain for the 1978 season but was hampered by elderly equipment, still riding a 2 valve Jawa against opponents almost exclusively mounted on 4 valvers. He was dropped from the Tigers' side after only 9 league meetings and drifted into retirement. Made a surprise comeback in 1980 with Workington and proved to be a solid scorer in a terrible Comets side until they closed at the end of 1981. A spell with Scunthorpe followed, then one final comeback in 1985 saw him in a hopelessly understrength Barrow Blackhawks side.
Derek Richardson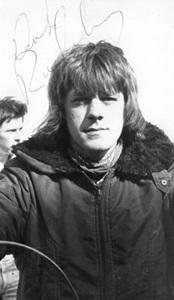 The tall Yorkshireman joined Tigers while they were based at Coatbridge in 1975 and developed into a reliable heat-leader, taking on the captaincy of the Tigers when Kelly lost his place in the team. Moved to Newcastle for the 1980 season, though his years with the Diamonds were affected by a serious leg break. Spells with Scunthorpe and Milton Keynes followed, before a return to Newcastle in 1989, his last in the sport. In the latter years of his career his scoring slipped to that of a second string, but he was a very good servant to National League speedway.
Merv Janke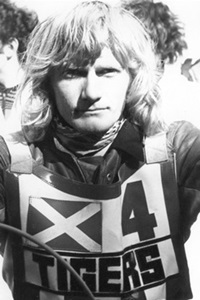 Stood just over 5 foot tall and boasted the fine style that so many riders of his size are able to demonstrate. A most-popular rider who rode for the Tigers from 1977 until 1979, often doubling-up with Halifax. Would have undoubtedly have scored even more points had it not been for a persistent shoulder injury. Moved into the top league with the Dukes in 1980, but choose to cut short his British career just a couple of years later. Continued to ride in his native Australia until well into his forties.
Mick Newton
Another new signing for the 1978 season, moving north with Lawson from Workington. While Lawson went on to score close to 5,000 league points for the club, Newton's contribution was a little more modest - scoring just 20 points from the 11 league meetings he completed. Was demoted to second half racing early in the season but failed to recapture his form. Subsequently reappeared at Workington where he contributed bottom end points.
Charlie McKinna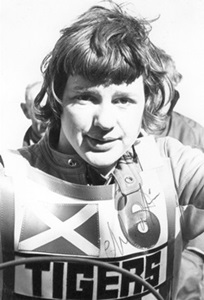 Local junior who had made his racing debut the previous season, impressing in outings in the Scottish Junior League. Wasn't quite ready for National League racing in 1978, but the club gave him an extended run and he ended the season with a 3.42 average from his 24 league appearances. The experience proved invaluable and he gradually developed into a fine performer for the Tigers. Moved to Coventry for the 1982 season, riding alongside Ole Olsen, but the standard proved a little too tough for him and the Bees allowed him to return to National League racing the following year. Spent 1983 with Milton Keynes, 84-88 with Berwick and returned to Glasgow for two final seasons in 1989 and 1990. Brothers Kenny and Martin also raced speedway, as did nephew Adam.
Tony Hall
Like McKinna, Hall was a product of the Scottish Junior League, riding for the Paisley Lions side who operated out of Glasgow's Blantyre circuit. Unlike McKinna, Hall never really progressed to National League standard and this meeting at Berwick may well have been his only appearance at senior level. Continued to appear in the Scottish Junior League, both for Paisley and subsequently for the Felton Fliers (Newcastle).
So, how did these seven chaps fare that evening at Berwick? Well, they lost by exactly the same 60-17 margin as they had at Powderhall earlier in the week.
For the record, the scorers were:
Lawson 3 (5); Janke 6 (5); Richardson 0 (2); Newton 0 (1); Kelly 6 (5); McKinna 2+1 (5); Hall 0 (4)
Five of the home side were untroubled by the Tigers - Dave Gifford, Mike Hiftle, Willie Templeton, Graham Jones and Jack Millen all riding unbeaten. Colin Caffrey and Mike Fullerton contributed 4+1 and 6+1 respectively.
Despite these early setbacks, there was a happy ending for the Tigers. The team improved during the course of the season and actually finished above both Edinburgh and Berwick in the final National League table. Tigers ending in 9th, Bandits in 11th and the expensively assembled Edinburgh side finishing 15th (of 20 teams).
This article was first published on 19th January 2014
---

Derek Watson:

"Remember going to both matches and couldn't believe how we could be as bad at Berwick as we were at Edinburgh!! In saying that, our record at Berwick that year wasnt very good. A few team changes, including bringing in Colin Farquharson, Keith Bloxsome/Jim Beaton and using R/R for Grahame Dawson changed our fortunes. "

[ Use Desktop Version ]

Comment on this Article | Contact Us | Go Back to Main Menu