Eating Dust - Bringing Speedway to the Big Screen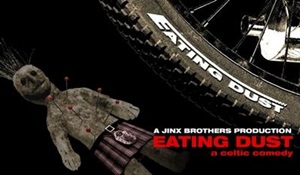 Film Director Jade Carmen and Producer Louis Paltnoi are hoping to put speedway back onto the silver screen with their 'Eating Dust' film. The film features speedway, voodoo, an undertaker and a missing corpse and aims to become a low budget hit in the same mould as Trainspotting or Slumdog Millionaire. The film has been on the drawing board for a number of years and in fact we reported on it as far back as 2004. The producers are now making a final push to get the film made and into cinemas.
We caught up with Louis to find out about the film and how we can help it become a reality:
"As you may have read in Speedway Star, we have been through the mill a bit making this film, but we have persisted because we believe 100% in this project and also love this sport."
"Speedway is a much more exciting sport than F1 or Moto-GP. It deserves to be immortalised in a movie, there's vast potential there, and it's got that accessibility that we love, a real community sport."
"Charles Dance, Jimi Mistry, Paul Kaye and Joanne Whalley are all scheduled to appear in the film, along with a host of soon to be announced Speedway stars, of past and present, including World Champion himself Nicki Pedersen."
"We believe that Eating Dust can help raise the profile of speedway and elevate it once again to being a premier spectator sport. This is view shared by Sky Sports, BSPA, Speedway Star, BSi, Speedway Riders Benevolent Fund and other key players within this sport. We have the support of all the aforementioned bodies. Last week we launched a sponsorship scheme for Speedway fans / general public to get involved and help get this movie onto the big screen, so far this has raised sponsorship donations of over £20,000"
"We are on a tight deadline, as if the film is not funded by the end of June, we will not be able to carry on with it and it will be put to sleep forever. This represents a fantastic (but final) opportunity for Speedway fans to come together and help us get "Eating Dust" out there."
Different sponsorship packages are on offer, with various rewards from signed DVDs, film credits and tickets to the premiere, to visiting the film set, meeting the cast and possibly even a bit part in the film itself. The Producers also plan to give something back to the sport, as Louis explained
"We will be setting aside a proportion of Producer's net profits from the film to be injected back into the sport. We have also held discussions with the SRBF about allocating a further portion of Producer's net profits to the charity. If the film is a big hit, then this could generate a lot of money for the charity and the sport in general."
"We have been slightly overwhelmed by the response to the article in Speedway Star. We have had sponsorship donations ranging from £25 to £500. But this is just the beginning. We need to raise around £150,000. In perspective, that's 300 people putting in £500, or 3000 people putting in £50. We will be attempting to secure more significant amounts from the promoters and sponsors themselves but from the general public, smaller amounts in large numbers are key."
"This is our final shot at this. We seem to have galvanised the whole of the sport behind us and are bringing more people on board every day. We are confident that with the help of the Speedway community, 'Eating Dust' will finally become a reality."
You can find out more about the film and how you can get involved at http://www.eatingdust.com
This article was first published on 7th May 2009
[ Use Desktop Version ]
Comment on this Article | Contact Us | Go Back to Main Menu